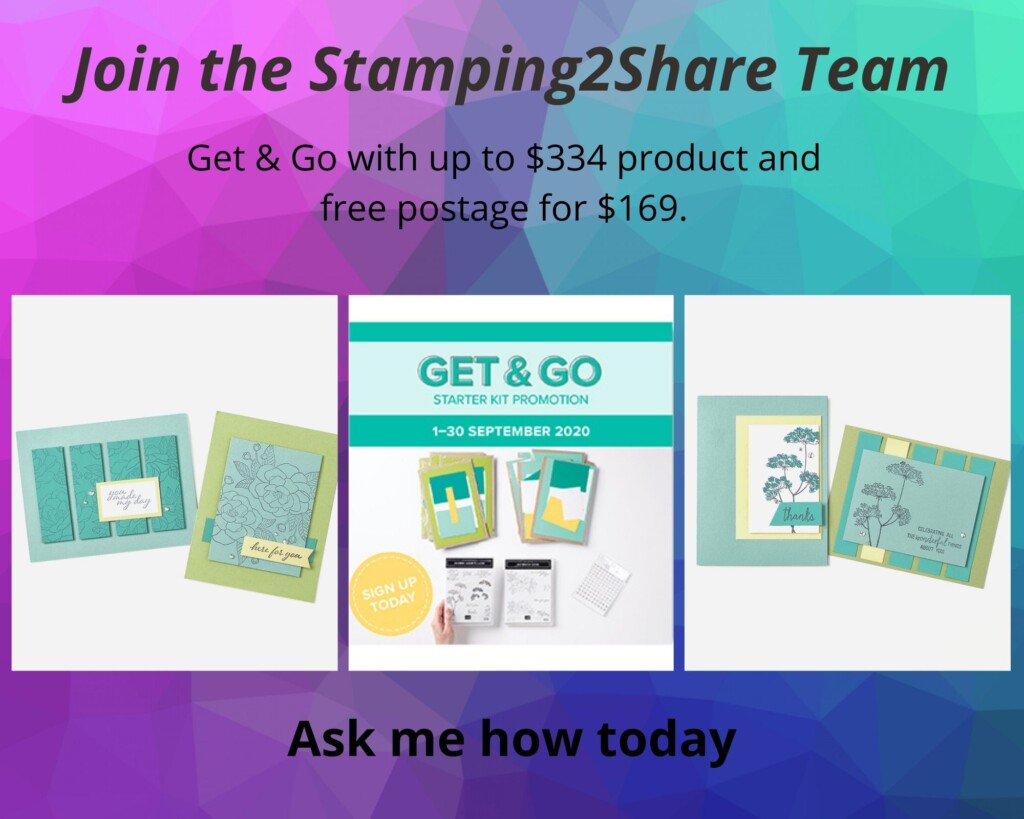 If you have a love of paper crafting and creating, September is a great month for you to Join Stampin' Up! You can join for yourself, craft with friends or start a business. You'll be with friendly people who love to craft and share. Here is the link.

Get Extra Treats in your Starter Kit this month.
For your Starter Kit, you choose up to $235 product for your spend of $169. It can be any available product from our current catalogues. Yes, that's an immediate saving of up to $66 plus free shipping.
For the month of September, in addition to the regular starter kit (for $169 AUD, you choose $235 AUD) and, you will also receive enough cardstock pieces to make 16 cards, a pack of Rhinestone Basic Jewels, the So Much Love stamp set, and the Queen Anne's Lace stamp set—all for your first event. (Add up to an additional $99 of value plus free shipping.)
8 packs of pre-cut cardstock of the Coastal Cabana pack will be provided, and 8 packs of pre-cut cardstock of the Granny Apple Green pack, for a total of 16 cards (packs include envelopes). You can choose what samples to make and to share with your friends and customers.
Important note: Ink, adhesive, cutting tool, and clear block for stamping must be purchased separately. However, these products may be included as part of the Starter Kit product selection.
We even have sample recipes for you. Here are some photos for you, and here is the link.
What are your ongoing benefits of being a Stampin' Up! Demonstrator.
You will get a 20% discount on your subsequent orders. Your discount increases to 25% after a certain level of sales is achieved.
You can place orders for family, friends and customers and earn a commission (20% or 25%) on their purchases.
You can also receive additional bonuses as your sales increase.
You will receive free catalogues and the opportunity of pre-ordering product for upcoming catalogues
You will be part of an amazing group of demonstrators worldwide; you'll get to share ideas and be totalling inspired.
You'll be part of my local friendly team, and have the opportunity to join our Facebook group and attend Zoom catch-ups.
As your Team Leader, I'll be here to support and guide you. You will decide your level of involvement.
You will have the opportunity of crafting as a hobby or to build a business. The decision is totally yours.
What do I have to do stay active?
You would need to place orders of about $470 (before your 20% discount) per full quarter to stay active. If you join in September , your first full quarter ends on December 31.
What happens if I'm not able do this?
If you are not able to make these sales during the quarter, you would have one month to 'make up'. If you were not able to do this, you would go back to being a customer and still enjoy our fabulous products.
You would retain your starter kit, all your supplies and,
You would be able to rejoin in the future if your circumstances allowed.
More questions….please ask me?