What could be better than morning tea on the sunny front porch before rain, thunder, lightning and perhaps a little snow? Now, it's time to get cracking with your August Newsletter. There's lots to share.
Both the Annual and Mini (Christmas) catalogues have launched, and I have some other exciting announcements to share with you.
These are the topics I'll be covering. You'll be able to scroll down to view.
Where are we generally personally and within SU.
July Bonus Days. Don't forget to spend any July Bonus Coupons before August 31.
Mini (Christmas) Catalogue has launched. So many pretty things to play with!
Sara Douglass' Paper Pumpkin – Box of Sunshine is now available.
New & fabulous Cut & Emboss Machine is available to purchase from September 1.
Creative Eight WOW Tutorials.
Join my Team – Extra benefits for you during September.
Join my Classes.
Where are we, generally, personally and with SU?
Our garden is enjoying the glimpses of sunshine, the wattles on our walking trail are blooming, our air is clean and thankfully our COVID numbers are coming down.
We've all been having fun crafting, making samples, sending cards to friends, catching up 'virtually', and generally being creative. My husband, Pete, has been working on his digital mixed media Art. We've been learning new skills; Zoom, WhatsApp, iMovie, YouTube and so on!
Stampin' Up! Product Availability and Scheduling
Generally, order filling and shipping are back on track. Most products are ready and waiting for us. While we have been advised that there may be some shipping delays, most of our orders have been shipped and delivered promptly. I'm super impressed! Thanks SU, Australia Post and its Contractors.
July Bonus Days. Don't forget to spend any July Bonus Coupons before August 31
Just in case, you haven't yet redeemed your bonus coupons, now's the time. Here is the link to my online store
Mini (Christmas) Catalogue: Launched August 4, 2020
Please contact me for you very own paper catalogue. There's nothing quite like it for flipping through, dreaming, and finding fabulous ideas. We can craft and enjoy making Christmas Cards during this 'quiet time'.
Product Samples
Love of Leaves Bundle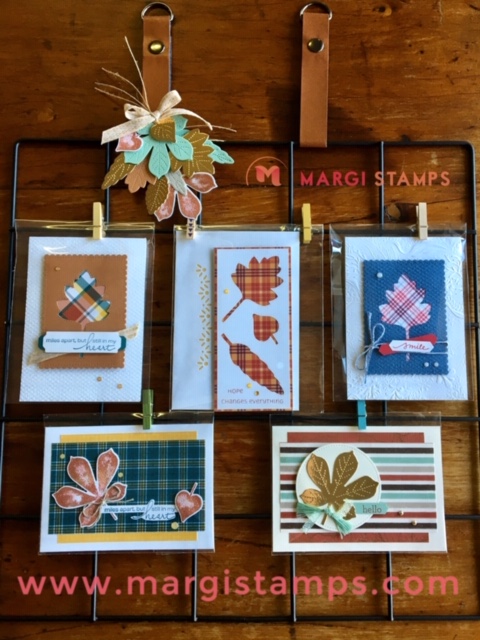 You might notice that there are two different colour ways and DSPs. One is the all seasons, Plaid Tidings DSP, and the other is the Gilded Autumn Specialty DSP. They both coordinate beautifully with the Stitched Leaves.
Here are the product links in my Online Store: Love of Leaves Bundle, Plaid Tidings DSP, Gilded Autumn Specialty DSP & Suite
Three for Three Cards in Snowflake Splendor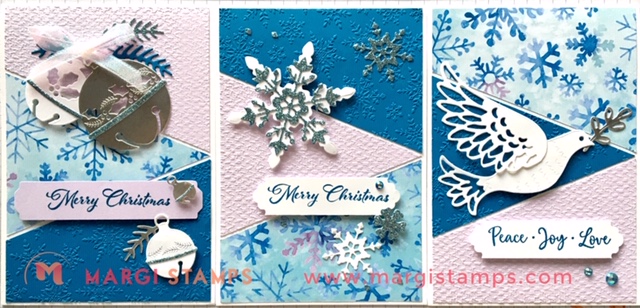 This group of three cards, uses one card front of DSP, and one card front each of two contrasting cardstock colours. You might see that I have embossed the cardstock with two different embossing folders and each card features a different bundle from the new Mini Catalogue. The bundles are Cherish the Season, Snowflake Splendor and Dove of Hope.
I will be featuring these cards in my upcoming Blog post. You might like check my website in a few days' time.
Here are the product links in my Online Store: Dove of Hope Bundle, Snowflake Splendor Suite , Cherish the Season Bundle
Cherish the Season Bundle in two colour palettes
Here is the product link to Cherish the Season in my Online Store
Poinsettia Place Suite
I loved using three of our stunning papers, Plush Poinsettia Specialty Paper, Poinsettia Place DSP and Red Foil (sold separately).
Here are the product links: Poinsettia Place Suite, Red & Green Foil Sheets.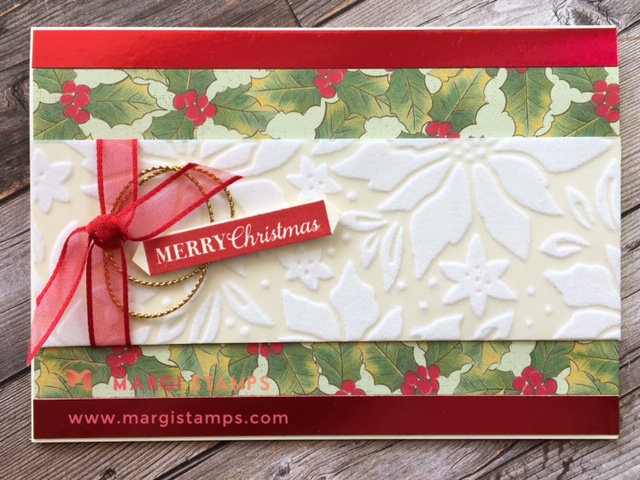 Playful Pets & Love of Leaves
Do you love how our products coordinate? Perhaps you can you see that I've paired our pet punches with this gorgeous Playful Pets Suite. The stitching border is from Love of Leaves Bundle.
Please check out my Blog for more details in the next few days! In the meantime, here is a link for you .
Paper Pumpkin; available from August 11 while stocks last.
We're excited to share a special global Paper Pumpkin kit! This exclusive Sara-inspired Paper Pumpkin kit is here to help you #sharesunshine. It includes supplies for eight handmade cards and is specially designed to help you create a box full of cheer. Once you've made all the cards, use any leftover pieces to decorate the box. Fill it with yellow goodies, add the included adhesive label, address it to someone special, and brighten their life with a little sunshine!
We think this will sell quickly- please contact me to order on August 11 or here is the link .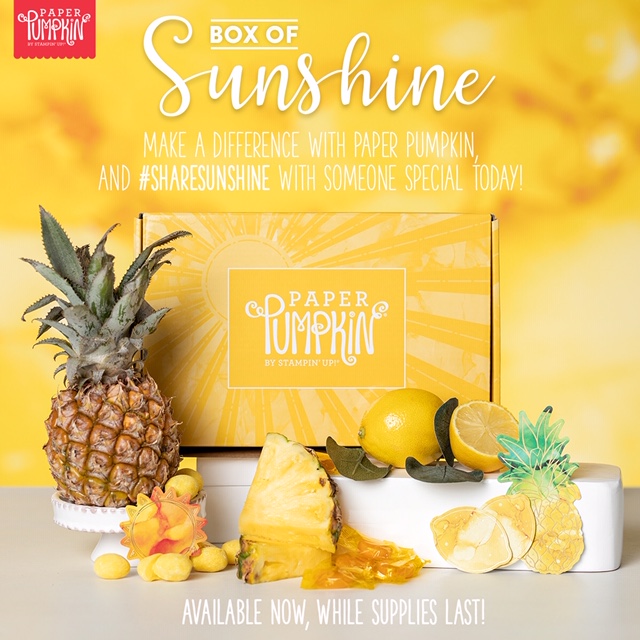 Stampin' Cut & Emboss Machine
Our new Stampin' Cut & Emboss Machine will be available for customers to purchase from September 1. The Mini Cut & Emboss Machine and tools for both machines will be available in the next few months.
I pre-ordered my machine and I'm absolutely delighted with it. It's a pleasure to use. It's compact when folded and it looks super pretty! Please contact me to order yours or hop onto my Online Store from September 1.
Creative Eight WOW Tutorial – Here is the August 2020 Sneak Peak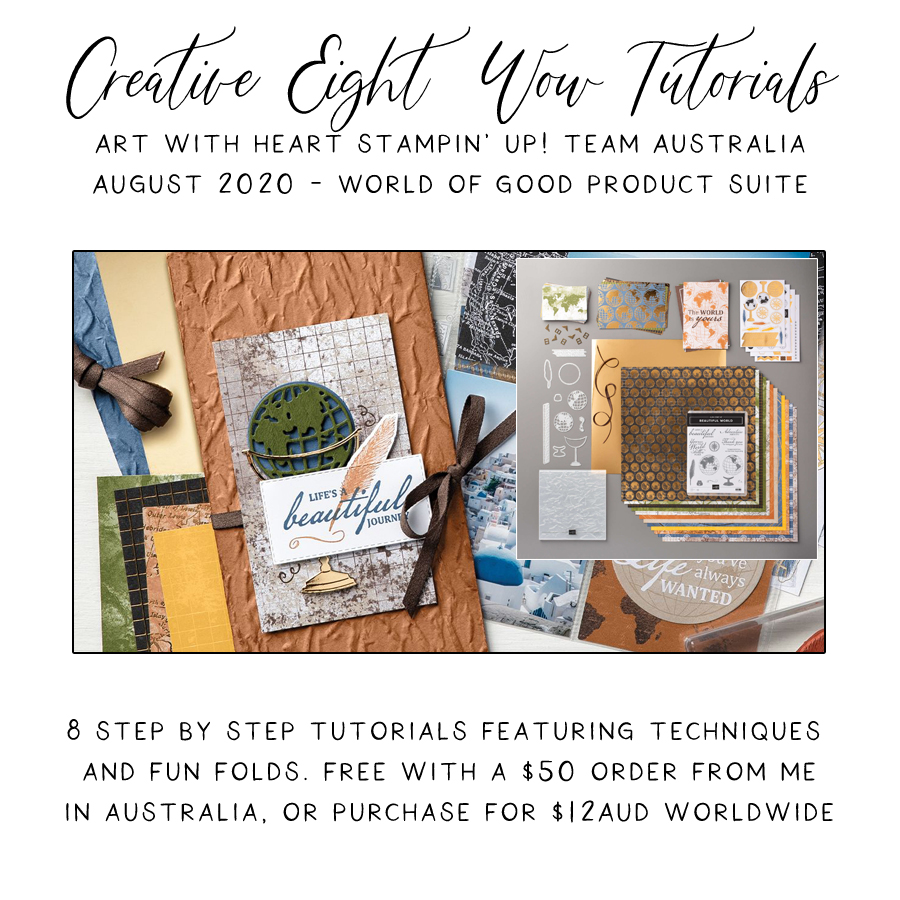 Join my Team – SEPTEMBER Promotion
Join just for yourself to get a discount, and/or build a business, be part of my team and meet friends who love to craft. The choice is yours, and I'm only too happy to chat with you OR, you might like to hop on over to my JOINING PAGE
This is the SEPTEMBER offer to you.

You may have been contemplating Joining my Team or you may just like our fabulous SEPTEMBER Promotion. During the month of September, and on top of the other great value, you will also receive enough cardstock to make 16 cards, a pack of Rhinestone Basic Jewels, the So Much Love stamp set and the Queen Anne's Lace stamp set FOR FREE!
Here's a quick look at the offer!
Choose $235 product for a $169 spend ($66 for FREE) (incl. new Mini Christmas Catalogue)
FREE Shipping* FREE Business Kit
FREE SEPTEMBER Get & Go Promotion ($99+ for FREE- see above)
And the opportunity to order from any existing catalogue at 20% discount.
Join my Classes
Please contact me if you would like to join my paper-crafting classes. I run several class groups. You might like to arrange a private class for you and your friends, or you might like to join my online/virtual class with prepared class kits and PDF Tutorials.
Please chat to me about your ideas or queries.
Have Fun Crafting. Enjoy the samples and your own wonderful creativity.
My business Facebook page is: https://www.facebook.com/margistamps/
My Pinterest site is: https://www.pinterest.com.au/margisank/
My Stampin' Up Online Store is HERE
My Stampin' Up website is HERE
My blog website is: http://www.margistamps.com/
……… till next time, stay safe, have fun!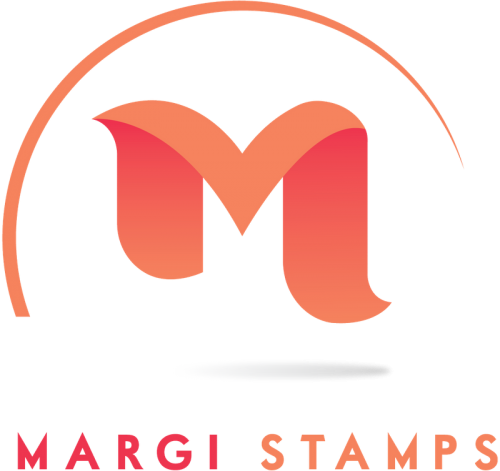 LOVE IT. LIVE IT. SHARE IT.