Cup of Tea Bundle by Stampin' Up! designed for you as a Z Fancy Fold Card, using alternate options for two different looks. It is our Make it with Margi May Tutorial Card #3. 
One basic design, two different looks!  Both options showcase some of our 2022-2024 In Colors.  One is popping Retro with bright and sunny colours; the other is Classic blues and neutrals.  
Make it Margi Card #1 is a classic Simple Stamping design using Sending Smiles Bundle and can be made ultra simple with no die-cuts or, stepped up with die-cuts and Tea Boutique DSP. We've added Brushed Brass Butterflies for the WOW factor.
HERE is the link to our Sending Smiles Card #1.
Make it with Margi Card #2 is our "Classic" blokes card using He's the Man Suite incorporating He's All That Bundle, He's the Man Specialty DSP and Rustic Metallic Dots.
HERE is the link to our He's the Man Suite Card #2.
Cup of Tea Bundle Z Fancy Fold Card #3
Welcome to your Make it with Margi May Tutorial Card #3. One design; two different looks and a basic design readily adaptable to other Papers or Stamps/Bundles combos.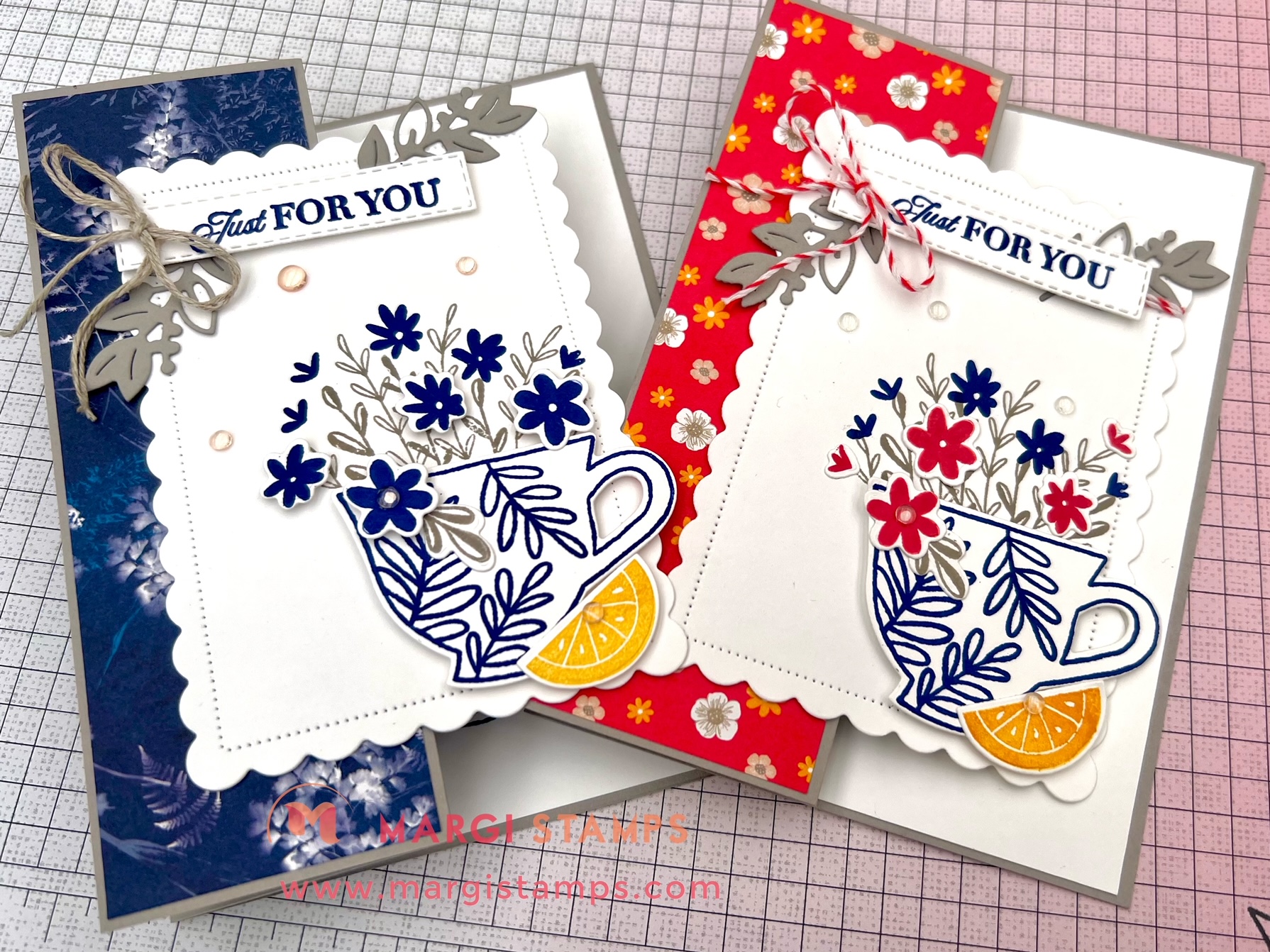 Please read on for all class kit dimensions and step by step directions.
If you are not in my class groups, you are welcome to enjoy these designs and adapt for your own creativity.  You might like to join one of my online or in person class groups and receive your pre-cut card kit.   If you live in Australia, you are more than welcome to join my classes or shop with me using my 24/7 Online Store.  I would love to hear from you.
Ingredients for our Cup of Tea Z Fold Card
Let's step through the ingredients used for our card. Some are in the Annual and some are from the Mini Catalogue.
Cup of Tea Bundle
The Cup of Tea Bundle includes the Cup of Tea Stamp Set and the Teacup Dies.
If you like tea, you'll love creating tea-themed projects. The Cup of Tea Bundle has stamps and coordinating dies for making cards and scrapbook pages.
Create the perfect paper cup of tea with the Cup of Tea Stamp Set, designed for tea lovers. Start by stamping a teacup, then stamp a slice of lemon and a tea bag, and finish off with a sentiment that says what you want to say. You can say thank you. Remind someone that it's time to get together. Or that you miss them. Not in the mood for tea? You can use the botanical images and sentiments for other projects, too.
The Teacup Dies give you fun tools for making cards for your tea-loving friends. Cut out a teacup, then accent it with a die-cut, segmented lemon slice and a tiny teabag. Add some die-cut flowers, hearts, and herbs, and you've created a tea-themed scene will delight anyone. You'll also love how most of these dies pull double duty. The teabag also doubles as a tag, and the flowers, hearts, and herb plants go with just about anything.
Click
HERE
for the product link in my 24/7 Online Store.
Tea Boutique Designer Series Paper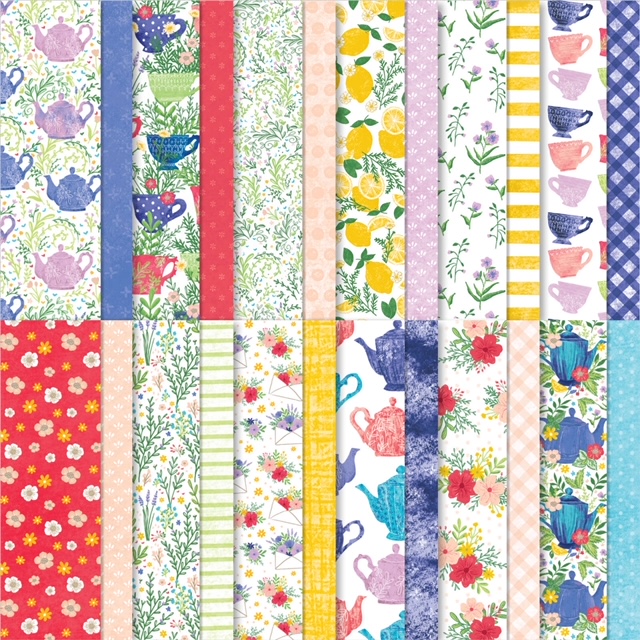 If you're looking for patterned paper that has a boutique feel, this is the paper for you. The Tea Boutique 6″ x 6″ (15.2 x 15.2 cm) Designer Series Paper has a designer mix of watercolour and hand-drawn imagery that would be at home in a posh boutique. The artwork has tea-themed images—teacups, teapots, lemons, herbs—on one side with all-purpose patterns on the other side. Use whatever side suits your mood and project. It's like getting two packs of paper in one!
This Paper includes the new 2022-2024 In Colors.
Click HERE for the product link in my 24/7 Online Store.
Sun Prints Designer Series Paper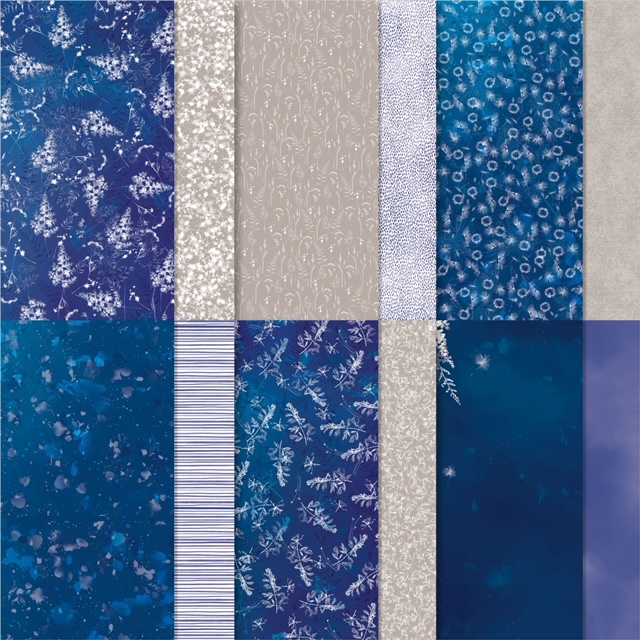 The cyanotype style of the Sun Prints 12″ x 12″ (30.5 x 30.5 cm) Designer Series Paper is a must-have for any paper collection! This set of paper includes gorgeous fern imagery and other botanical designs in an eclectic selection of coloured patterns and designs. From white and blue stripes to blue colour washes, you can mix and match the simple and more sophisticated designs in all your papercrafting projects: card bases, accent pieces, scrapbook layouts. One patterned sheet even includes text describing the scientific classification for ferns—talk about smart!
This Paper included the new In Color, Starry Sky.
Click HERE for the product link in my 24/7 Online Store.
SUPPLIES
Stamp Sets, Dies & Punches: Cup of Tea Bundle, Eden Dies, Scalloped Contours Dies, Stitched Rectangles Dies. Celebrating You Stamp Set (great for a variety of different occasions)
Papers:  Tea Boutique DSP OR Sun Prints DSP, Grey Granite, Basic White Cardstock,
Inks: Daffodil Delight or Crushed Curry, Grey Granite, Starry Sky, Sweet Sorbet,
Other: Polished Dots, 2022-2024 In Color Baker's Twine OR Linen Thread, Mini Dimensionals, Mini Glue Dots, Multipurpose Liquid Glue, Seal, Take your Pick Tool, Paper Trimmer, Grid Paper (great for lining up your creations!), Cut & Emboss Machine.
HERE is the direct link for to all current products in my 24/7 Online Store.
DIMENSIONS
Card Base: Grey Granite, 14.85 x 21 cm scored at 10.5 cm and 5.25 cm.
Layering Papers: Basic White cardstock (inside) 14.5 x 10.1 cm, Tea Boutique OR Sun Prints DSP 14.5 x 4.9 cm.  Basic White for Scalloped Contours, Stitched Rectangle and other die-cut pieces.  Grey Granite for foliage sprigs.
Step by Step Directions
Fold and burnish your Z Fold card base. Fold the card base as you would normally, and then fold the RHS back on itself to form the Z.
Die cut the following 2 pieces from Basic White Card cardstock; Scalloped Contours rectangle approx 11.3 x 8 cm and the smallest Stitched Rectangle.
Die cut two foliage pieces from Grey Granite cardstock using Eden die.
Stamp greeting on Stitched Rectangle die-cut.  I used 'Just for You' from Celebrating You Stamp Set.
For Tea Boutique DSP card, stamp Cup of Tea images as shown in Sweet Sorbet, Starry Sky, Grey Granite and Crushed Curry or Daffodil Delight. If you are opting for Sun Prints DSP card, omit the Sweet sorbet flowers and stamp these instead with Starry Sky ink.
Die cut these images.
Adhere 14.5 x 4.9 cm piece of chosen DSP (Tea Boutique OR Sun Prints) to card front.
On the Scalloped Contours die-cut and in Grey Granite ink, stamp foliage appoximately 5 contours up from bottom of the die-cut and toward the RHS of the piece.
In Starry Sky Ink, stamp flower group over foliage.
Adhere die-cut tea cup to this panel using Mini Dimensionals.
Adhere additional flowers, stamped sprigs and lemon using glue and/or Mini Dimensionals.
Adhere this panel/layer to the folded Z of the card front. I applied glue to LHS of my Scalloped Contours die-cut and used the scallops as my guide when laying it up on the Z.  Can you see that 4 scallops are attached to the Z.
Adhere Grey Granite cardstock foliage die-cuts to top of this panel.  Adhere Greeting piece using Mini Dimensionals.
Tie bow using either Baker's Twine or Linen Thread and adhere to card front with a Mini Glue Dot.  I ties a double bow with the Linen Thread.
Adhere your choice of Polished Dots.   
Stamp any combination of images on the inside of the card.  I stamped the tea cup to match the image on the front of the card, and then decorated with some left-over die-cuts.  You might also notice that on front of the sample card, I added a few yellow hearts. I used dies from the Cup of Tea bundle and Tea Boutique DSP for these hearts. 
Other Samples using Cup of Tea Bundle
HERE is the link back to blog for these cards.  The colours pop!
JOIN MY TEAM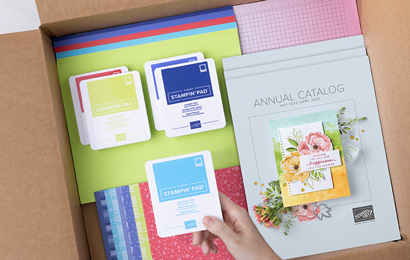 JOIN MY TEAM to earn, save and share and meet fun crafty people along the way.
Join just for yourself to get a discount, and/or build a business, be part of my team and meet friends who love to craft.  The choice is yours, and I'm only too happy to chat with you OR, you might like to hop on over to my JOINING PAGE
Choose $235 product for a $169 ($66 for FREE).
PLUS from 3 May – 31 May 2022, FREE 2022-2024 In Color products, including In Color Grid Paper, In Color Ink Pad Collection, In Color Cardstock, and In Color 6 x 6 Designer Series Papers Assortments. That's an additional $116.50 value of products just for joining my team!
FREE Shipping * FREE Business Kit, including current catalogues.
The opportunity to order from any existing catalogue at 20% discount,
And, include Pre-order Items from the upcoming July-December 2022 Mini Catalogue.
HERE is the link
JOIN MY CLASSES:
Please contact me if you would like to join my paper-crafting classes. I run several class groups.
You might like to arrange a private class for you and your friends, or you might like to join my online/virtual class with prepared class kits and PDF/web Tutorials.
Please chat to me about your ideas or queries.
Have Fun Crafting.  Enjoy the samples and your own wonderful creativity.
Facebook page is:
https://www.facebook.com/margistamps/
Pinterest site is:
https://www.pinterest.com.au/margisank/
Stampin' Up! 24/7 Online Store is HERE
My Stampin' Up! website is HERE
My blog website is:http://www.margistamps.com/
……… till next time, stay safe, have fun!

LOVE IT. LIVE IT. SHARE IT