Woo! Hoo! It's April.
Daylight Savings is over….farewell Summer!

Sale-a-Bration is over, but there are many treats still to be enjoyed from both the Occasions and Annual Catalogues. There is also a fabulous new range of storage solutions. I'll chat about these a little later in the newsletter.
2018-2019 Occasions and Annual Catalogues
These catalogues products will continue to run until June 3 unless sold out prior. Now is a good time to review your wish-list. I've listed some useful hints for your action plan. The Retiring product list will go live on April 16.
Prioritising your Wish-List
2017-2019 In-Colours
The 2017-2019 In-Colours are retiring. They are Powder Pink, Lemon Lime Twist, Tranquil Tide, Berry Burst and Fresh Fig.

Any items containing these colours will retire; stamp pads, cardstock, ink refills (re-inkers), Write Markers, Designer Series Paper, Flower Buttons, etc. These items sell off quickly and our stocks will not be replenished. Re-inkers are usually the first to go and Berry Burst is already marked as Low Inventory. If you have some colours you are wanting to purchase – move these items up your wish-list.
Bundles
Some stamps sets and matching punches or dies that are presently bundled at a 10% discount and which will carry over will no longer be offered at the "bundle" price in the new catty. Therefore, in order to get you discount, move these items up you wish-list.
Remember that "bundles" are at the 10% discount price. Some of these bundles will not carry over. Some are already on Low Inventory or Not Orderable. Yes…they've been super popular. Move these items up your wish-list. (And please contact me to check available status as you may need to hop in and order quickly).
Other products
We know there will be lots of absolutely wonderful products coming in the new catalogue, but if you have some favourites that you've been waiting to purchase, and that you don't want to miss out on, then move these items up your wish-list.
Retiring Products
The retiring products list will be released mid April after On-Stage. I will keep you in the loop with this so that you can plan your remaining purchases for this catalogue period. When they're gone… they're gone!
Retiring Big Shot and Stampin' Trimmer
We will no longer be offering these products and associated accessories in our forthcoming catalogue. Replacement products are still under review. Please purchase any necessary supplies as these retiring items will only be available 'while stocks last'.
Free 2019-2020 Annual Catalogue
The new catalogue will go live on June 4, 2019. It's not too late to take up my FREE catalogue offer. I give free catalogues to my class ladies and those who order more than $50* product for the year. There may be those precious wish-list items that help you reach this goal!
If you have placed orders* with me over the last year, or been my class ladies, I will ensure that I get a free new catty to you either in person or via direct mail.
Products, Projects and Designs
STORAGE by Stampin' Up.
This is always an exciting time as we wait to welcome in new colours and new product. The bonus for us this year is that Stampin' Storage has just been released. The good news is that we can order them now, streamline our storage for Stamp Pads, Write Markers, Re-inkers, Blends etc.
Brilliant….no waiting!
I'm sure you can guess that I've ordered these new storage products for my new ink pads, and blends. They also hold the write markers. I'm very excited with this new streamlined storage solution. I'll show you some pics of the Storage in action. This is the before photo!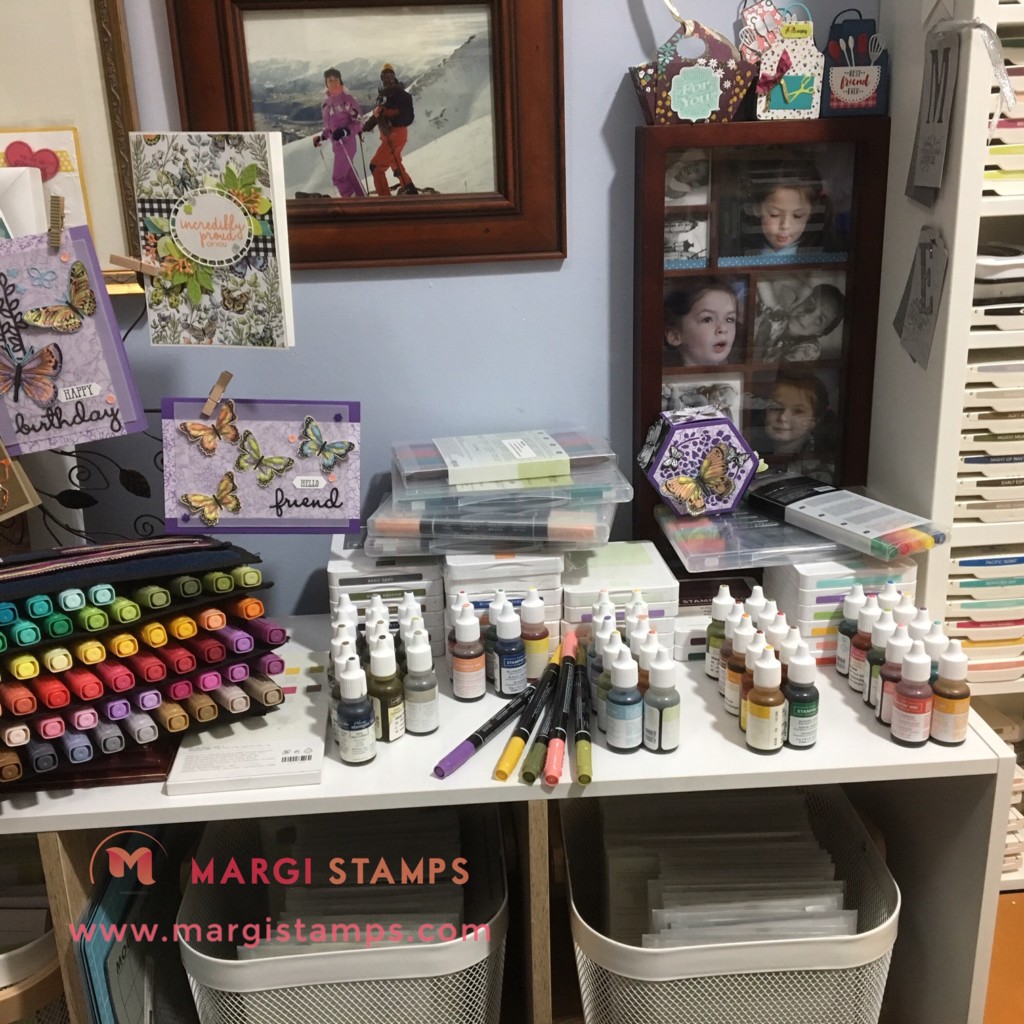 And this is an example of the after look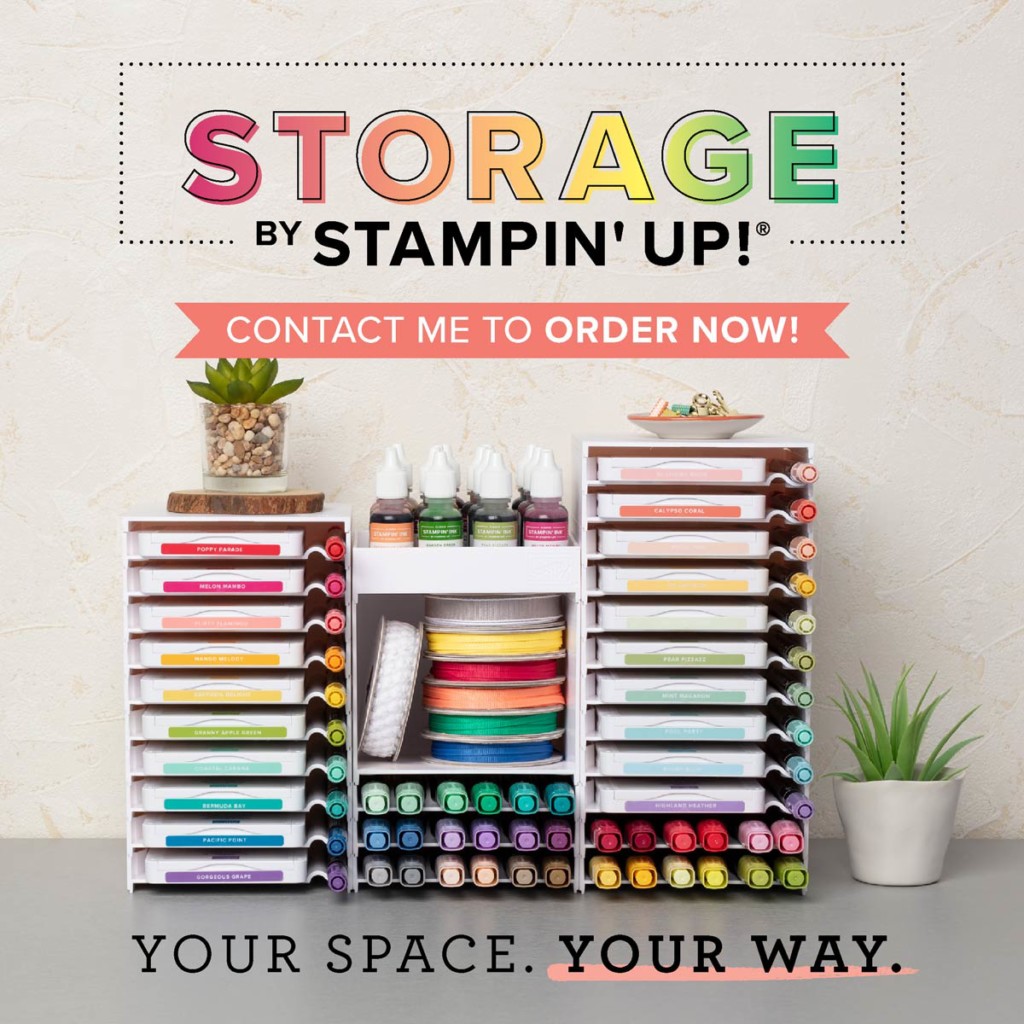 Features and Benefits
Storage by Stampin' Up! is designed to store and showcase your Stampin' Pads, Stampin' Ink Refills, Stampin' Blends, Stampin' Write Markers, Watercolour Pencils and other accessories. Here are some other features and benefits of Storage by Stampin' Up!
Keeps products organised, tidy, visible and trackable at all times.
Ensures that your Stampin' Pads, Stampin' Write Markers and Stampin' Blends are all stored horizontally, as recommended.
Designed to be stylish, durable, compact, stackable and modular.
Blends in naturally with most home decor with its white neutral colour.
Stacks vertically and can be arranged to fit practically any flat workspace.
Easily assembled and disassembled for rearrangement and/or cleaning.
Garage Gears, Life Me Up & Up & Away.
I've been in my crafting room, making a birthday card for our son, Tim. Isn't it lovely just being able to potter? I wanted to make a very special card as he is turning 40. How time flies!
I've included some pics for you. I used Garage Gears Thinlits, Lift Me Up stamp set and coordinating Up & Away Thinlits. It's a big card 8 ¼ x 5 ¼ …. with another smaller card on the opening flap. The front and back of the card is a collage of old photos.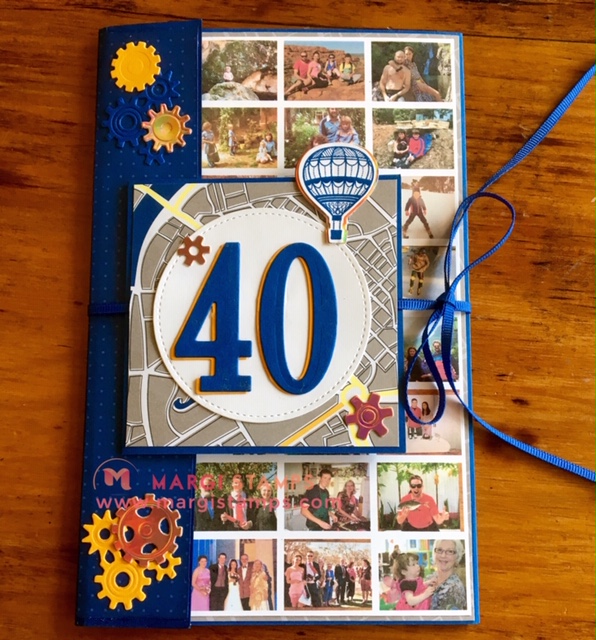 3 for 1, Incredible Like You
In our last newsletter I showed you the "2 for 1" card using our Rectangular Stitched Dies.
I offered this "3 for 1" in my latest class.
This project uses our wonderful Daisy Punch, one piece of 6"x6" DSP, one note card and envelope and one narrow note card and envelope, the fabulous Incredible Like You Stamp Set and random other sets for the greetings. The ladies could choose any sentiment they liked.
We also made a very cute little treat bag…. perfect for sharing treats over Easter. Please contact me for the recipe…. you too can make these special items.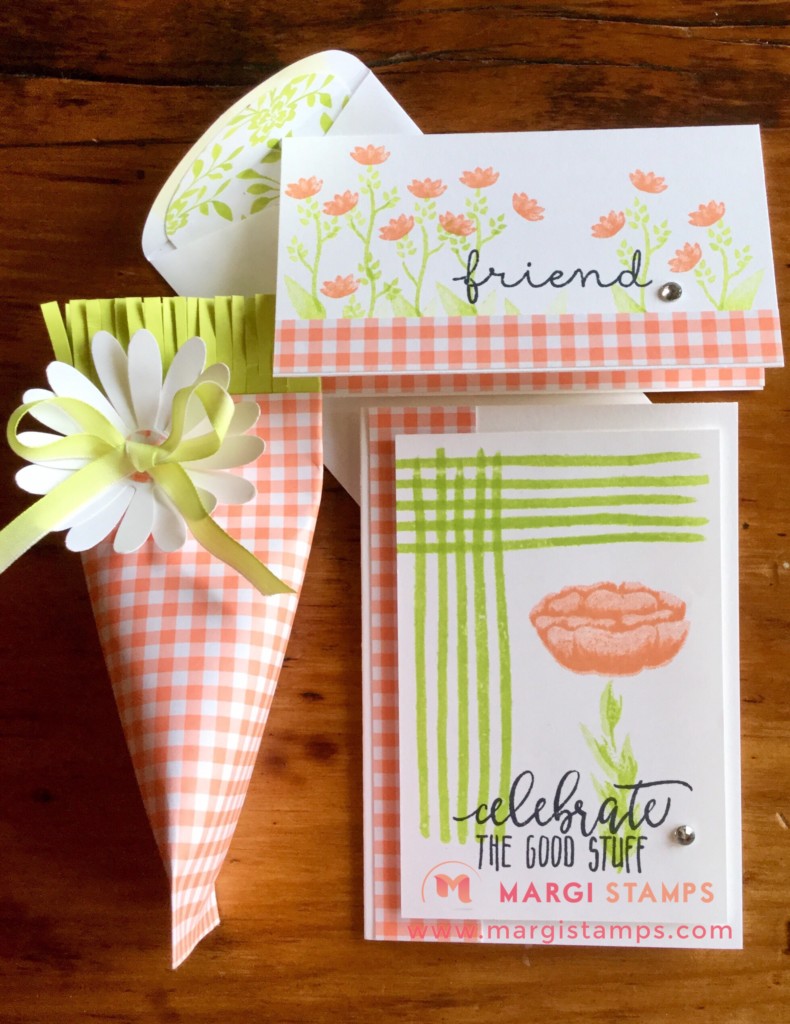 Fable Friends
Easter Greetings & Blessings to you and your loved ones. Whether you're away or at home, please stay safe and well and enjoy the holiday.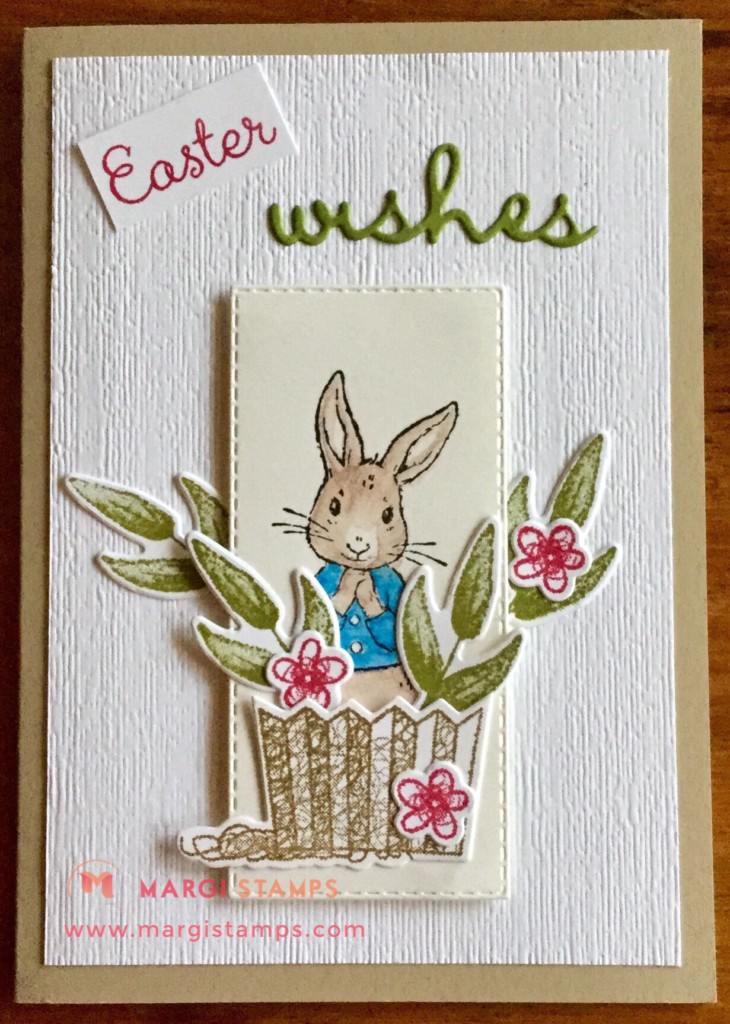 Please chat to me about any ideas or queries that you may have.

Please feel free to use the examples for your own designs and inspirations.

My business Facebook page is:
https://www.facebook.com/margistamps

My Pinterest site is:
https://au.pinterest.com/margisank/

My Stampin' Up! website is:
https://www.margistamps.stampinup.net
………..till next time.
Please enjoy and have fun!
Margi