High Tea with Friends & Cup of Tea Bundle
Welcome to my first foray with Cup Of Tea Bundle by Stampin' Up!  It is one of the delightful new treats featured in our 2022-2023 Annual Catalogue.
Squeal of excitement….. the 2022-2023 Catalogue is live and products available to order.
  If you don't have a catalogue, hop on over to my CATALOGUES PAGE or send me message and I'll get one to you.
As an Independent Stampin' Up! Demonstrator, I was able to pre-order this pretty Suite of products.  Pre-order is one of the great perks of being a Demo!  You might like to talk to me about joining my team, to save, earn a discount or build a little business.  We have a fab offer during May that includes a package of In Color products for FREE (valued at $116.50).  Pop on below for all the details of this
JOIN MY TEAM
offer.
One Basic Design; Two Different Looks
One basic design, two different looks, two different colours, two different DSPs.
One is a classic card base the other is Fancy Z Fold.
One is classic blues & neutrals (Sun Prints DSP, Starry Sky, Grey Granite & White), the other is popping Retro (Tea Boutique DSP, Sweet Sorbet, Starry Sky, Crushed Curry with Grey Granite & White.)
Both cards incorporate the new 2022-2024 In Colors.
Key Ingredients
HERE is the link to all products for the Tea Boutique (retro) card in my 24/7 Online Store.
HERE is the link to all products for the Sun Prints (blues) card in my 24/7 Online Store.
In Colors
Want to see more of these bright and vibrant colours?   Here they are.
You might notice that Tea Boutique 6×6 Designer Series Paper includes all of the In Colors, while Sun Prints Designer Series Paper pairs Starry Sky with some of other blues in our collection.
Here are few more pics of my pre-order.  You might be able to spot the 2022-2024 In Color DSP, Glimmer Paper, Metallic Ribbon, Ink Pads, Markers, Blends, Twine, Matt Dots and cardstock.
CREATIVE WOW TUTORIAL: HERE IS THE APRIL/MAY 2022 SNEAK PEEK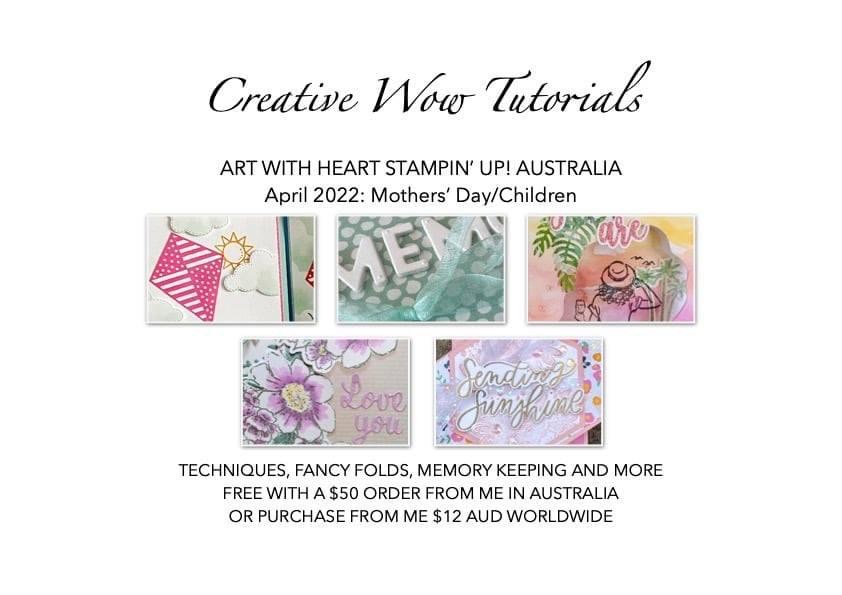 And here is snapshot of my Tent Fold creation featured in the Tutorial:  Perfect for a Mother's Day card for our beautiful daughter-in-law.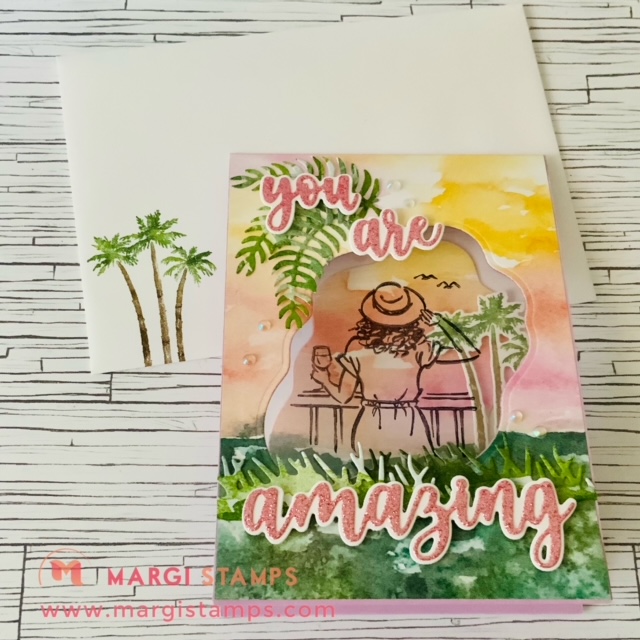 Join My Team
Join just for yourself to get a discount, and/or build a business, be part of my team and meet friends who love to craft.  The choice is yours, and I'm only too happy to chat with you OR, you might like to hop on over to my JOINING PAGE
Here's a quick look at the offer.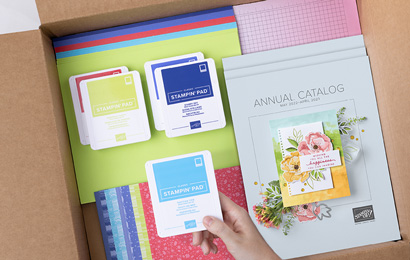 Choose $235 product for a $169 ($66 for FREE).
PLUS from 3 May – 31 May 2022, FREE 2022-2024 In Color products, including In Color Grid Paper, In Color Ink Pad Collection, In Color Cardstock, and In Color 6 x 6 Designer Series Papers Assortments.  That's and additional $116.50 value of products just for joining my team!
FREE Shipping
FREE Business Kit, including current catalogues.
The opportunity to order from any existing catalogue at 20% discount, 
And, include Pre-order Items from the upcoming July-December 2022 Mini Catalogue.
JOIN MY CLASSES:
Please contact me if you would like to join my paper-crafting classes. I run several class groups.
You might like to arrange a private class for you and your friends, or you might like to join my online/virtual class with prepared class kits and PDF/web Tutorials.
Please chat to me about your ideas or queries.
Have Fun Crafting.  Enjoy the samples and your own wonderful creativity.
Facebook page is:
https://www.facebook.com/margistamps/
Pinterest site is:
https://www.pinterest.com.au/margisank/
Stampin' Up! 24/7 Online Store is HERE
My Stampin' Up! website is HERE
My blog website is:http://www.margistamps.com/
……… till next time, stay safe, have fun!

LOVE IT. LIVE IT. SHARE IT