Hello and welcome to your May 2022 Stampin' Up! Newsletter.
Thanks for being being a valued subscriber and allowing me to share my crafting journey with you.
Now …. Please Enjoy!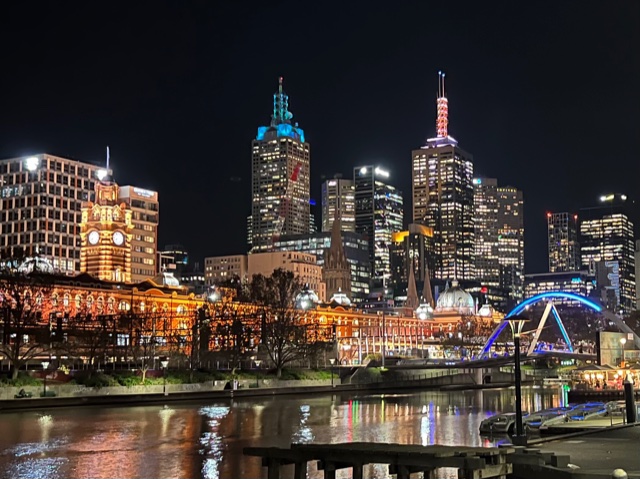 Pete and I travelled into Melbourne earlier this week for Pete's 50 Year Service presentation with CPA Australia.  In our past professional life, we were both Practicing Accountants.  Now, we retain our membership to this wonderful professional body, but also enjoy our other passions.  Pete is an Multimedia Artist and I'm a Papercrafting Artist.
My night-time photo of Melbourne captures colour beautifully and is a perfect segue to our new 2022-2024 In Colors launched with our 2022-2023 Annual Catalogue.
Can you see the colours too?  I can see Starry Sky, Tahitian Tide, Parakeet Party, a smidge of Sweet Sorbet and Orchid Oasis!
These are the topics I'll be covering.  You'll be able to scroll down to view.
2022-2023 Stampin'Up! Annual Catalogue launches May 3

2022-2023 Stampin'Up! In Colors

Join my Team – Special 3-31 May 2022

Stampin' Up! Branded Merchandise

January – June Catalogue until 30 June 2022 & Samples

Creative WOW Tutorials

Join my Classes
2022-2023 Stampin' Up! Annual Catalogue Launches 3 May
It's out there!  And it's pretty, with many fabulous designs, bundles, papers, and more.
HERE is the link to the new catalogue on my website.
You can download from my site or contact me for own paper copy of the 2022-2023 Annual Catalogue.
Samples & Ideas for You
Cup of Tea Bundle by Stampin'Up!
Anyone for High Tea with Friends?
One basic design, two different looks. One is a classic card base, the other is a fancy Z Fold.
One is classic blues & neutrals (Starry Sky, Grey Granite & White), the other is popping Retro (Sweet Sorbet, Starry Sky, Crushed Curry and White).
One used Tea Boutique DSP; the other Sun Prints DSP.
HERE is the link to my blog.
Cup of Tea Bundle and Tea Boutique 6″x 6″ Designer Series Paper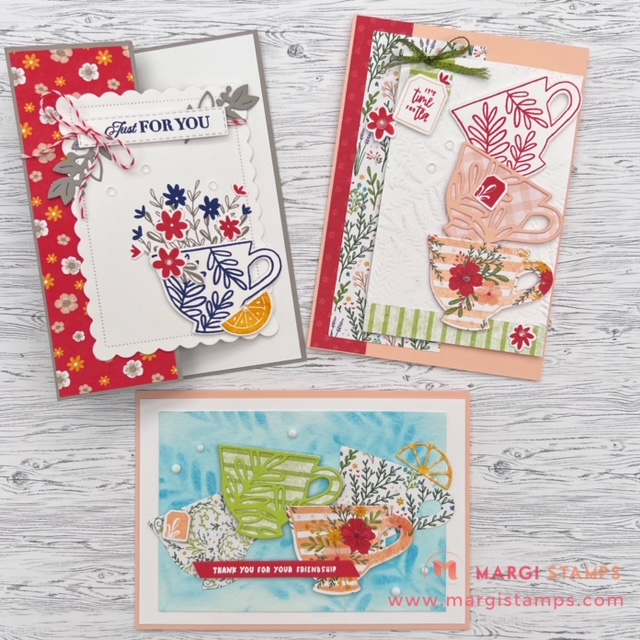 2022-2023 Stampin' Up! In Colors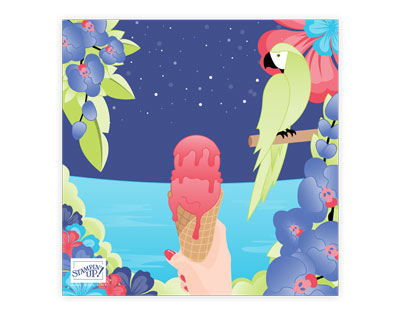 Can you pick the colours? Starry Sky, Tahitian Tide, Sweet Sorbet, Parakeet Party and Orchid Oasis.
We have Stamp Pads, Ink Refills, Designer Series Paper, Glimmer Paper, Write Markers, Stampin' Blends, Metallic Woven Ribbon, Baker's Twine and Matte Decorative Dots in our 2022-2024 In Color range.
HERE is the link straight to my my 24/7 Online Store and In Colors,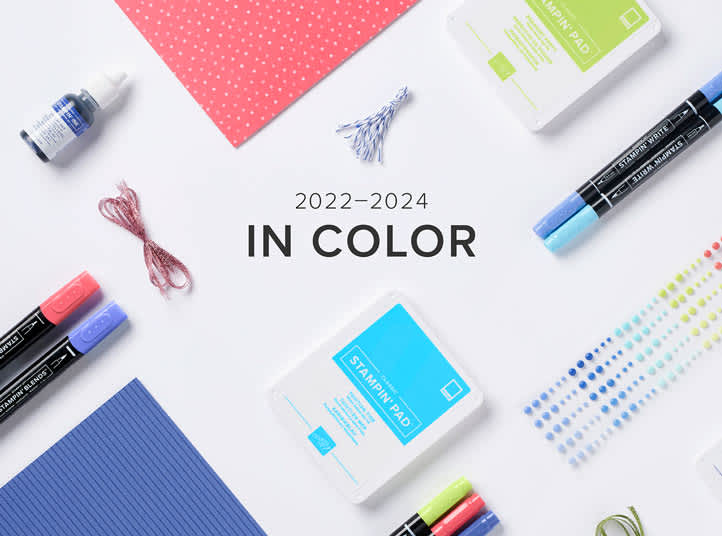 Starter Kit and In Colors Merge into one great treat for you!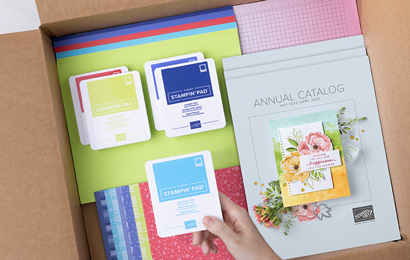 JOIN MY TEAM to earn, save and share and meet fun crafty people along the way.
Choose $235 product for a $169 ($66 for FREE).
PLUS from 3 May – 31 May 2022, FREE 2022-2024 In Color products, including In Color Grid Paper, In Color Ink Pad Collection, In Color Cardstock, and In Color 6 x 6 Designer Series Papers Assortments. That's an additional $116.50 value of products just for joining my team!
FREE Shipping * FREE Business Kit, including current catalogues.
The opportunity to order from any existing catalogue at 20% discount,
And, include Pre-order Items from the upcoming July-December 2022 Mini Catalogue.
HERE is the link.
Stampin' Up! Branded Merch!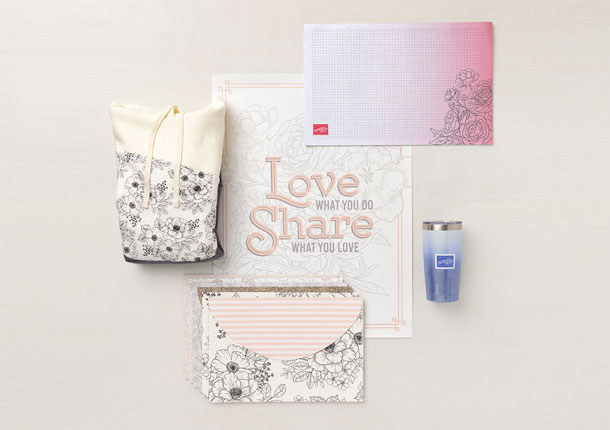 Do you love Stampin' Up! and want to rock some merch? Then take a look at this new range of branded merchandise! We've got glimmer tumblers, grid paper, a poster, and more, with some products featuring the all-new 2022–2024 In Colors!
I love the look of the grid paper, and folder tabs. They'll be on my next order. I quite like the hoody too! Perfect to keep me cosy during winter! Do you have a fave?
Get Yours Now or contact me to order for you.
January – June Mini Catalogue continues until June 30.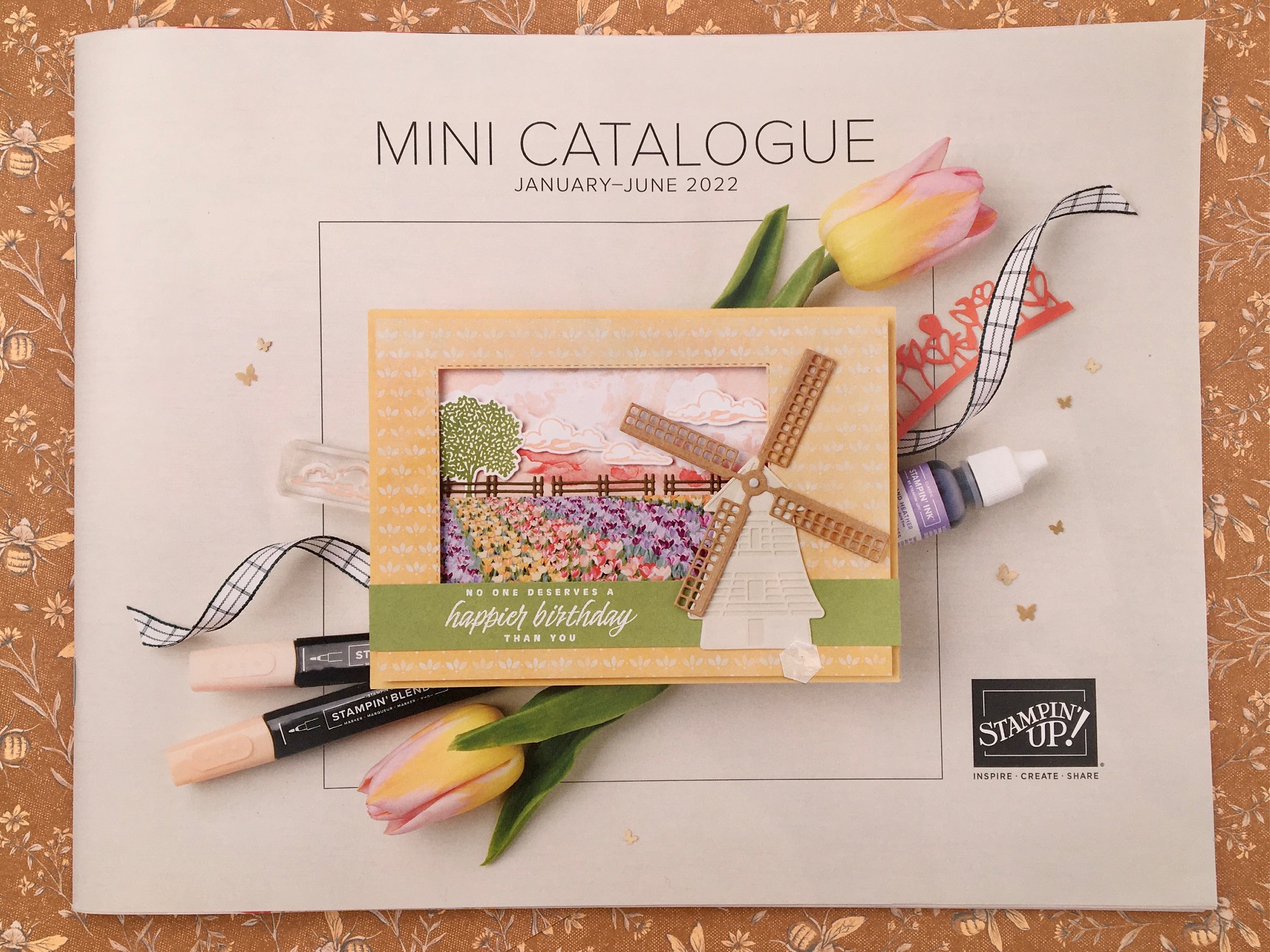 We have the intersection of two catalogues. And yes! it is a little difficult to get our heads around it all.
The January – June MIni Catalogue continues until 30 June, and the new 2022-2023 Annual Catalogue started on May 3.
Some of the products and bundles (at bundle price) in the Mini continue into the 2022-2023 Annual Catalogue, some continue but not at the bundle price, other items will retire.
All Designer and Specialty Designer Papers are retiring. We expect the Mini Retiring list (& pricing) to be available early June.
So, this month is a great time to review your wish-list and prioritise your 'must-haves'.
Here are some samples from the January – June Mini Catalogue. You will be able to see if the products in the examples are continuing or retiring. Where possible, I have included blog, products and/or recipes links for you.
Ideas, Samples and Links.
Grassy Grove Bundle (all items other than New Horizons DSP are continuing; bundle price remains.)
The Suite comprises, Grassy Grove Stamp Set and Grove Dies. This card design shown BOTH sides of the stunning New Horizons DSP.
HERE  is the link to my tutorial.
New Horizons Pebble Card. All Items are retiring.
The New Horizons 6″ x 6″ (15.2 x 15.2 cm) Designer Series Paper might possibly be the most beautiful patterned paper you'll ever buy. These horizon scenes were hand-painted by one of our talented artists. The tranquil watercolour imagery will look beautiful as a background on a card front or on a scrapbook page. It's versatile, too. Turn the paper upside down to change water to sky or whatever you can imagine.
HERE is the link to the Tutorial.
These other examples include Paradise Palms (continuing), Sailing Home (retired) and Magestic Mountain Dies (continuing).
Garden Greenhouse Fancy Fold Card and Artfully Composed Designer Series Paper. (Grab these items before they're gone!)
This Fancy Fold card design is perfect to show off the stamped Garden Greenhouse images. We've added extra flair with Artfully Composed Paper, Flirty Flamingo Ribbon and Brushed Butterflies. It's a special, pretty card to give to friend or loved one.
HERE is the link.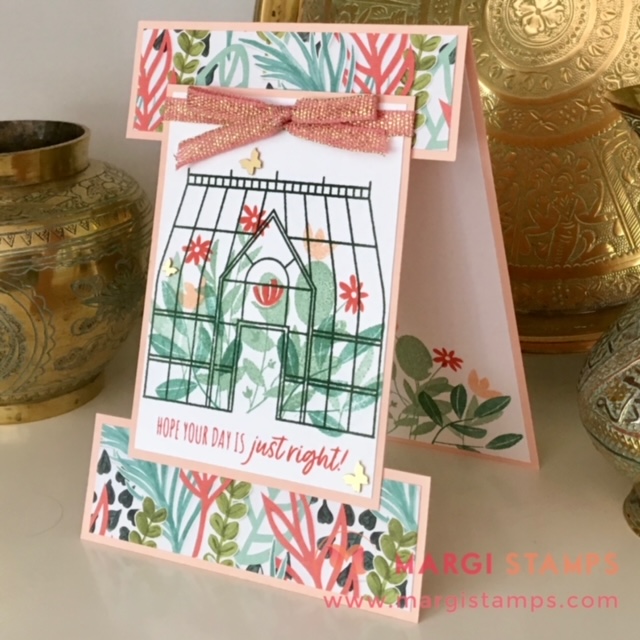 Creative WOW Tutorial: Here is the flyer for the April/May 2022 Tutorial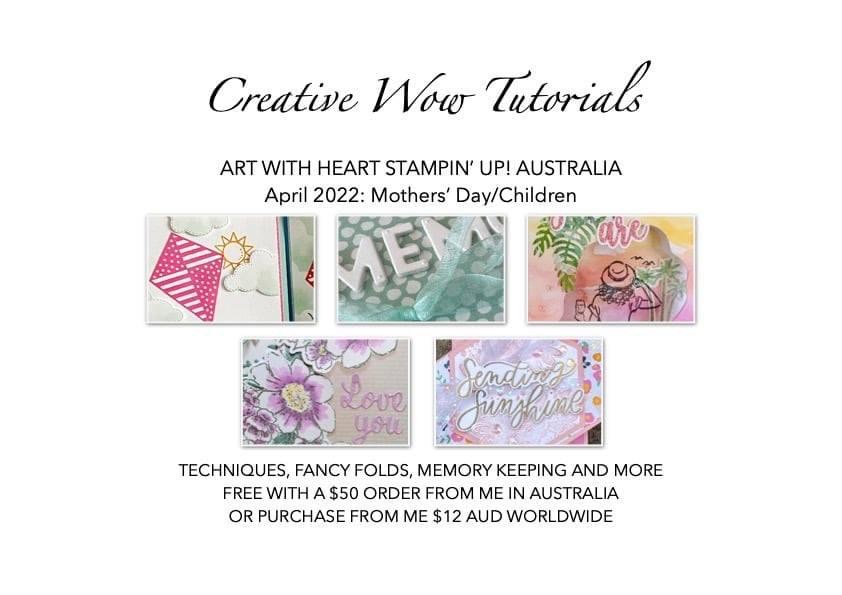 Can you spot my contribution this month?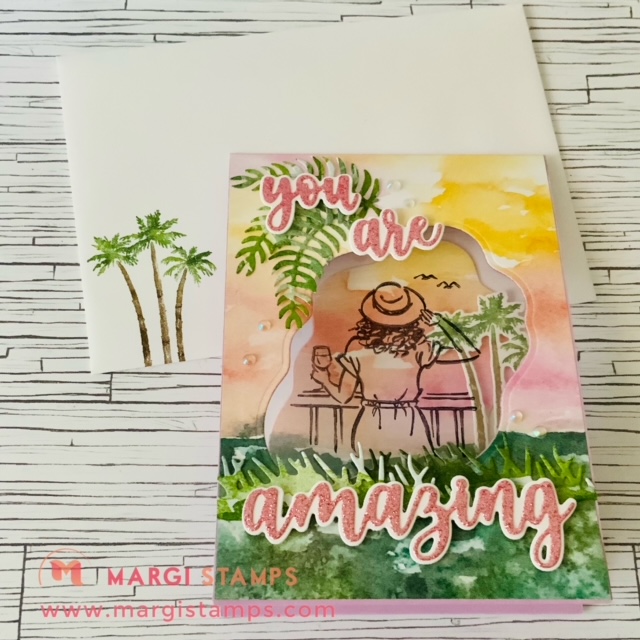 It is a Fancy Fold (Tent Fold) Card, fun to make and once again using New Horizons DSP. It's a perfect design for Mother's Day, Birthday or Celebration card!
This selection of Tutorials in the bundle, is based around flowers, butterflies and/or Mother's Day theme. There are many different ideas, from standard cards, fancy folds, 3D cards, ornaments, and gift packaging.
I have emailed all the Tutorials for the previous months. As the files are quite large, please let me know if you have not received your copy or if you would like to purchase back copies or this current Tutorial.
Join my Classes
Please contact me if you would like to join my paper-crafting classes. I run several class groups. You might like to arrange a private class for you and your friends, or you might like to join my online/virtual class with prepared class kits and PDF Tutorials.
Please chat to me about your ideas or queries.
Have Fun Crafting. Enjoy the samples and your own wonderful creativity.
My business Facebook page is:
https://www.facebook.com/margistamps/
My Pinterest site is:
https://www.pinterest.com.au/margisank/
My Stampin' Up Online Store is HERE
My Stampin' Up website is HERE
My blog website is:
http://www.margistamps.com/
……… till next time, stay safe, have fun!

LOVE IT.  LIVE IT.  SHARE IT.