It's October. It's SALE TIME.
Designer Series @ 15% Saving
There are 15 different Designer Series Paper packs; each at 15% saving off our regular price. The DSP's include both 12″ x 12″ and 6″ x 6″ packs.
Here are some images featuring both the designs and details. Here is the link direct to the sale DSP's on my Online store.
Scroll down to view images, comments and some samples made with the SALE DSP's
Samples for You & Product Links #1
Here are the first five featured Designer Series Papers and Product Links. I'll include samples of the remaining DSPs in my upcoming posts. Please enjoy these ones and in the meantime, you might like to pop on over to my Online store to see all of the pretty papers. The link is HERE
Artistry Blooms
It is bright and beautiful; great to use as a card front, layer or the support act for your design. I have used one of the more subtle tones of the DSP collection for both the flower and foliage in this class kit sample. The colours were a perfect combination for the Sunflower Dies. You can see this in the photo below. The Link to my Online Store and all of the ingredients is HERE
'Tis the Season
The size, colours and designs of this 6″x6″ DSP stack worked well for this Mini Slimline Card, as there are a combination of both colours and designs. The card design is versatile and well sized. It fits in a standard C6 envelope and includes a pocket for a store Gift Card or money treat. The link to my Online Store and all of the ingredients is HERE
Forever Greenery
Wow this DSP is stunning. It's super versatile. Each page and side is a treat. All elements of the Forever Greenery Suite work together, with the dies also die-cutting various elements from the DSP's. Here are some images for you.
The link to my Online Store and all of the ingredients is HERE
The link to my Online Store and all of the ingredients is HERE
Poinsettia Place
This card features both Poinsettia Place DSP and Plush Poinsettia Specialty Paper. The link to my Online store and the ingredients is HERE.
Our new Poinsettia Place Designer Series Paper breaks away from the more traditional red and green and highlights one of the more subtle plant varieties. It pairs beautifully with our Red & Green Foil and other elements of the Poinsettia Place Suite. The photo below is a snippet of my Poinsettia Place Cube Card and accompanying Gift Card featured in the October Creative Eight WOW Tutorials.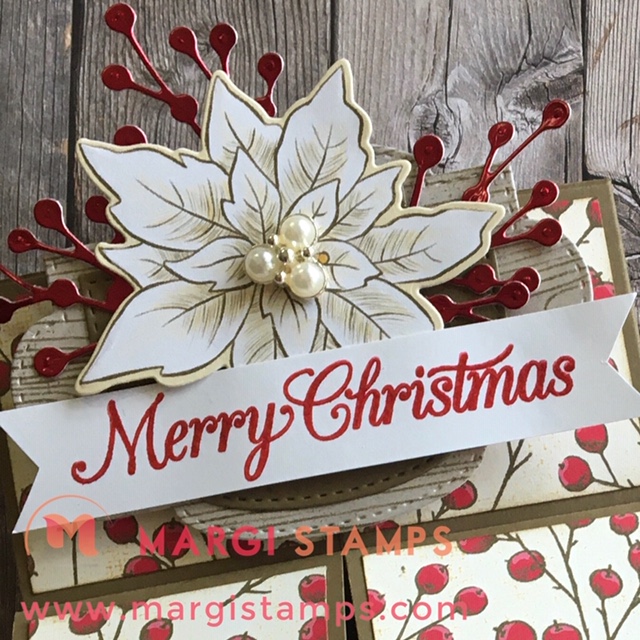 Perfectly Plaid
What's not to love about these bright plaid designs as they are useful for any occasion. The examples above bring to mind Autumn and male cards, but there are also pinks and softer colours to broaden it's use.
The link to my Online Store and the ingredients is HERE
As I was thinking Autumn, I noticed that our Mollis Azaelia is in Spring bloom and the colour is almost a perfect match for the Mini Slimline card. What do you think?
Pop onto my upcoming posts for the remaining DSPs. In the meantime, keep safe and well and have fun crafting. Please chat to me about your ideas or queries.
 
Have Fun Crafting.  Enjoy the samples and your own wonderful creativity.
 
My business Facebook page is:
https://www.facebook.com/margistamps/
 
My Pinterest site is:
https://www.pinterest.com.au/margisank/
 
My Stampin' Up Online Store is HERE
 
My Stampin' Up website is HERE 
 
My blog website is:
http://www.margistamps.com/
 
……… till next time, stay safe, have fun!

LOVE IT. LIVE IT. SHARE IT.