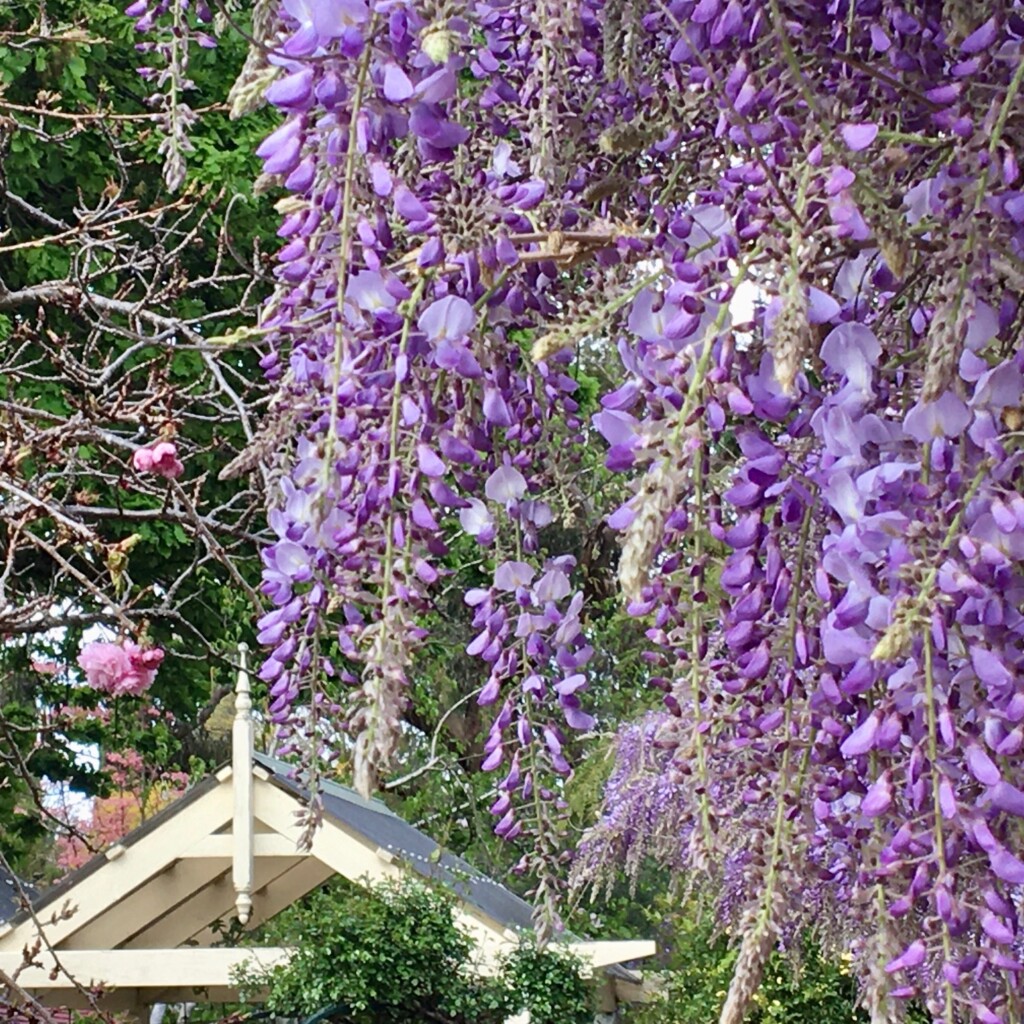 Spring has arrived in all her glory, sending us sunshine, rain, yes! some storms and longer days. Our Wisteria is in bloom and the first of our Cherry Blossoms have appeared.
Pretty things in the garden to inspire, longer and sunny walks to energise and always, the quiet relaxation of crafting, making cards to send joy.
I hope you and your loved ones are well, keeping safe and still having fun. There is a lot to share with you this month.

These are the topics I'll be covering. You'll be able to scroll down to view.
Where are we generally personally and within SU
September, 15% off, Stamp-tacular sale for one day only on September 23
Sara Douglass' Paper Pumpkin: Box of Sunshine is available while stocks last.
New & Fabulous Cut & Emboss Machine: available to purchase.
DSP Sale: 1 October 2020: details to be advised.
World Cardmaking Day: October 3.
Joy to the World Paper Pumpkin: available November 3
Creative Eight WOW Tutorials
Other Samples & Techniques to share.
Join my Team: Extra benefit for you during September- finishes September 30.
Join my Classes
Where are we, generally, personally and with SU?
Our garden is stunning us with her beauty, we are out and about walking & enjoying seeing mums, dads & kids walking, riding bikes, enjoying the playground and in general having fun. Thankfully, our COVID numbers are coming down.
We've all been having fun crafting, making samples, sending cards to friends, catching up 'virtually', and generally being creative.
Stampin' Up! Product Availability and Scheduling
Generally, order filling and shipping is back on track. Most products are ready and waiting for us. Whilst, we have been advised that there may be some shipping delays, our orders have been shipped and delivered promptly. I'm super impressed! Thanks SU, Australia Post and its Contractors.
September Stamp-tacular sale. One day only. September 23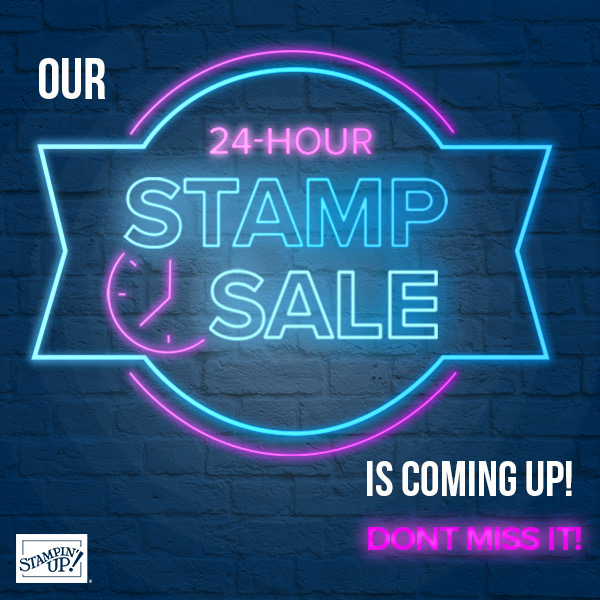 Here are the details:
It's the 'once a year' stamp sale. 
It will last for 24 hours
It will only run on September 23 Selected stamps from the 2020-2021 Annual Catalogue are listed at 15% discount.  Please contact me for the listing, if you have not already received it.
You can combine with other items.
You can order online on 23 September or through me.  If you want me to order for you please let me know as soon as possible (today or early tomorrow would be good).  
Here is the link to my online store.   You'll be able to go to the category name "Stamp Sale" on September 23.
Box of Sunshine Paper Pumpkin: available while stocks last.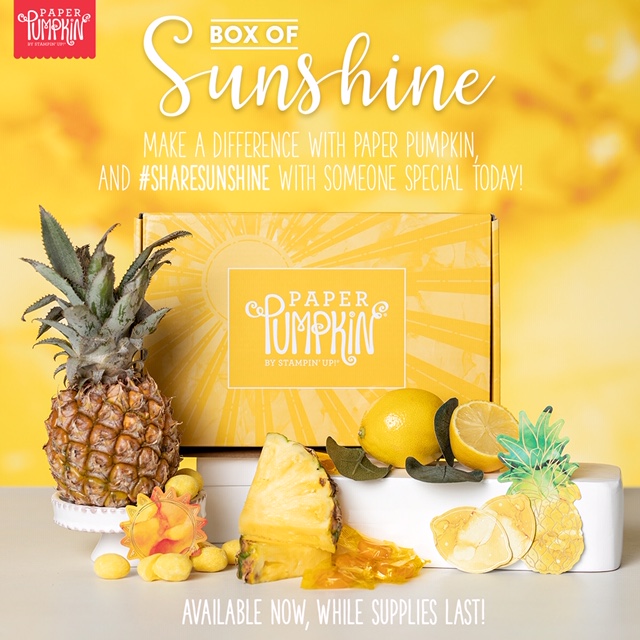 It includes supplies for eight handmade cards and is specially designed to help you create a box full of cheer. Once you have made the cards, use any leftover pieces to decorate the box and/or embellish additional card bases from your supplies. Fill the box with yellow goodies, add the included adhesive label, address it to someone special, and brighten their life with a little sunshine!
Please contact me to order or here is the product link.
New & Fabulous Cut & Emboss Machine: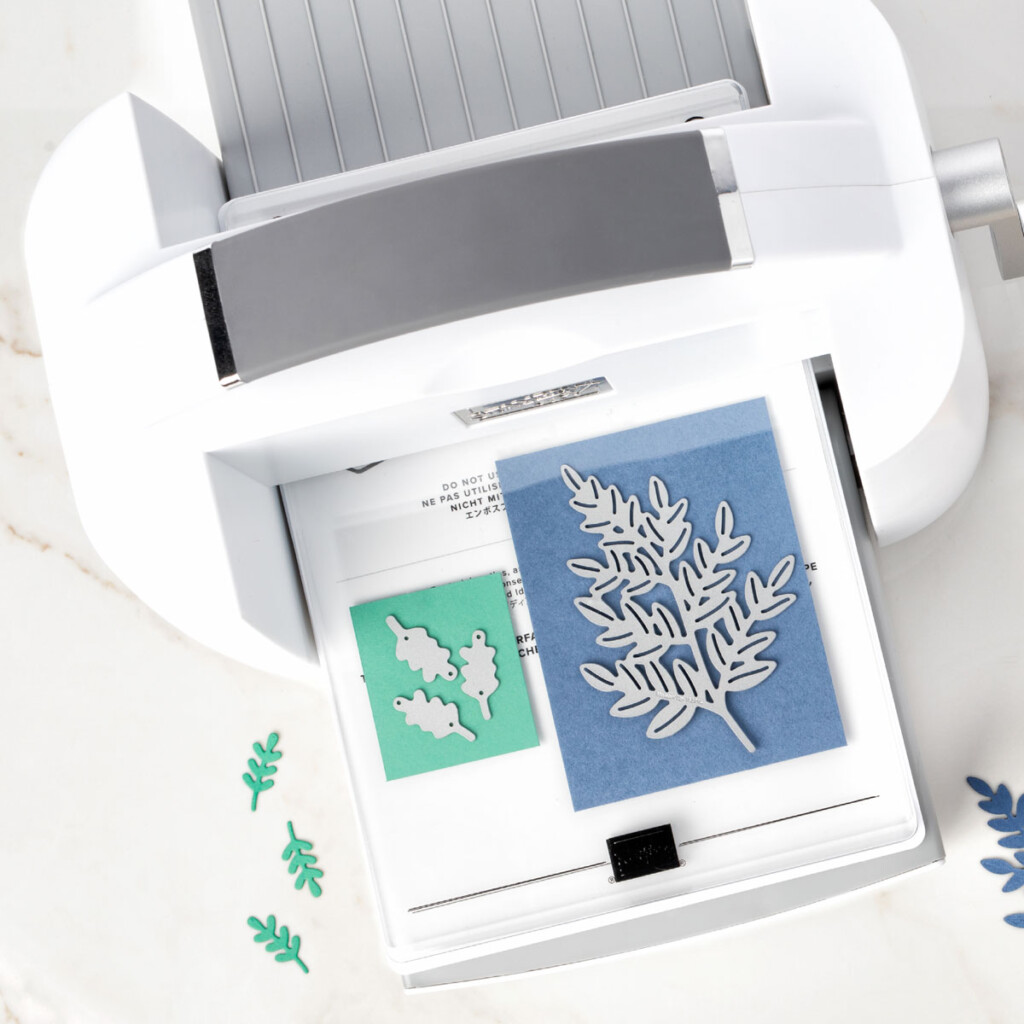 It is fabulous. I have been trialling mine for the last 6 weeks and I'm extremely happy with its performance. It's easy to use, die-cuts cleanly and embosses smoothly. It's stable, folds compactly and yes! … it's very pretty. Here is the product link.
DSP Sale: 1-31 October 2020: details to be advised.
Here is the first sneak peek of the sale. So many wonderful DSPs. Yes!

Designer Series Paper Sale is coming and I'll have links to share on my website, business Facebook page and online store.
World Cardmaking Day: October 3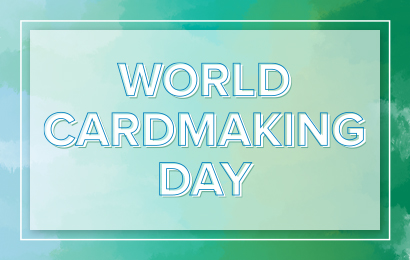 You might have been making many cards while waiting for warmer weather and our restrictions to ease. It's been a joy to make and send cards. Why not set aside some time around October 3, to make and send some cheer.
Joy to the World Paper Pumpkin; available November 3 while stocks last.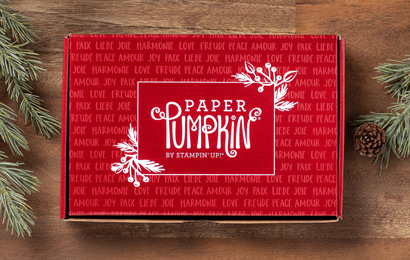 Priced brilliantly at $37, this internationally themed Christmas Paper Pumpkin, contains all the supplies to make 8 stunning cards; four each of two designs. There are card bases, envelopes, die-cut pieces, embellishments, exclusive stamp set, ink spot and adhesives. You just need to supply your own "D" clear stamping block. You can create cards or gift the Christmas Paper Pumpkin to a loved one to spread Christmas Joy.
We think this will sell quickly- please contact me to order or (when available) here is the link to my Online Store
Creative Eight WOW Tutorial: Here is the September 2020 Sneak Peak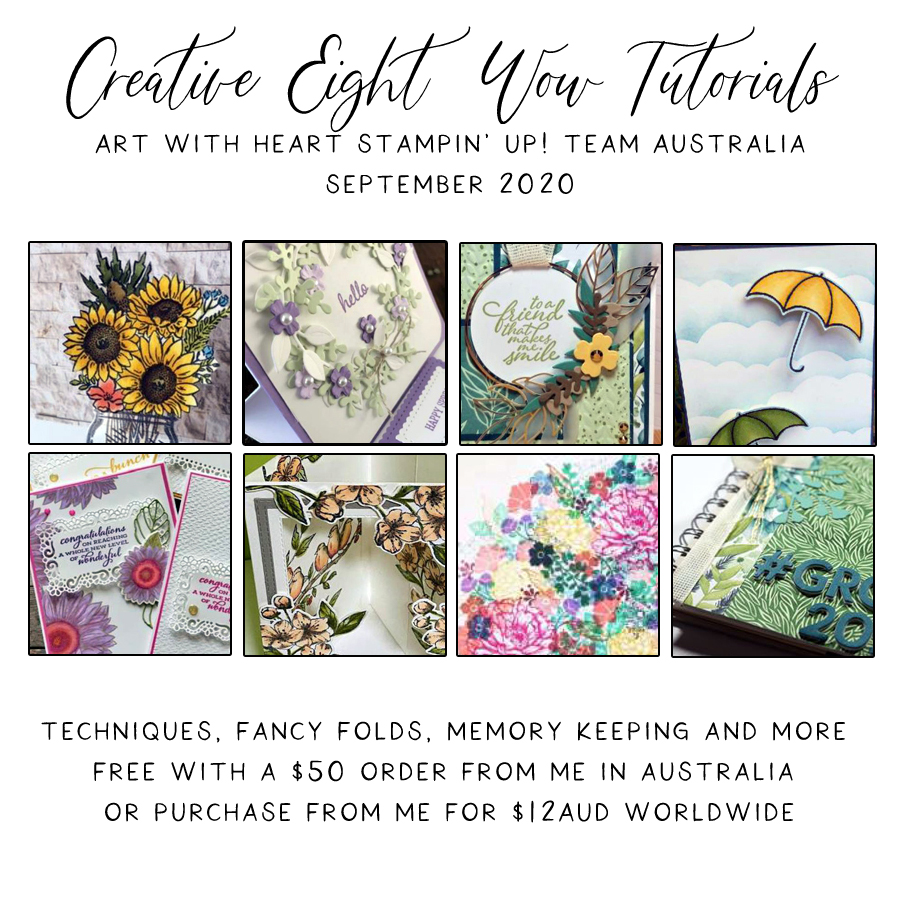 I have emailed all the August Tutorials and will send the September Tutorials in the next few days. As the files are quite large, please let me know if you have not received your copy.
Other Samples & Techniques to Share
Versamark
What is it? Here is a very brief summary and product link.
it's a clear, sticky and more viscous ink,
on it's own, it can be used to watermark, to give a tone-on-tone look, to emboss resist.
when paired with embossing power and a heat tool, it can add shine and a raised effect to your projects.
The following samples use the Ornamental Envelopes Bundle. Here is the product link.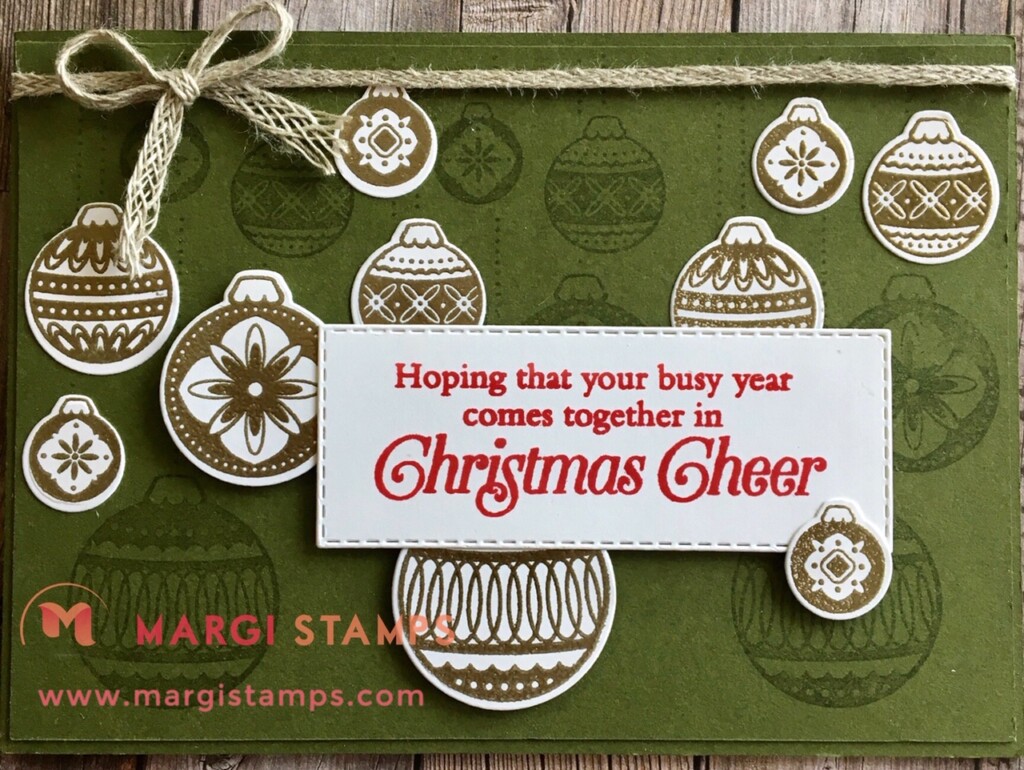 The Mossy Meadow "green' images were stamped in Versamark to give a tone-on-tone effect, The white die-cuts were stamped in Versamark and heat embossed with Gold Embossing Powder.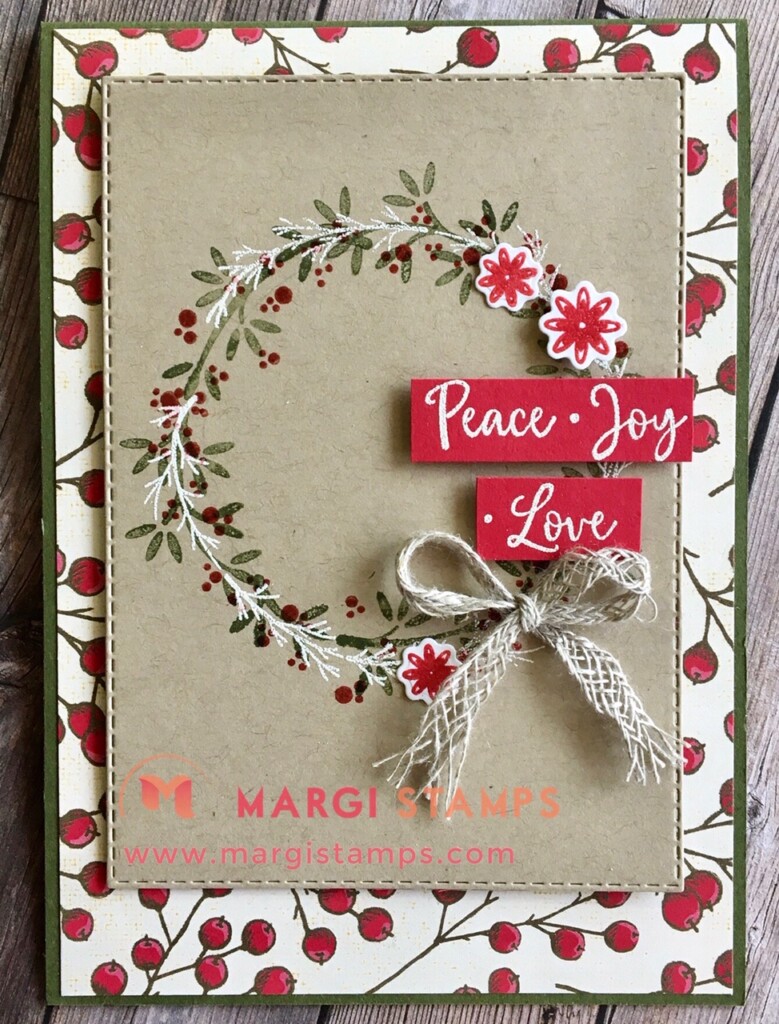 The white twigs were stamped in Versamark and heat embossed with White Embossing Powder.
You might also notice that the red berries are also embossed. The berries stamp was first inked with Versamark then immediately in Real Red and stamped onto the Crumb Cake Cardstock. The images were then heat embossed with Clear Embossing Powder.
Masking:
You can use a variety of masks and techniques to build you design. Here are a few examples:
Using Decorative Masks, create a subtle background for your card design.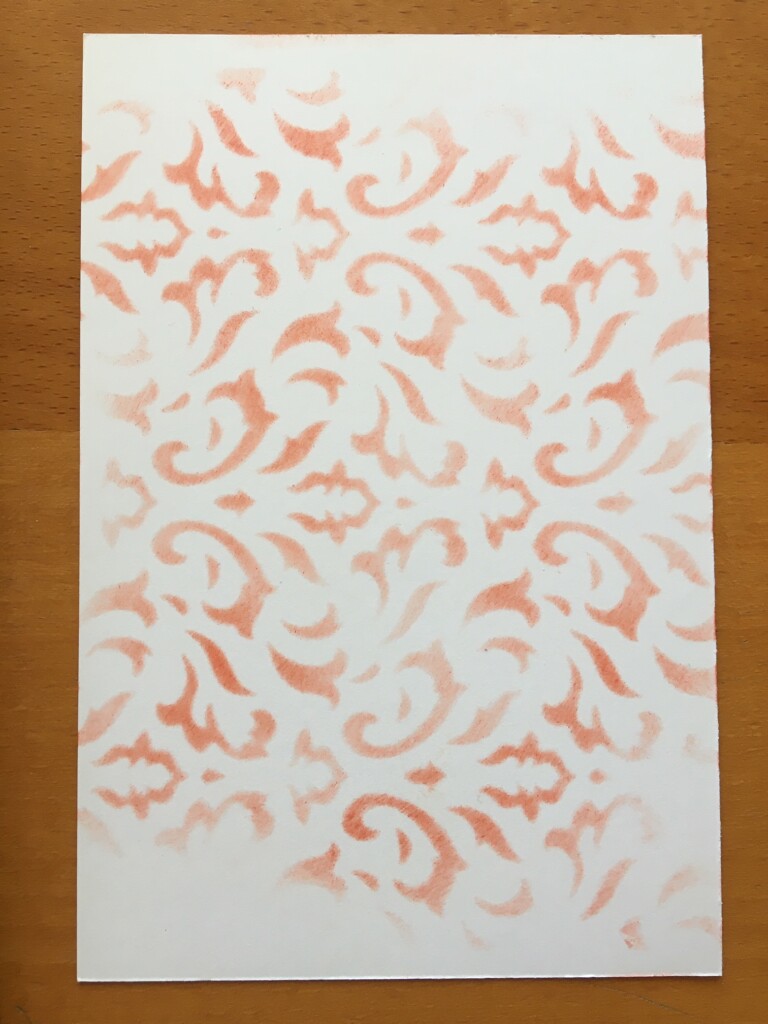 Make a mask for your stamped image with the same stamped image, then stamp additional graphics around and over your applied mask. Here is an example using one of our 'sale' stamp sets, Whiskey Business.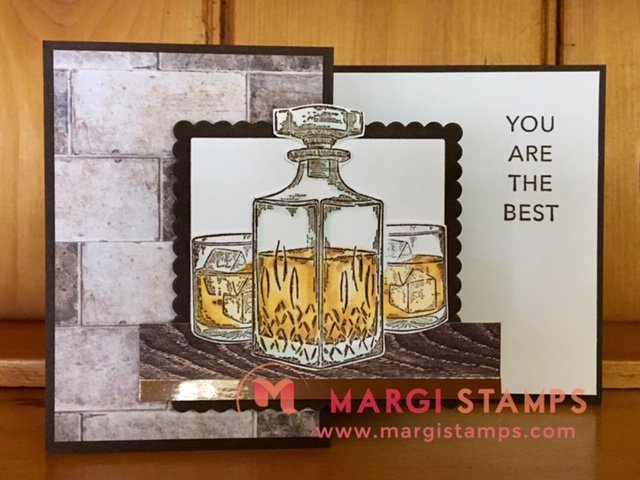 Mask your card front and sponge with inks to prepare your panel. Here is my finished card using Life is Beautiful. Here is the product link.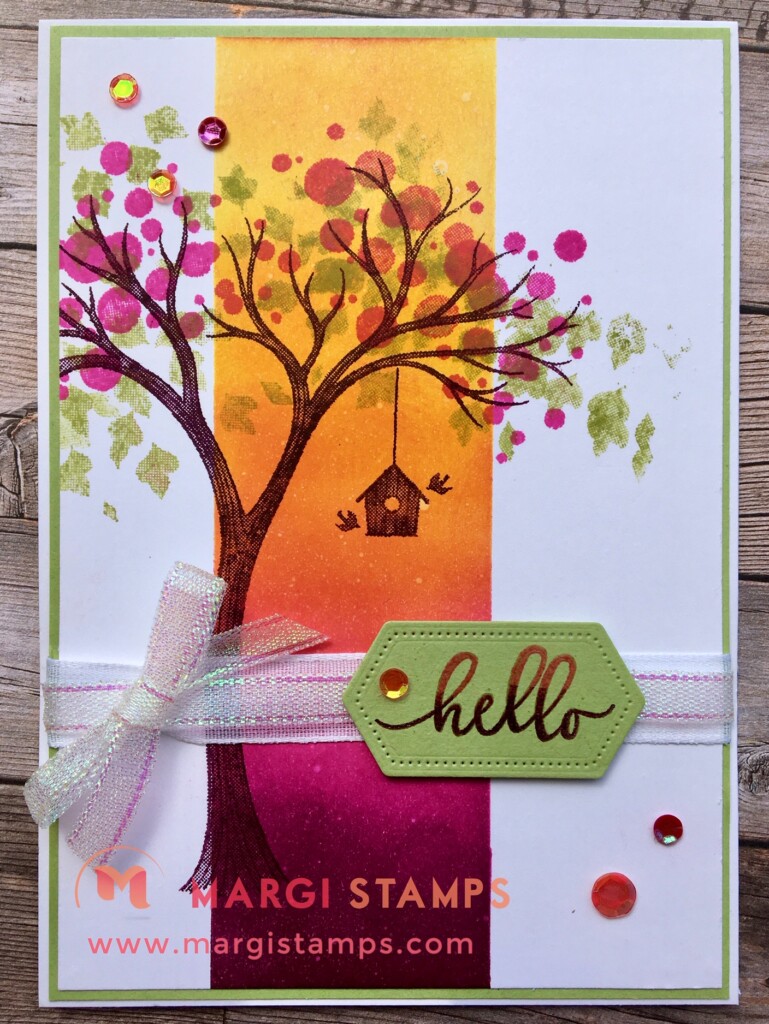 Slimline Cards
New slimline cards are very popular at the moment. Here are some samples for you and here is the link to my blog post for details instructions.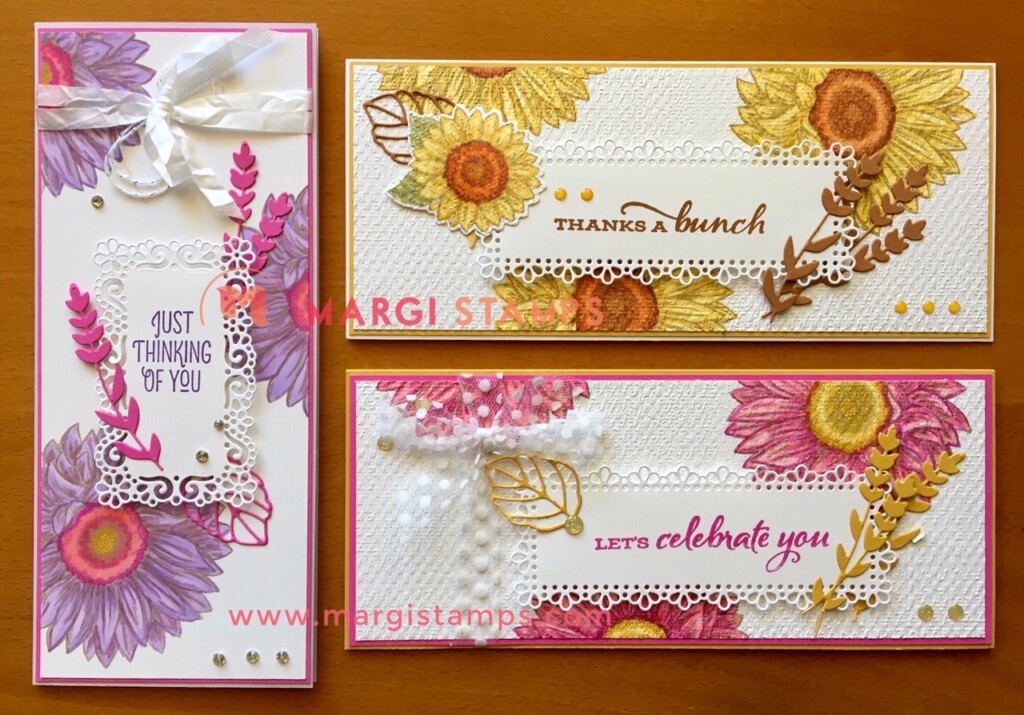 Join my Team: SEPTEMBER Promotion
Join just for yourself to get a discount, and/or build a business, be part of my team and meet friends who love to craft. The choice is yours, and I'm only too happy to chat with you OR, you might like to hop on over to my JOINING PAGE.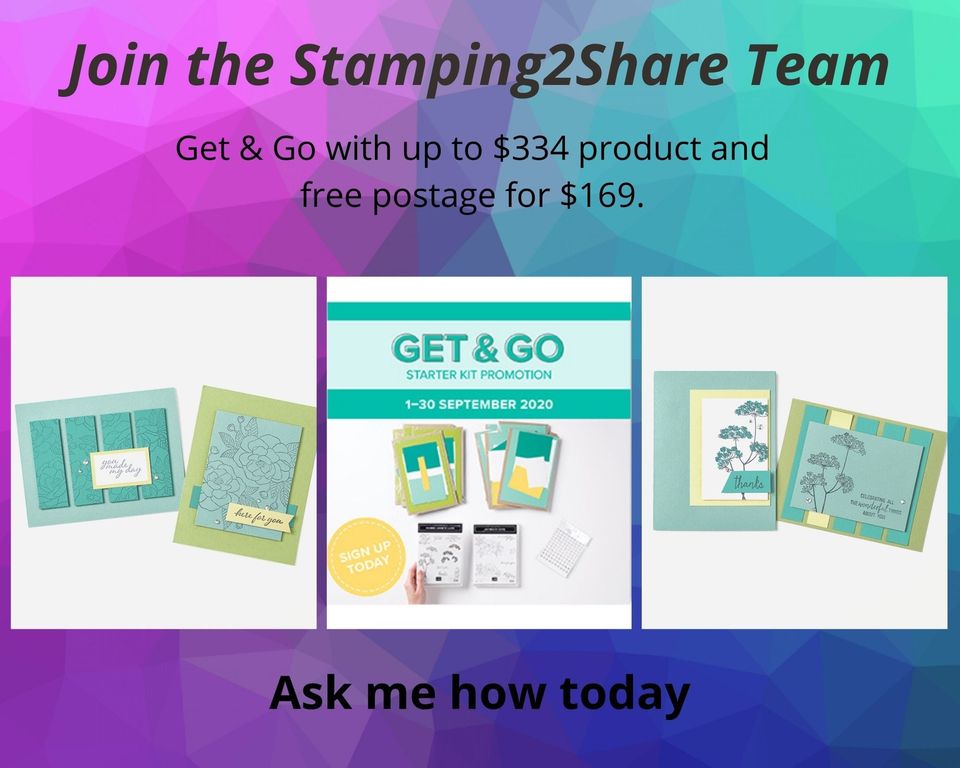 This is the SEPTEMBER offer to you.
You may have been contemplating Joining my Team or you may just like our fabulous SEPTEMBER Promotion. During the month of September, and on top of the other great value, you will also receive enough cardstock to make 16 cards, a pack of Rhinestone Basic Jewels, the So Much Love stamp set and the Queen Anne's Lace stamp set FOR FREE!
Here's a quick look at the offer!
Choose $235 product for a $169 spend ($66 for FREE) (incl. new Mini Christmas Catalogue)
FREE Shipping
FREE Business Kit
FREE SEPTEMBER Get & Go Promotion ($99+ for FREE- see above)
And the opportunity to order from any existing catalogue at 20% discount.
You might like to pop on over to my blog post, where you can find further explanation and some Q & A's. Here is the link.
Join my Classes
Please contact me if you would like to join my paper-crafting classes. I run several class groups. You might like to arrange a private class for you and your friends, or you might like to join my online/virtual class with prepared class kits and PDF Tutorials.
Please chat to me about your ideas or queries.

Have Fun Crafting. Enjoy the samples and your own wonderful creativity.

My business Facebook page is:
https://www.facebook.com/margistamps/

My Pinterest site is:
https://www.pinterest.com.au/margisank/

My Stampin' Up Online Store is HERE

My Stampin' Up website is HERE

My blog website is:
http://www.margistamps.com/

……… till next time, stay safe, have fun!

LOVE IT. LIVE IT. SHARE IT.