It's February, 2019.
Kids are back at school, folk are back at work and there's traffic on the roads.
We have new products to play with and the weather is pleasantly cool. Heaven!
I thought I'd share some more of the products that I just love. They are from our Occasions Catalogue and 1st Release Sale-a-Bration (SAB). 2nd Release SAB will launch on February 15.
To give you a recap;
Occasions Catalogue (OC) runs until June 3, 2019. It runs concurrently with our Annual Catalogue. Here is the link to the Occasions Catalogue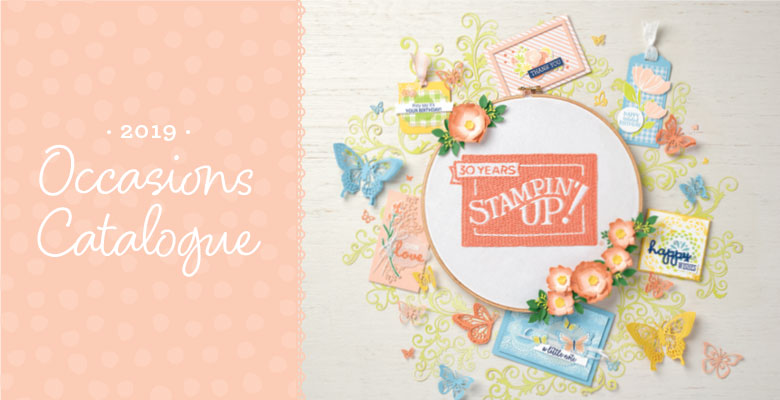 Sale-a-Bration, (SAB), free product with qualifying orders, runs until March 31, 2019. Here is the link to Sale-a-Bration 1st Release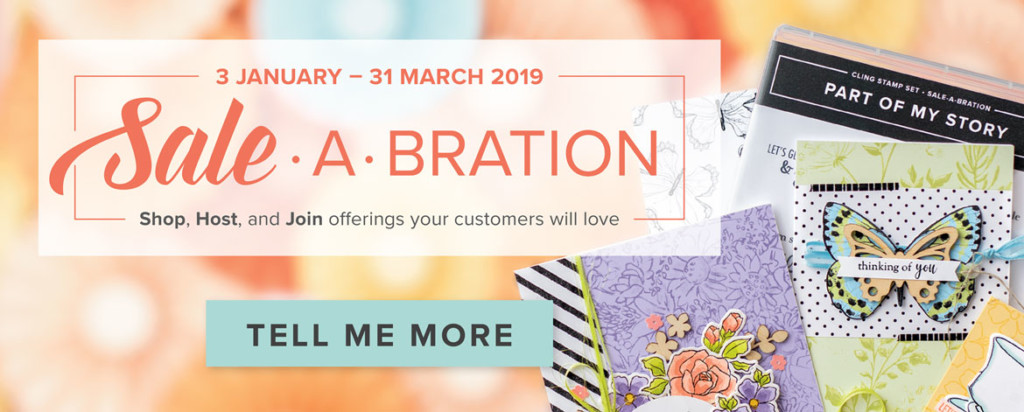 This is great time to add to your crafting supplies with FREE, exclusive and limited time products. There are stamp sets, embossing folders, designer series paper, notecards kits, ribbons, wooden elements and framelits dies. These items are available 'while stocks last'.

Most items are FREE with an order of a minimum of $90. Three products that are FREE with $180 spend. (2 in 1st Release SAB, 1 in 2nd Release SAB)

There is no limit on the number of free products. All offers are based on product order multiples of $90, or $180.

For example, if your product order is $180 you will choose two free $90 SAB items or one $180 SAB item. If your order is $270, you will choose three $90 SAB items or one $180 item and one $90 item. etc!

More on the special SAB benefits later…….
Products, Projects and Designs
Now, let's talk about some of the fantastic products and projects featured.

I've adapted many of the designs in the catalogues and made up some of my own.
Floral Romance
Floral Romance is such a pretty suite (OC p. 10-11) featuring a stamp-set/dies bundle and many co-ordinating products.
Here is the link to Floral Romance Suite.
I have used this suite for both floral and wood textured cards…it is suitable for many different occasions.

Many of the dies emboss as well as cut; this is such a bonus and helps step up the designs with no additional passes through the Big Shot.

The other big bonus for me is that the stamped images are lovely to colour with watercolour pencils, blends or even Wink of Stella.

The leaves look so like our eucalypts. I'm a happy girl!
Butterfly Projects
There are two bundles in the Occasions Catalogue (OC) that feature butterflies.  They are Beauty Abounds Bundle (OC p. 13) and Butterfly Gala (OC p. 35).  Beauty Abounds features stamp-set/dies; Butterfly Gala features stamp-set/punch.
 
Butterfly Gala has a whole range of co-ordinating products both in the Occasions and SAB.  The Punch has been extremely popular and there may be some future shipping delays.  It is orderable now!  If you would like this punch or bundle, please order as soon as possible or please give me call.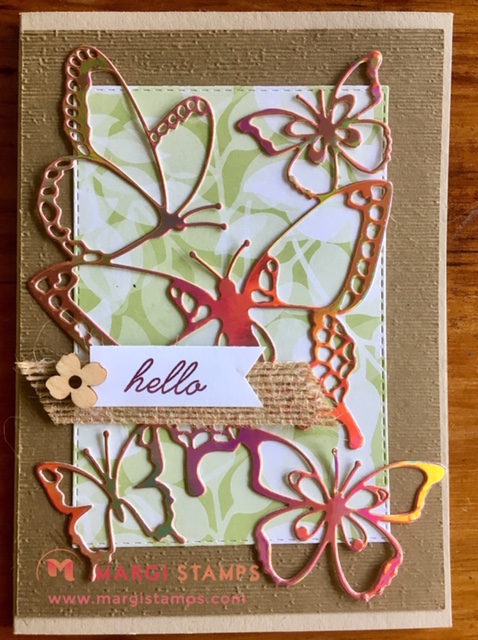 Rectangle Stitched Dies
These dies are part of the Amazing Life Bundle (OC p.28); there are great sayings and graphics, that I have yet to explore……  But I can assure you the Rectangle Stitched Dies have been one of my favourite tools.  Just love them.  Here are some examples used with a myriad of other stamp sets.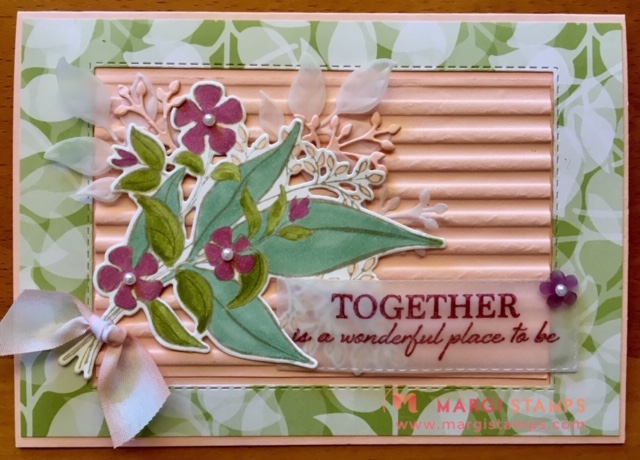 High Tea Nostalgia
Tea Together (OC p. 9) and Tea Time Framelits Dies (SAB p. 17) make me feel quite tranquil.
 Whether it be nostalgia for a quieter time, the thrill of a High Tea special occasion or using a much-loved teapot to showcase flowers from our garden, these products were a stand out. 
 
I cased the examples on SAB, page 17 and then developed the idea further.  In all cases I've used our fabulous notecards/cards and envelopes.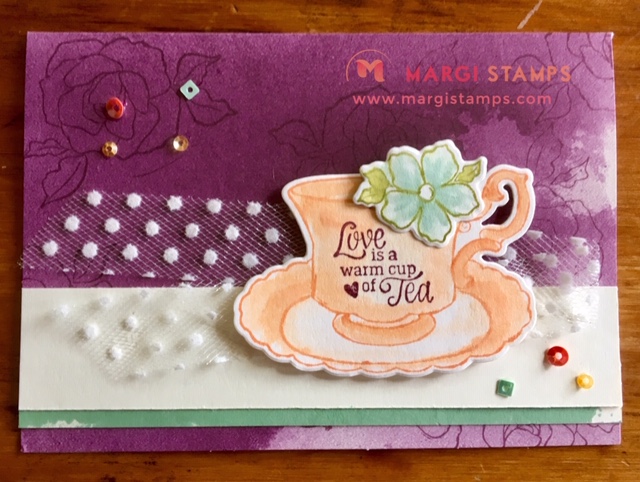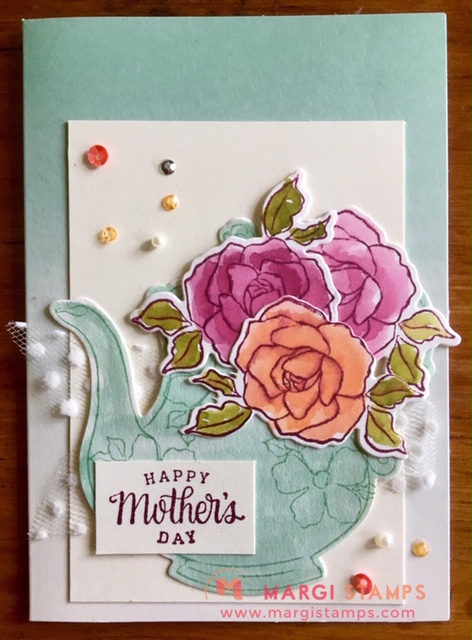 The pretty silver and gold foil edged envelopes carried over from the Christmas Catalogue are still available. All our notecards/cards and envelopes packs offer great value. Delightfully Detailed Notecards and Envelopes, are $16.50 for 16; the Foil Edged Cards and Envelopes (gold or silver) are $16.50 for 20.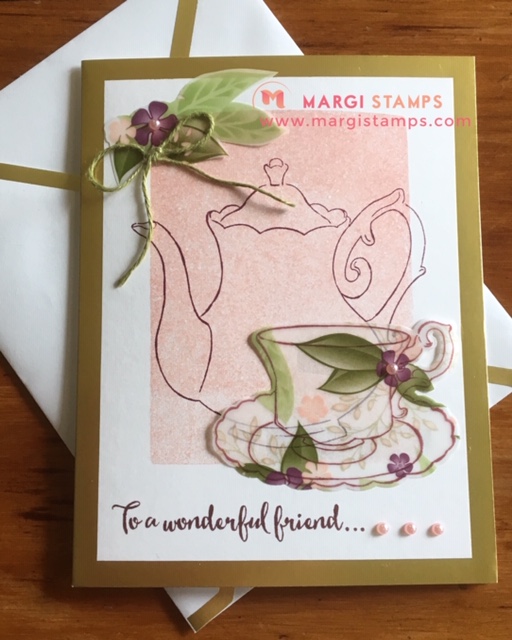 I used two very simple techniques in this card.
I used my Powder Pink inkpad as a stamp.
I used one of the vellum designs from Floral Romance Specialty DSP (OC p. 11) for the pattern on my teacup.  The vellum adheres beautifully with our snail adhesive….and does not show through onto the card front!  It was a snap to fussy cut the leaf trim at the top of the card.   
Framelits Dies are Coming
You might just love the Hello Cupcake (SAB p. 6), So Hoppy Together (the frogs) (SAB p. 13) and Lasting Lily (SAB p. 19), but you just wish there were co-ordinating dies to add special value to your creations. 
 
Please let me share something with you……framelits dies are coming.  You will be able to order these exclusive and limited time products from 1-31 March 2019.   (Or join my team and order them now!)    
 
I have just received my order and I've still to get creating with these.  I'll be uploading my photos as quickly as I can so that I can share with you.  
Class Projects
We've hopped in and explored the catalogues with Needlepoint Nook OC p.38-39, Classic Garage OC p.42-43, Happy Tails OC p.33, Hello Cupcake SAB p 6, By the Bay SAB p 10. (can you see the Rectangle Stitched Framelits?)
I have uploaded more designs to my Pinterest site and to my Facebook page. Please feel free use these designs for your own springboard to your next creative project.
To recap on this special time of the Stampin' Up! Year for you.
Sale-a- Bration runs to March 31 and is wonderful time of the year to add to your crafting supplies and get free products.
There are at least three ways to save and get free products:

Spend in multiples of $90 to earn free product.

Host a party and earn additional host benefits. Product Sales of $400 or more and earn additional $40 of product as well as the existing reward of 10%+ ($40+).

Join My Team for $169 and order $315 of product (this is $80 increase on regular offer) OR
Join My Team for $210 and order $315 of product (this is $80 increase on regular offer) and receive the exclusive Stampin' Up! Tote Bag (valued at $87)

Please chat to me about any ideas or queries that you may have.

Please feel free to use the examples for your own designs and inspirations.
 
My business Facebook page is:
https://www.facebook.com/margistamps
 
My Pinterest site is:
https://au.pinterest.com/margisank/
   
………..till next time.
Please enjoy and have fun!
Margi