Welcome 2021
Have you been having a great summer holiday?  I hope it's been very special for you and your loved ones.  We've been chilling and doing 'jobs' around the house as well as a bit of crafting.  But now, the kids are back at school and it's time share some Stampin' Up! and crafting news with you.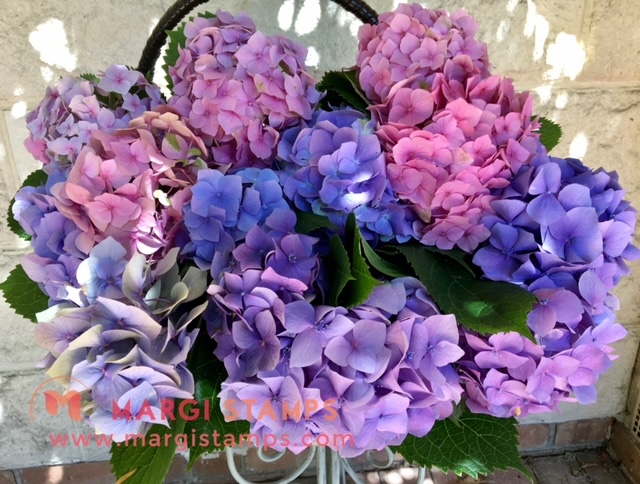 Our garden has thrived in the mild weather and plentiful rain. It's provided inspiration as well as some extra weeding and mowing (thanks Pete!) I hope that your garden and environment have delighted you.
Our hydrangeas linked perfectly with Hydrangea Hill Suite in the new January-June 2021 Mini Catalogue, so naturally I wanted to create with it.  You'll also find more examples below and in this link.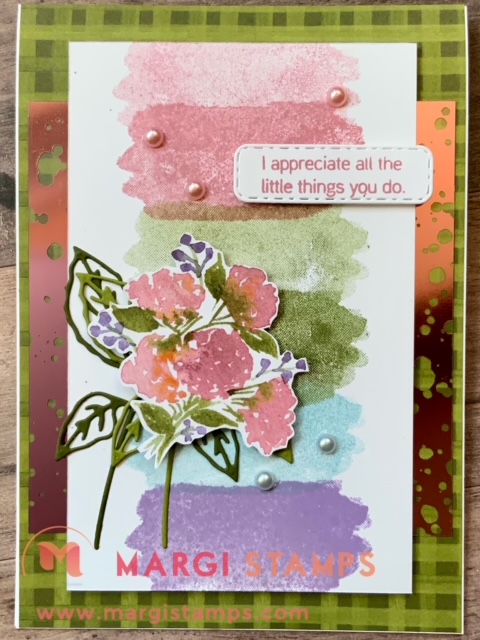 January-February 2021 Announcements
These are the topics we will be covering.  You'll be able to scroll down to view.
* January-June 2021 Mini Catalogue
* Sale-a-Bration until February 28
* Hey Chick & Birthday Chick Bundles now available
* Basic White has replaced most Whisper White paper products.
* Creative WOW Tutorials January & February
* Other Samples & Techniques to share.
* Join my Team
* Join my Classes
January-June 2021 Mini Catalogue
I hope you are enjoying our January-June 2021 Mini Catalogue.  It has great ideas, card layouts, inspiration, as well as examples of the fabulous products.  If you would like a paper catalogue, please contact me or to view the products, visit my 24/7 Online Store .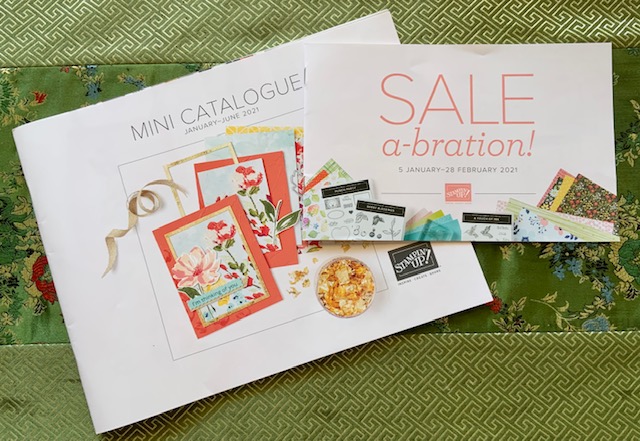 Sale-a-Bration
Sale-a-Bration now runs until February 28 (not March 31 as in previous years) Here is a quick summary of all the treats. It's always a fabulous time to buy new product, stock up on much needed staples and earn some FREE product.
There are three different ways to earn during Sale-a-Bration; SHOP, HOST, and JOIN.
SHOP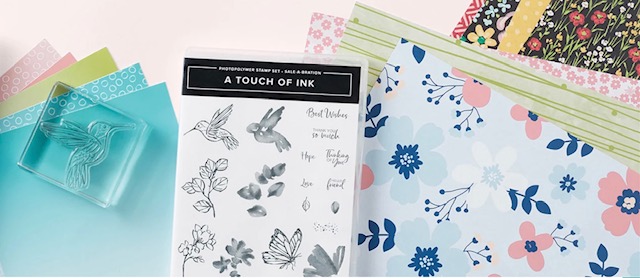 During Sale-a-Bration you can earn FREE products. For every $90 or $180 you spend you can choose between two purchasing levels of products. Here's the link to my 24/7 Online Store
HOST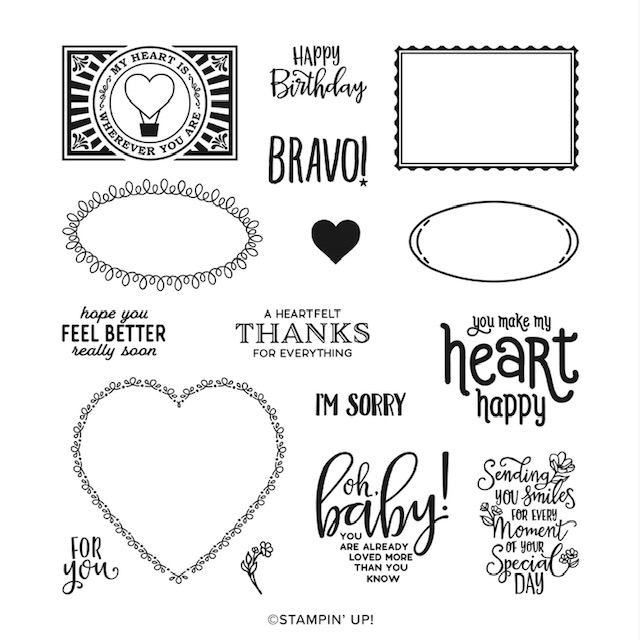 FREE stamp set for host/party orders over $500. Please chat to me or visit my Host Page
JOIN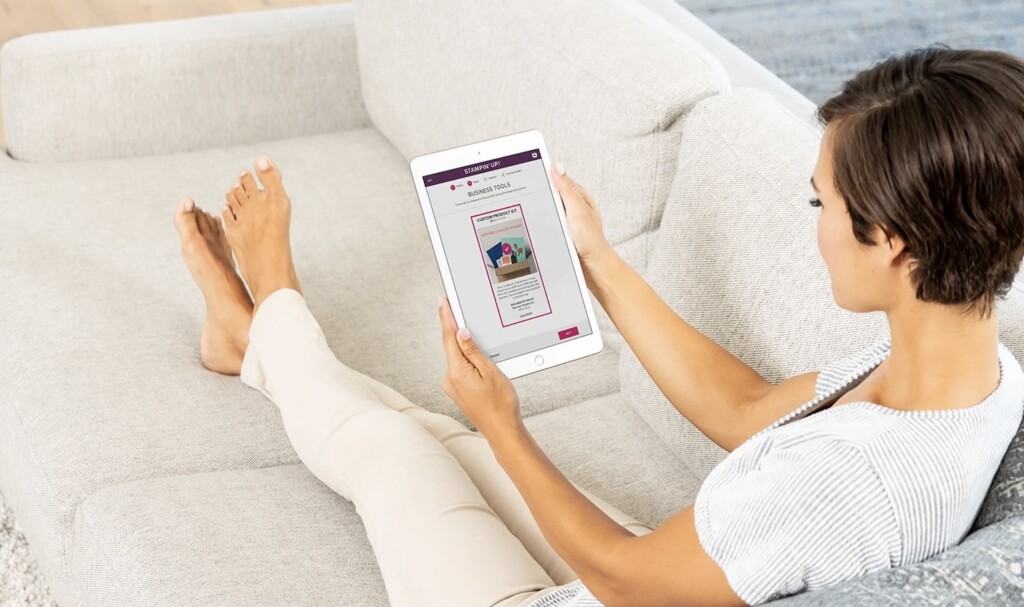 Build a Starter Kit by choosing $235 product for $169.  Join during Sale-a-bration and you also get a FREE exclusive gift from the upcoming catalogue; an assortment of five 6" x 6" Designer Series Papers. Business Supplies and free shipping are included.  Please talk to me about building your own creative business or visit my Joining Page.
Hey Chick and Birthday Chick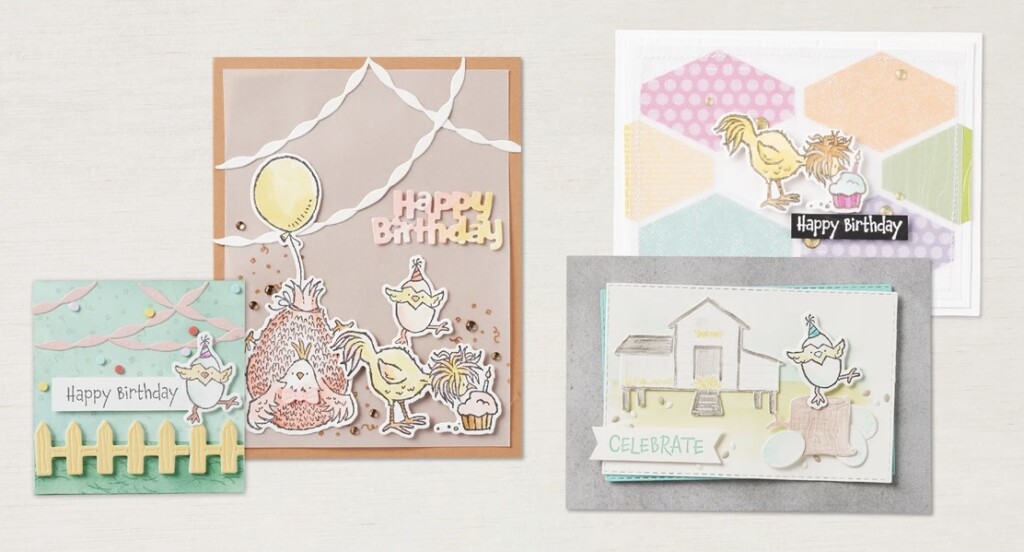 During Sale-a-Bration 2017, we were blown away by how much you loved the Hey Chick Stamp Set.  We decided to bring it back – along with coordinating dies and a completely new bundle (Birthday Chick) created in the same style.  These items are only available until 30 June 2021 and while stocks last. Here is the link.
Basic White has replaced Whisper White Paper Products
Here is a photo of the products, item numbers and prices (they have remained the same), or visit my 24/7 Online Store
Creative WOW Tutorials – January 2021
The January edition is based around our Sale-a-Bration products.  There are many different ideas, from standard cards, fancy folds, 3D cards, ornaments, and gift packaging.  Here is the link to my blog post to read more.
My project includes three Level 1 Free Products; Darling Donkey, Flower & Field DSP and Oh So Ombre DSP.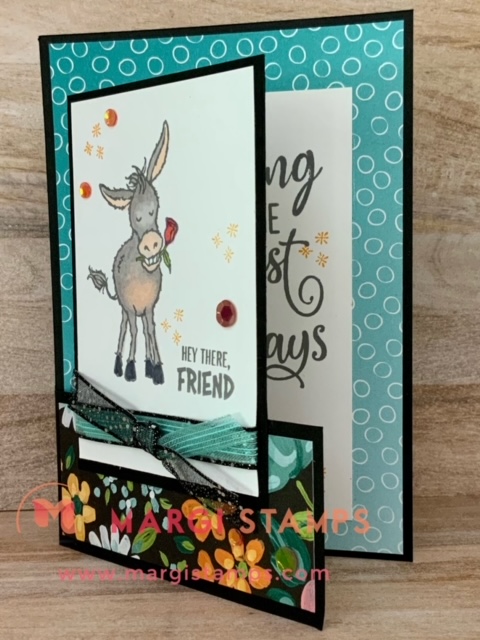 Creative WOW Tutorials – February 2021 (hot off the press!)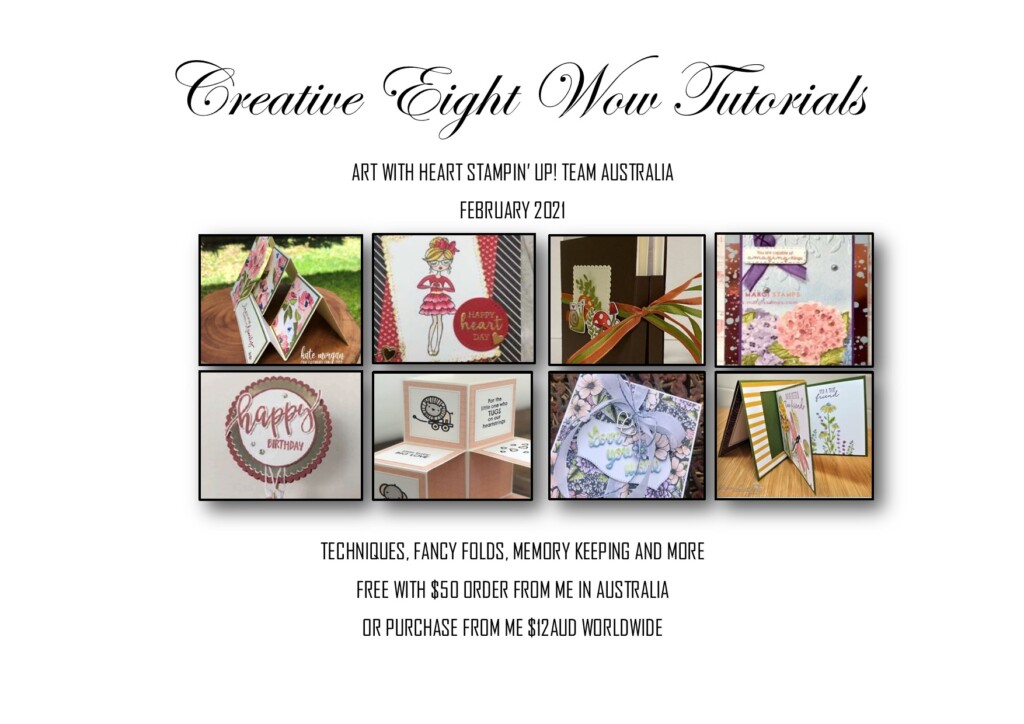 I have emailed all the Tutorials for the previous months.  As the files are quite large, please let me know if you have not received your copy or if you would like to purchase back copies or these current Tutorials.
Other Samples & Techniques to Share
Hydrangea Hill Suite
The basket of flowers from our garden brings Pete's and my Mum into the picture.  Their flowers and love of gardening were my inspiration for these cards.  I am sure our hydrangea plants all derive from their cuttings.
We are so lucky at SU to have so many talented artists and designers.  They have captured the colours and blooms perfectly.   The other DSP designs in the pack are equally stunning.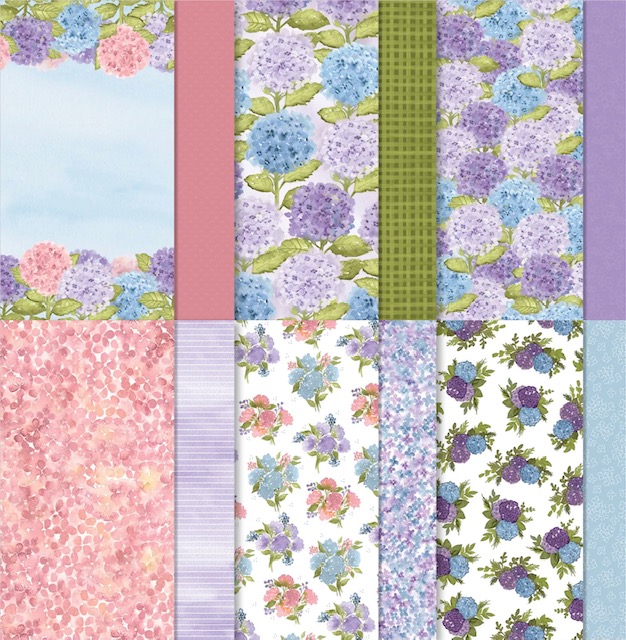 The Hydrangea Hill Suite comprises Hydrangea Haven Bundle (save 10%), Hydrangea Hill Mercury Glass Acetate, Gorgeous Grape 3/8" Ribbon, Pastel Pearls and Hydrangea Hill Designer Series Paper. Here is the link to my blog post for more information and samples. 
Berry Blessings and Hearts
Sale-a-Bration Berry Blessing Bundle (Berry Blessings Stamp Set + Berry Delightful Designer Series Paper) is a Level 2 SAB offering (FREE with $180 spend).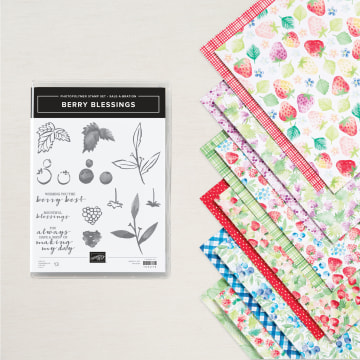 It was perfect to team with our Hearts Punch Pack for our February theme of love. Valentine, Galentine, Love, Friendship, Care and Empathy; all especially poignant at this time.  Here is the link to my blog post.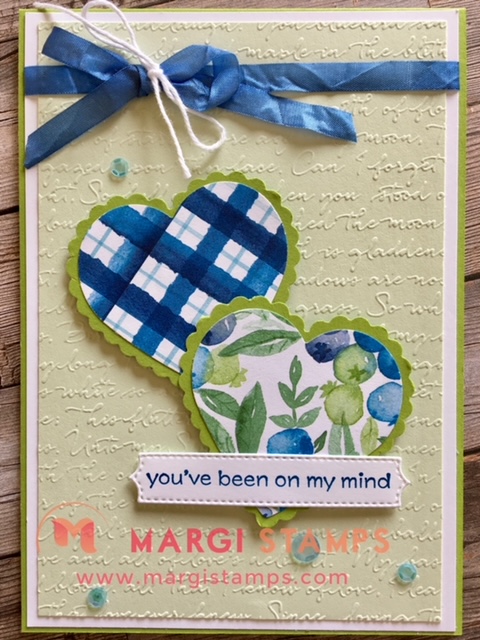 Love You Always + Quite Curvy Bundle
The Love You Always Suite for the J-J 2021 Mini Catalogue is stunning and perfect for our February Love Theme.  Here it is paired with Quite Curvy Bundle. Here is the link to read more.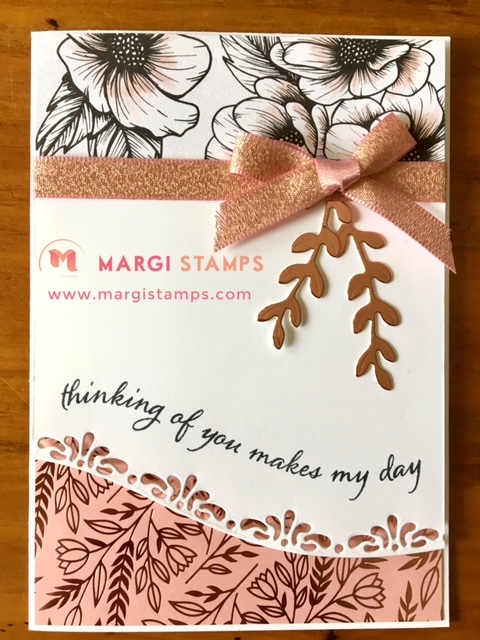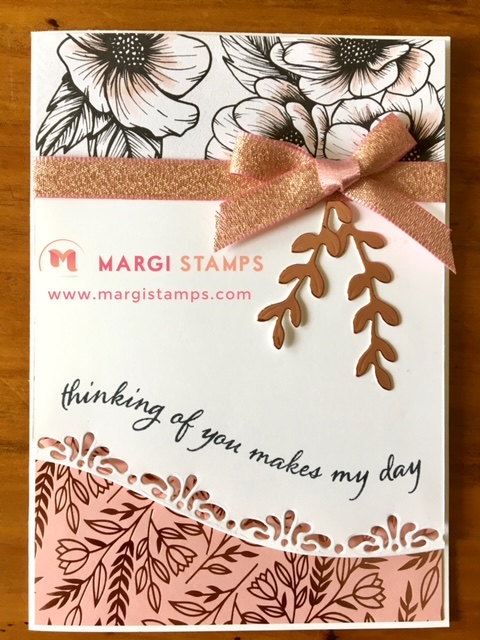 These alternate cards feature the same layout and uses SAB Paper Blooms DSP, Rococo Rose Ribbon, Linen Thread, Sahara Sand Ink Pad and Flirty Flamingo and Petal Pink Blends to colour the birds.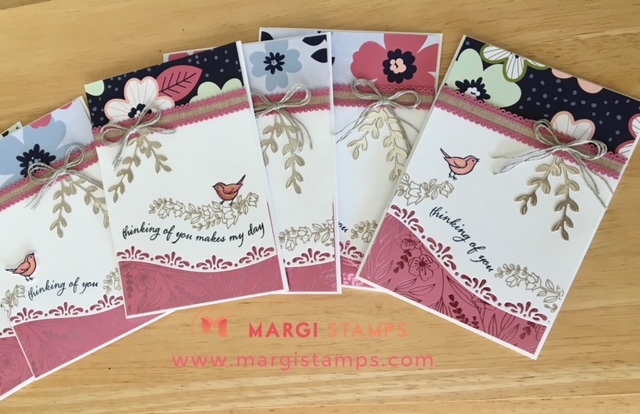 Join my Team:
Join just for yourself to get a discount, and/or build a business, be part of my team and meet friends who love to craft. The choice is yours, and I'm only too happy to chat with you OR, you might like to hop on over to my JOINING PAGE

Here's a quick look at the offer!
Choose $235 product for a $169 spend ($66 for FREE) (incl. new Mini Christmas Catalogue & Upcoming November 'Curvy Celebrations'
FREE Shipping
FREE Business Kit
FREE Exclusive gift from the upcoming catalogue of five 6″ x 6″ stacks of designer Series Paper ($100 for FREE)
And the opportunity to order from any existing catalogue at 20% discount.
You might like to pop on over to my blog post, where you can find further information and some Q & A's.  Here is the link. While the September promotion has ended the Q & A section addresses general issues.
Join my Classes
Please contact me if you would like to join my paper-crafting classes. I run several class groups. You might like to arrange a private class for you and your friends, or you might like to join my online/virtual class with prepared class kits and PDF Tutorials.

Please chat to me about your ideas or queries.

Have Fun Crafting. Enjoy the samples and your own wonderful creativity.