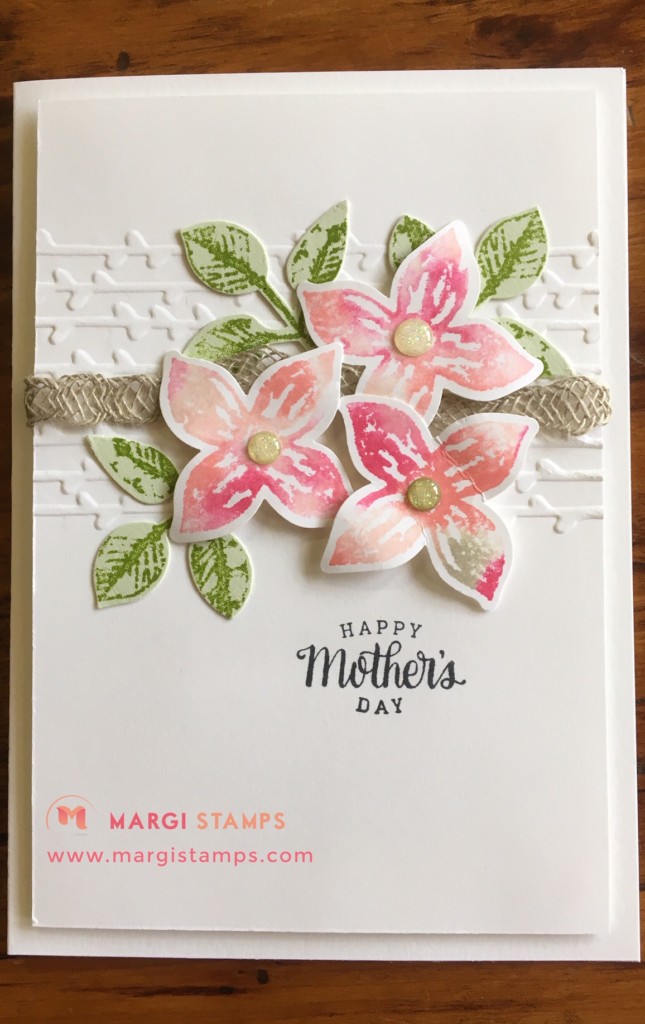 Technique Class
Techniques are always good to revisit and great to offer in our paper-crafting classes. In this class, I shared how to make your very own stamp pad with beautiful Stampin' Up! colours. It is called the Baby-wipe technique.
Baby-wipe Technique
We used one baby wipe, folded in four and drops of different colours from Stampin' Up! Re-inkers. The colours were Powder Pink, Melon Mambo, Flirty Flamingo and Sahara Sand. The moisture in the baby-wipe and Powder Pink drops were the carriers to lightly spread the other colours. I used several drops of Powder Pink first, only two drops of Sahara Sand to give a little variety, and many more drops of the other colours to give the brew I wanted.
Let's use this gorgeous ink pad and make a card
We chose the most abstract flower from Pop of Petals Stamp Set to highlight the colour variety. We stamped and punched three flowers using the coordinating Four Petal Flower Punch.
We paired this with Painted Harvest Stamp Set, stamping three leaves in Granny Apple Green on Soft Sea Foam card stock. We used the coordinating Leaf Punch to punch the leaves.
These elements were arranged on a layered card-front embossed with one of the Petal Pair Textured Impressions Embossing Folders. We distressed a little of the Braided Linen Trim.
We used a variety of greetings as the card design lends itself many different occasions. In this example, I have used a greeting from Tea Together stamped in Black Memento. This is will be a perfect card for Mother's Day and my dear Mum.
Many of the products that I have highlighted are continuing in the next catalogue period. Pop of Petals and the Four Petal Flower Punch are carrying over, but they are being offered now at the 10% discount Bundle price. You might want to snap up this bargain while it lasts.
Painted Harvest, Leaf Punch, Tea Together and Braided Linen Trim are all carrying over.
Petal Pair TIEF is retiring. The only re-inker that is retiring is Powder Pink . Both of these products are still available as I write this post.

Please let me know if you would like to order any of these products or you can use the links attached to the pictures below to shop at my on-line store.
Product List

Please contact me if you would like to join my paper-crafting classes. I run several class groups, or you might like to arrange a private class for you and you friends.
Perhaps you have a love of paper-crafting and would like buy Stampin' Up products at a discount. You can do this by becoming a demonstrator and joining my team. You can choose your level of involvement; it can be a hobby or a business or anywhere in between. Please don't hesitate to contact me to discuss or go to my online joining page.
Please chat to me about any ideas or queries that you may have.

Please feel free to use the examples for your own designs and inspirations.

My business Facebook page is:
https://www.facebook.com/margistamps

My Pinterest site is:
https://au.pinterest.com/margisank/
………..till next time.
Please enjoy and have fun!
Margi