Welcome to your October 2019 Newsletter
In the blink of an eye, September is gone, Spring has sprung, kids and grandkids are on school holidays, footy is over.
This is a time to enjoy more light, and hopefully, time to craft and create.  We know Summer is just around the corner, as is the joy of Christmas and giving. 
My old newsletter program has been discontinued, so this one has a new format.  I'm hoping that I can improve the functionality, but it's all a new learning curve for me and may take a little time.
If there are urgent announcements to share with you like Clearance Rack Update or Flash Sale, I will endeavour to send you a no- frills email as quickly as possible as I don't want you to miss out.
September Recap
Our new Holiday/Christmas Catalogue has launched, we've had updates to Clearance Rack and our fabulous DSP sale has been and gone.
There are lots of fabulous stamp sets, bundles and suites to share; I've highlighted many on my Facebook Page and Pinterest. I'll feature some standouts in the Product section below.
October Announcements
October is looking wonderful and I have more exciting news to share.
World Card Making Day
We have World Card Making Day this Saturday, October 5. I plan to share many more samples on my FB page, so keep a little watch out for the treats. You may like to use some of the designs for your own creations.
Making a Difference
The Making a Difference stamp set, Nature's Beauty, is indeed beautiful. 
I wanted to share our founder, Shelli's, words. The holidays can……present emotional challenges for some, and simply sharing a handmade card will brighten anyone's day. However, in cases where extra help is needed, Stampin' Up! wants to lend a hand.
SU have now announced that the Australian mental health organisation to benefit ($4.25 from each sale) is Black Dog Institute.
We have a friend doing it tough now, so it's especially relevant to us.
Christmastime is Here
The Christmastime Is Here Suite has just been released for Demonstrator pre-order.  It will be available to customers on November 1, whilst stocks last.  It's exclusive, limited time, a collection of festive, floral coordinating product. It's gorgeous and great to share. It will help us spread love, joy and creativity during this magical time.
Our Christmas standard rose is budding up and will bloom right through Christmas.  This suite will be perfect for us as we celebrate our Southern Hemisphere Christmas!   And, Yes! I've ordered the pretty bangle as well!
Paper Trimmer by Stampin' Up!
Demonstrators can pre-order the new Paper Trimmer and blades.  We hope to have this item available to customers later this year or early 2020.  I'm very excited to have the opportunity of testing this product for you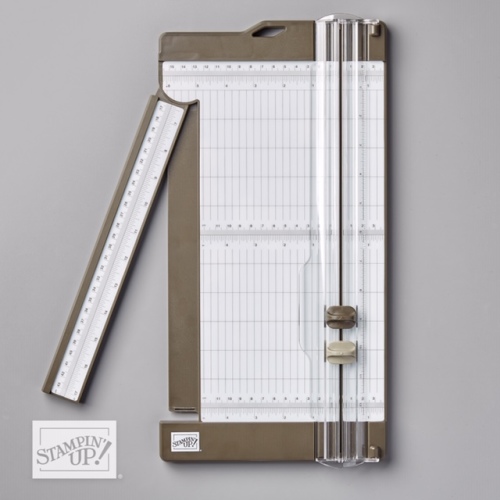 Anyone joining Stampin' Up! can order these products as part of their Starter Kit.  Please ask me how?
Products, Projects and Designs
These are some of the Suites, Bundles and Stamp Sets that we have been exploring in the last month.
The Suite includes Perfectly Plaid Stamp Set, Pine Tree Punch, Wrapped in Plaid DSP and some bling.  The tartans bring back wonderful memories of my Scottish Grannie and her lovely soft accent and phrases.  The pictures in the catalogue prompted me make a few cards and to do a little stitching on my sewing machine.  It was very easy, both to line up the pattern and to stitch.  Three trees stitched together make the basis for a pretty ornament or gift tag.  The Playful Penguin has made a guest appearance! 
Do you remember the magic of snow domes, seeing the snowflakes swish around?  Here are some of my treats for you; one with the actual dome, the others to evoke memories.  See it here.
SU, you've done well!  The Suite is all lovely!   
The stamp set is very pretty, the punches work a treat, the embossing folder is fabulous, and the copper embossed Specialty Designer Series Paper is stunning. Then of course, there are the trims, Merry Christmas ribbon, copper coloured stars, and copper foil accents. You'll see some of these below. I also used the Stitched Stars Dies to anchor the Ornament shape.
Join my Classes: Join my Team
Please contact me if you would like to join my paper-crafting classes. I run several class groups, or you might like to arrange a private class for you and your friends.
Perhaps you have a love of paper-crafting and would like to buy Stampin' Up! products at a discount. You can do this by joining my team. You can choose your level of involvement; it can be a hobby or a business or anywhere in between. Please don't hesitate to contact me to discuss or go to my online joining page. Please chat to me about any ideas or queries that you may have.
Please feel free to use the examples for your own designs and inspirations.

My business Facebook page is:
https://www.facebook.com/margistamps

My Pinterest site is:
https://au.pinterest.com/margisank/
My business Facebook page is:
https://www.facebook.com/margistamps

My Pinterest site is:
https://au.pinterest.com/margisank/
My Stampin' Up! website is here:
My Stampin' Up! Online Store is here:
….. till next time
LOVE IT. LIVE IT. SHARE IT.