Welcome to your November 2019 Newsletter
The roses are blooming beautifully, luckily our garden is green and, Oh Golly …… we are coming to the end of 2019!
I hope your November is not too frenetic!
Melbourne Cup Day has been and gone. The Archibald Prize 2019 Tour at TarraWarra Museum of Art has now finished. "The Archies" have been fabulous for our local community and we were lucky to be able to volunteer. It was lovely to see people enjoying our Yarra Valley, beautiful Art and TarraWarra.
I've been continuing my learning curve with the new newsletter format and new quick email delivery of both the newsletter and quick announcements. Please let me know if you have any suggestions.
My craft room has turned into a recording studio. I've included the links for my recent videos on the webpage version of this newsletter. You'll find this at www.margistamps.com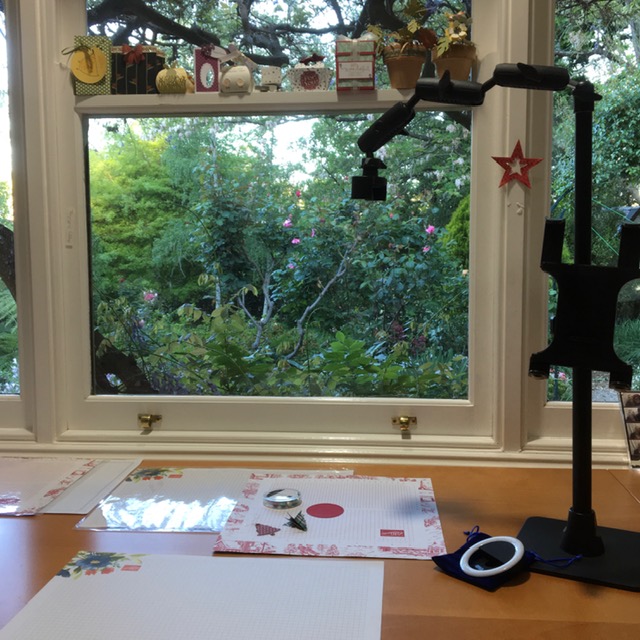 November Announcements
Don't you just love the exuberance of roses! They're blooming in our garden right now. The red standard (just the colour of our Poppy Parade) has braved even the drenching downpour to herald in the Christmastime Is Here Suite.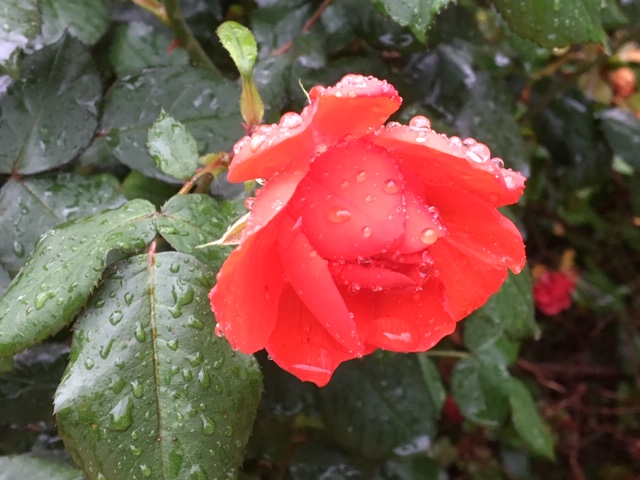 All its components are available to order, while stocks last. It's an exclusive, limited time, collection of festive and floral coordinating products. It's gorgeous and great to share. Here is the link
I'm delighted to share that it's now orderable. Here is the link. As you know, I've been trialling it for you. It is fabulous. It cuts well and smoothly…just think 'slide and guide' while cutting. Both the blade and scoring wheel are deep and very little pressure is needed to either cut or score.
The catalogue will officially end on January 2. In the past, a few products (stamp sets, dies, punches) have carried over into the Annual Catalogue. But…there are no guarantees.
We now know that when the stocks of Delicata Inks (the metallics) have been depleted, they will not be replaced and that they are not able to be listed in the next Annual Catalogue. I'm a bit sad, but I understand the reason why…it's a supply and stocking issue, and we want to make sure that our listed products are readily available to you, our customers.
Generally, DSP's do not carry over.
Therefore, as we're are about six weeks out from Christmas, if you want any of these products, hop in and hop on-line and order them, or contact me directly to place your order. Here is the link to the Christmas/Holiday Catalogue and my on-line store.
Products and Tips, Projects and Designs
These are some of the Products, Suites, Bundles and Stamp Sets that I have been exploring in the last month.
Pease enjoy my simple tip to identify the right combination of embossing folder, standard cutting pad(s) or 3D embossing Plate.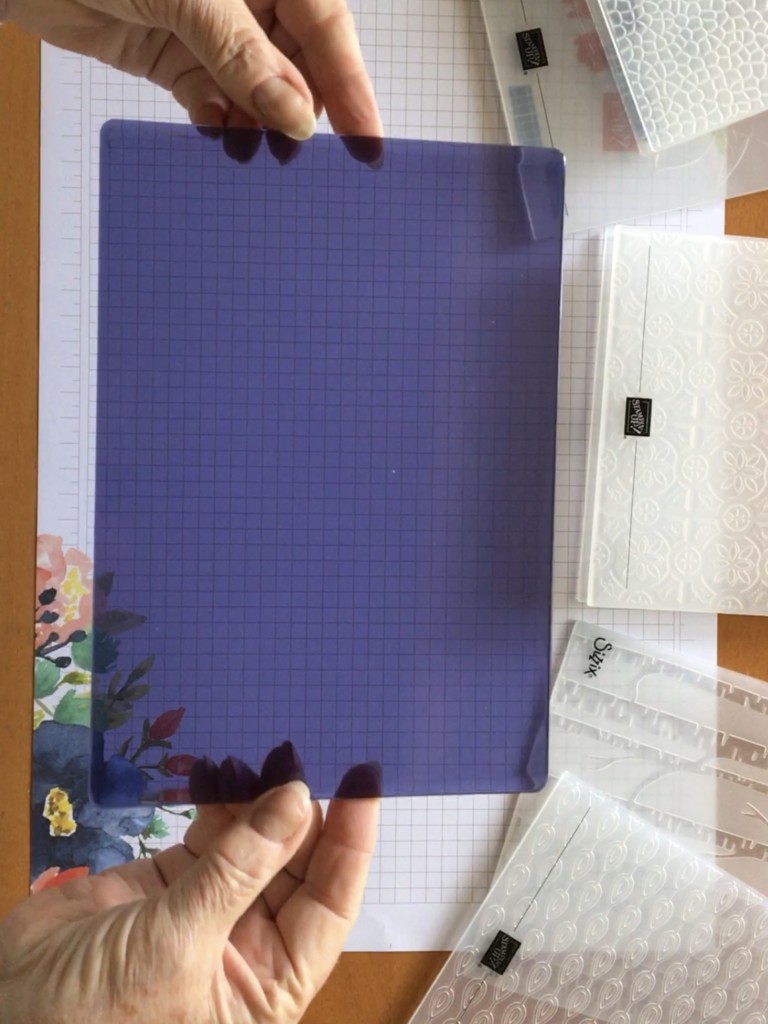 Here is the Link to the on-line store. And Here is the link to my YouTube Video.
I featured the Wrapped in Plaid Suite last month and I've now produced a YouTube video for the Stitched Ornaments. Don't you just love experimenting! Here is the link to the video.
You could also make twirling ornaments using the same method but with a few simple variations. Easy Peasy. Love it, Love it, Love it! Contact me for details.
The other funky thing I've discovered is that you can use your Subtle embossing folder with the DSP. The tartan/plaid DSP then looks like tartan fabric.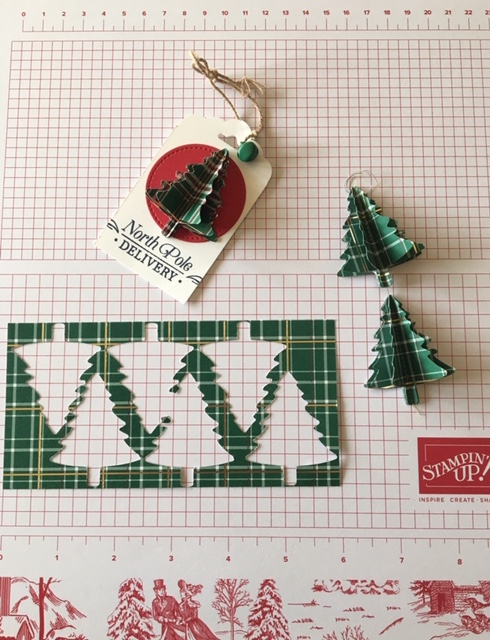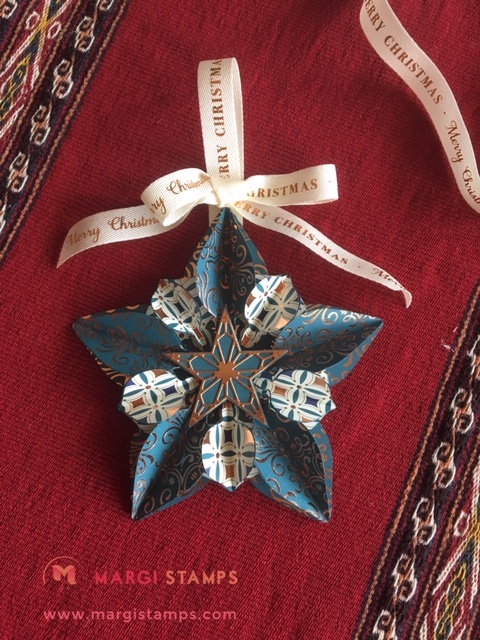 Here is the link to the Brightly Gleaming Suite. Many of my regular ladies asked for a PDF tutorial for the ornament, featured in last month's newsletter.
You too, can have this tutorial for FREE as my thank-you for your purchase of the Gleaming Ornaments Punch Pack ($59) or any order of SU product of similar value.
If you wish to buy the tutorial, without any accompanying product, please contact me for cost and payment details via PayPal.
Here is a photo of our class card; either Merry Christmas or tweaked to be a Get-Well, Happy Birthday or Thinking of You card.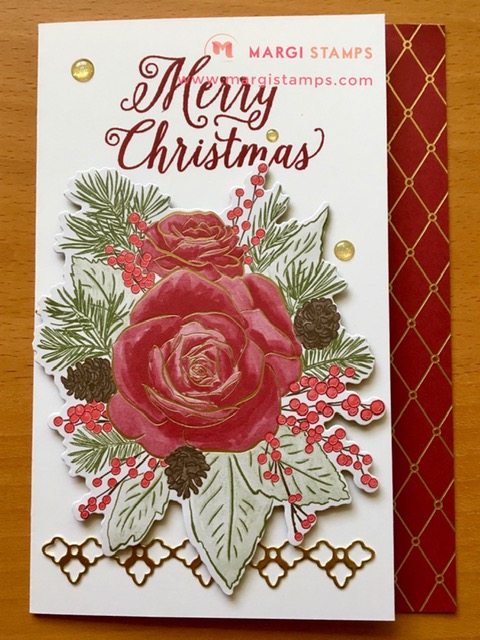 The DSP is indeed delightful; there are three double sided designs and four sheets of each in the pack. One of the Rose Dies cuts one the Rose patterns, repeated 4 times on each of the 4 sheets. The other pattern can be fussy cut, or for those who don't like fussy cutting, trimmed and layered up to make a pretty card or gift tag. Here is a selection of cards for various occasions and using the DSP.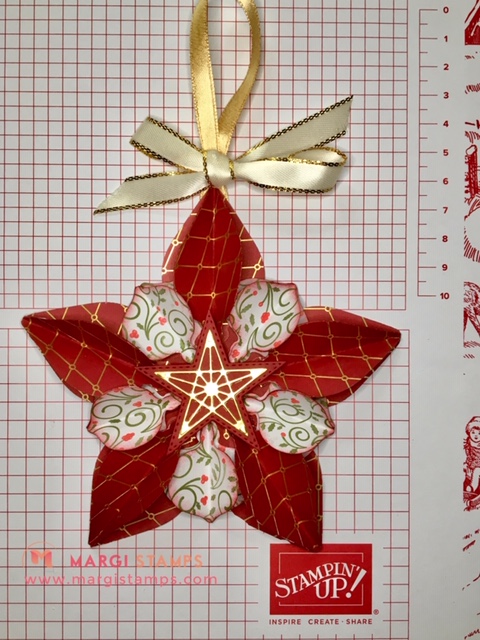 We used the Frosted Frames Dies, Feels Like Frost Specialty DSP, Ice Stampin' Glitter, Pretty Peacock, Seaside Spray card stock and Whisper White card stock. Here is the link to the Suite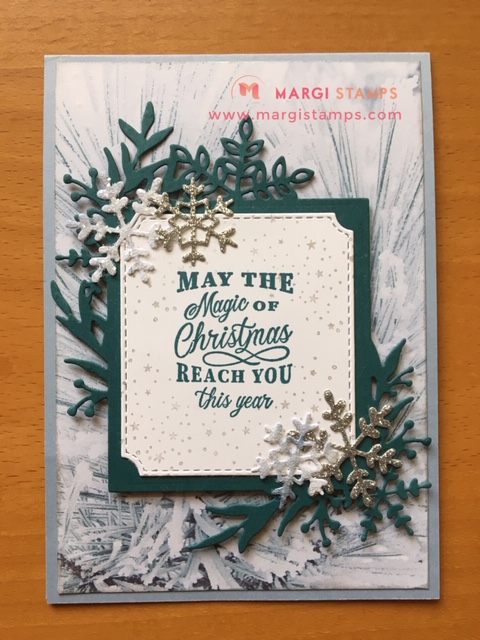 We glammed up the pretty Frosted Frame with Ice Stampin' Glitter sprinkled on the snowflakes, and some Silver Glimmer Paper. The greeting is from Holly Jolly Christmas. This stamp set has done quite a lot of multi-tasking as the greetings are super useful. The DSP continues to delight!
We fell in love with the cardinal bird, and the opportunity to use our blends.  You can see there are a few different effects; super bright (the male), more muted (the female) stylised (stamped in Real Red), or just mirroring Wedgwood colours (Seaside Spray, one of our new In-Colours.  Here is the link to the Bundle. 
The DSP colours are classic Christmas; Real Red and Garden Green.
Join my Classes: Join my Team
Please contact me if you would like to join my paper-crafting classes. I run several class groups, or you might like to arrange a private class for you and your friends.
Perhaps you have a love of paper-crafting and would like to buy Stampin' Up products at a discount. You can do this by joining my team. You can choose your level of involvement; it can be a hobby or a business or anywhere in between. Please don't hesitate to contact me to discuss or go to my online joining page.
Please chat to me about any ideas or queries that you may have.

Please feel free to use the examples for your own designs and inspirations.

My business Facebook page is:
https://www.facebook.com/margistamps/
My Pinterest site is:
https://au.pinterest.com/margisank/
My Stampin' Up! Online Store is here:

My Stampin' Up! website is here
My blog website is:
http://www.margistamps.com/

………..till next time.
Please enjoy and have fun!
Margi