We are blessed with a beautiful garden and the view from my craft room window is inspiring. I knew that our 'early release' Ornate Garden Suite would be perfect for paper crafting and to showcase the beauty of nature and gardens.
The Ornate Garden Suite is available now as 'Early Release' and available in the upcoming 2020-2010 Annual Catalogue. I have listed all the products below. Here is the link direct to the product suite in my online store.
There are many elements of the suite, two stamp set & die bundles, 3D embossing folder, designer series paper, ribbon combo pack and gilded gems.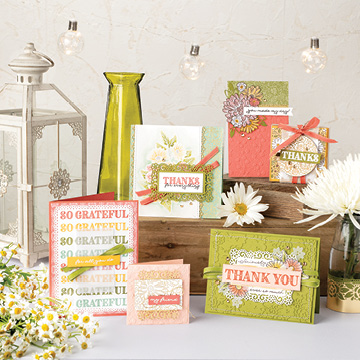 My Happy Place
The autumn weather had been kind. We've had rain to keep our plants happy and sunshine for the last flush of colour from our roses and to give our spring bulbs a kick start. Our resilient daisies continue to delight.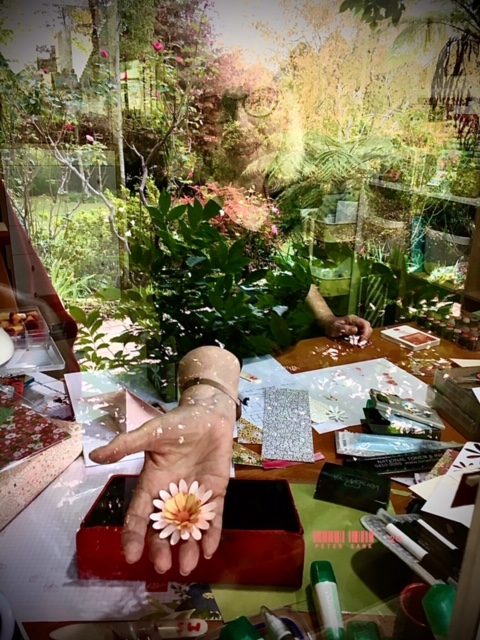 Pete came home from walking our dog, Rocket, on the trail and captured me working on this 3D Ornate Garden Card reflected back onto our beautiful garden. He has juxtaposed the two images and created this work of Art. It is indeed my happy place.
Fancy Fold – Ornate Garden 3D Daisy Card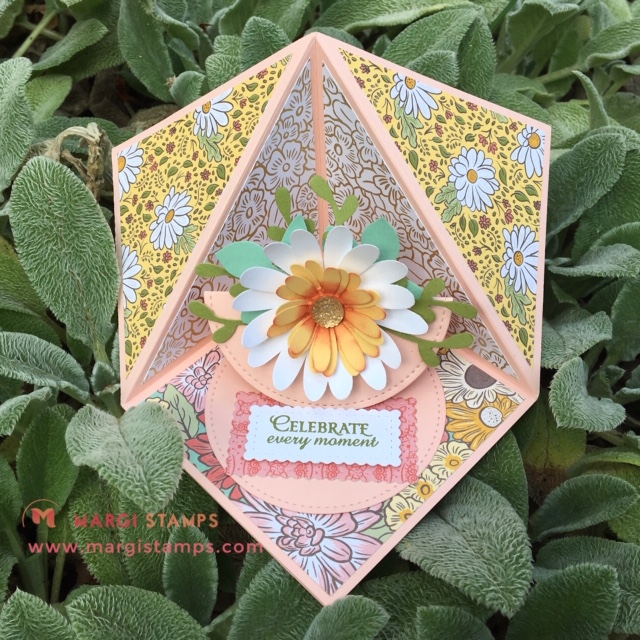 I designed this card, so showcase the stunning gold embossed designer series paper and one of the floral stamps. I've paired it with our Daisy Punches to show it's versatility. My class ladies enjoyed this design as part of a PDF Tutorial kit class.
Here's a photo of the 'inside' of the card and the layout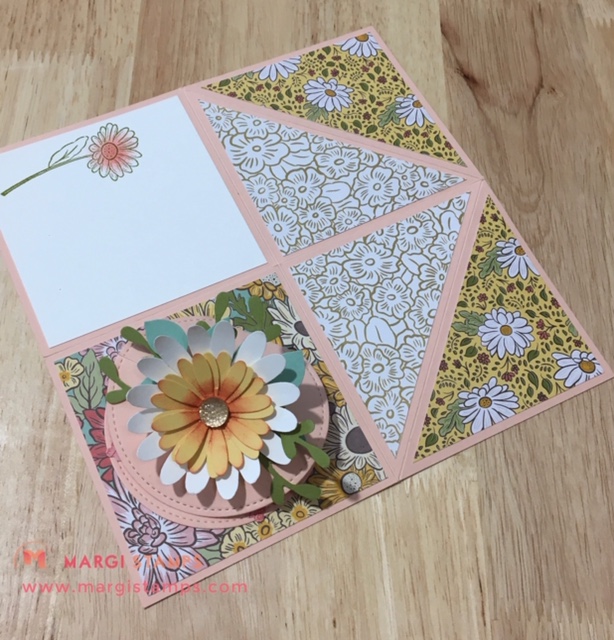 Here are some more samples for you to enjoy.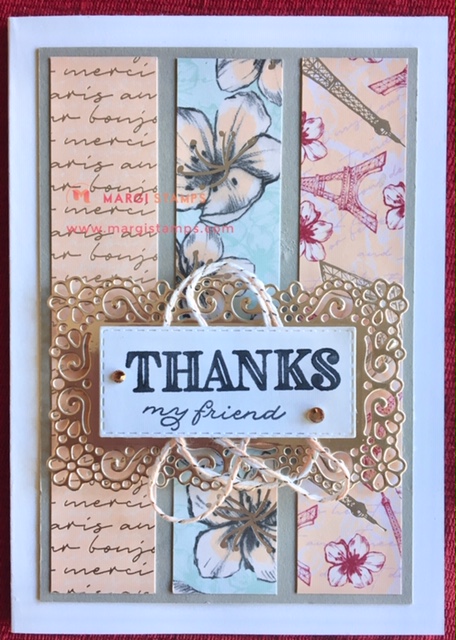 These cards highlight both the dies and the greetings. You can see that I've paired them with retiring Designer Series Papers from our other suites, I have used Parisian Blossoms DSP from the Mini Catalogue and Pressed Petals DSP from the 2019-2020 Annual Catalogue. Both are still available as I write this blog.
Below, you can see the flyer for the May Creative Eight Wow PDF Tutorial, including one of my projects. If you look really carefully, you might we able to see the Ornate Floral Embossing Folder and stencilling using the Ornate Borders Dies. Tulips are the hint!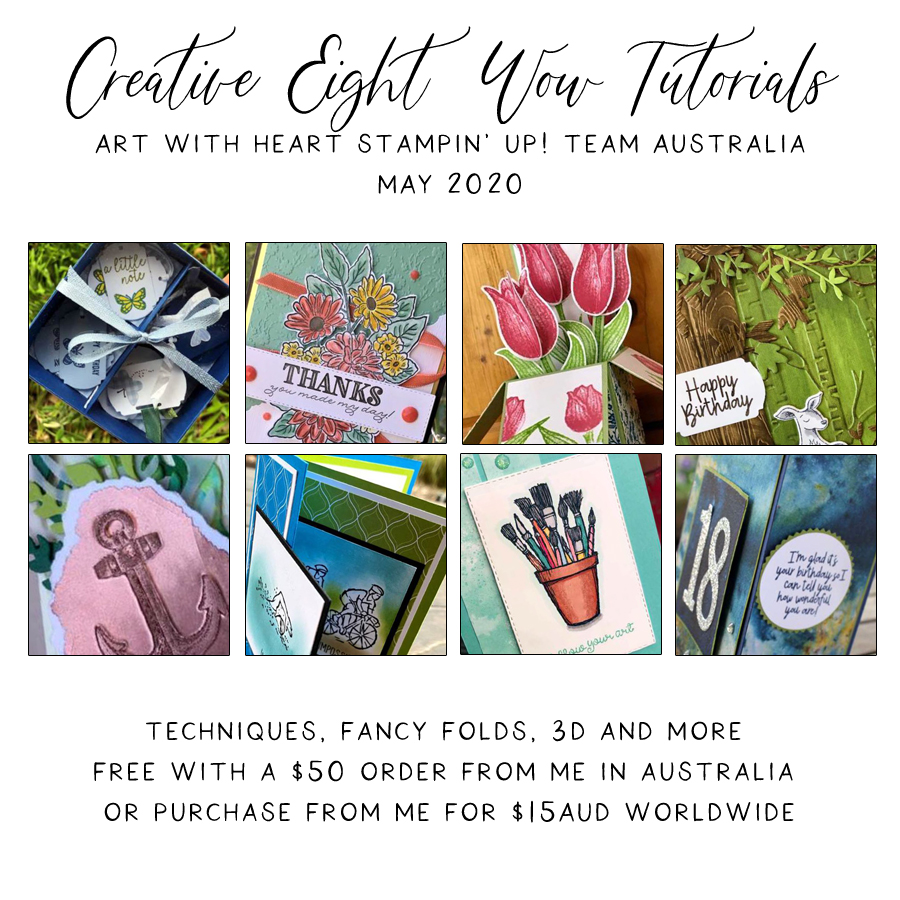 Ornate Garden Suite and Product List.
Here are the products comprising the Ornate Garden Suite. You can purchase the products as a Suite or by individual component. I've included all the product links for you.
Product List
Last Chance Products and Clearance Rack
There are still fabulous products to buy. The Retiring products will no longer be available after June 2, and they may well be sold out prior. but hop in quick before they're gone.
Here is the link to Last Chance Products.
Here is the link to Clearance Rack
Join my Classes: Join my Team
Please contact me if you would like to join my paper-crafting classes. I run several class groups, or you might like to arrange a private class for you and your friends. I am currently running virtual classes and providing card kits, tutorials and videos.

Perhaps you have a love of paper-crafting and would like to buy Stampin' Up products at a discount. You can do this by joining my team. You can choose your level of involvement; it can be a hobby or a business or anywhere in between. Please don't hesitate to contact me to discuss or go to MY JOINING PAGE.

Please chat to me about any ideas or queries that you may have.

Please feel free to use the examples for your own designs and inspirations.
The link to my web address and store within Stampin' Up! is included here: www.margistamps.stampinup.net
My business Facebook page is:
https://www.facebook.com/margistamps
My Pinterest page is
https://au.pinterest.com/margisank/
………..till next time.
Please enjoy, stay safe and have fun!
Margi