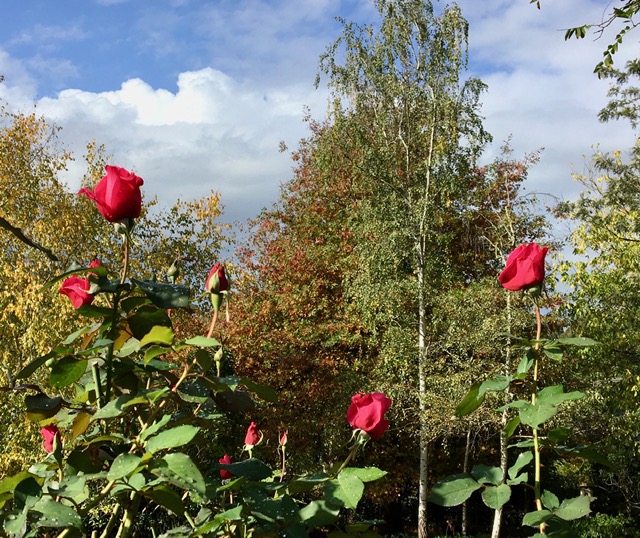 This is the view from my craft room window as I write this newsletter. The sun has come out and is highlighting the roses. It's a perfect place to write and craft.
These are the topics I'll be covering. You'll be able to scroll down to view.
Where we are, generally, personally and within SU.
Learnings and Tips.
Announcements; Clearance Rack, Early Release, Creative Eight WOW Tutorials.
Upcoming Announcements; April 23 – Retiring Products, June 3 2020 Catalogue Launch.
Join my Classes : Join my Team
Where are we; Generally, Personally and within Stampin' Up!
A month ago, we were chatting about what we might be doing during isolation as we came to grips with the effects of the COVID-19 pandemic.
Now, a month later, the good news in Australia, is that that our infection rate is slowing and many of us have remained healthy. We're sharing good stories and life in isolation is sort of manageable. Pete and I miss seeing the family in real life but we have plenty of room to garden, we can walk the dog, Rocket. We can WhatsApp, Facebook and phone our family and loved ones.
Perhaps, it is a time for reflection and slowing down. I do recognise that life is not so easy or kind for many.  Some of my friends are struggling, some have lost loves ones overseas and that is heartbreaking.  I do hope that you are all okay and managing.  Please reach out if you wish. 
We lost my Mum early in April.  Mum was 97 and in her words, she'd had a good life; she loved us, she knew that she was loved and she passed peacefully.   We are forever grateful to the nursing staff and caregivers at her aged care home for their love, unfailing care of her and us, as we juggled visits during her final weeks.   
So Yes! It certainly has been a time of reflection and connection with family and loved ones, even if at a distance.  It's also a time to thank all those who are working, working from home, homeschooling, hanging in there or being that friendly voice on the phone.
My craft room, garden and walking trails are my happy place. They give lots of inspiration. I hope you too can be inspired and be creative. I know that I've learned new skills. Perhaps you have too.
Stampin' Up! Product Availability and Scheduling
Most products are available as worldwide production resumes and products are shipped. Our Australian warehouse is operating and shipping.  We have noticed a few days delay in order delivery due to the increased volume of online ordering and the effect on Australia Post and StarTrack .  I know the Australia Post vans are stacked full of orders as more and more people order online.
Learnings, Tips and Tricks
I'll share a few random skills and then I'll share some creative ideas -"necessity being the mother of invention".
I've learned to Zoom; first being a participant in a meeting and then running a Team Meeting via Zoom this morning.   Thanks so much to all my team members who joined in, helped each other and got connected.  It was so lovely seeing every ones' faces and hearing your voices.
Our kids introduced us to WhatsApp video calls. How good was that!
Being able to order all sort of goodies online; from groceries, to dog food, wine and spring bulbs. Of course all my SU orders are always online. As I'm writing this, Pete's preparing the spring bulb garden. We may end up with no lawn/grass left!
Here's a quick 'beginning' photo: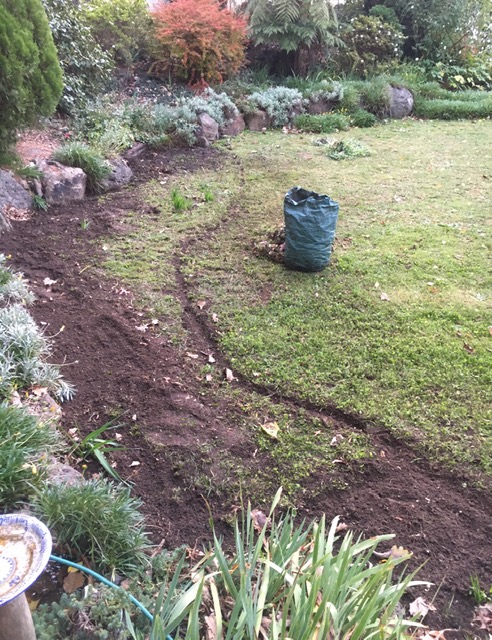 I've been adjusting class card kits to make class participation manageable remotely and with limited supplies. Basically, I make up the kits, write the tutorials all ready for class participants to assemble as per the tutorial or to tweak the design and create anyway they like.  My aim is to provide patterns and ideas so my girls can keep crafting at home and share with others.   
Here are some of the examples:
Belly Band Card using Best Dressed Designer Series Paper.
The product link is here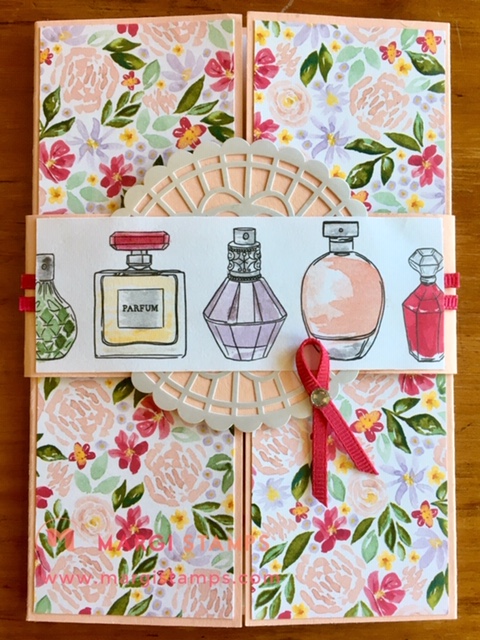 Poppy Moments Bundle and Sale-a-Bration DSP
The product link is here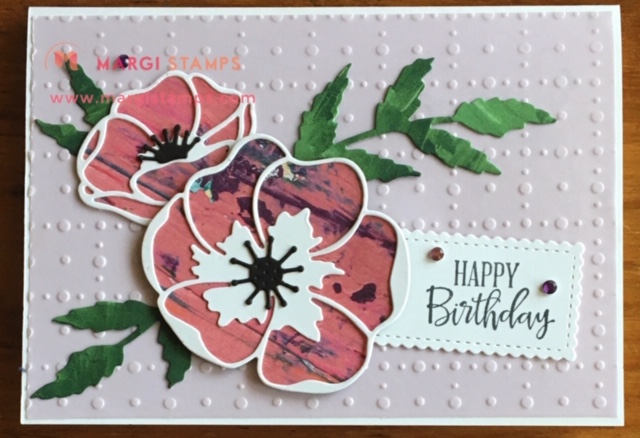 Parisian Flourish 3D Embossing Folder, Stitched So Sweetly & Well Written dies and Bird Ballad DSP
The product link is here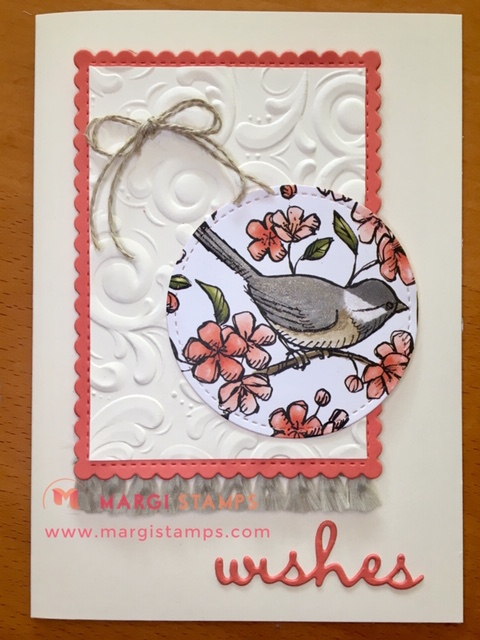 Announcements
Clearance Rack
Clearance Rack has been updated and there are many fabulous bargains with discounts up to 60%.  Best be quick to take up this offer.   The specials sell quickly.  Here is the link to CLEARANCE RACK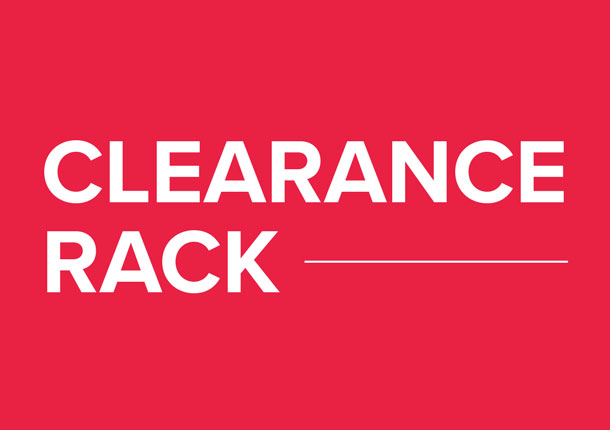 Early Release – Ornate Garden Suite
As we farewell Sale-a-Bration there are more treats for us. The Ornate Garden Suite is an early release for a suite of brand new products featured in the upcoming catalogue. It's very pretty and I'll be playing with some designs over the next few weeks to share with you. Here is the link to ORNATE GARDEN SUITE.
Here are a few examples: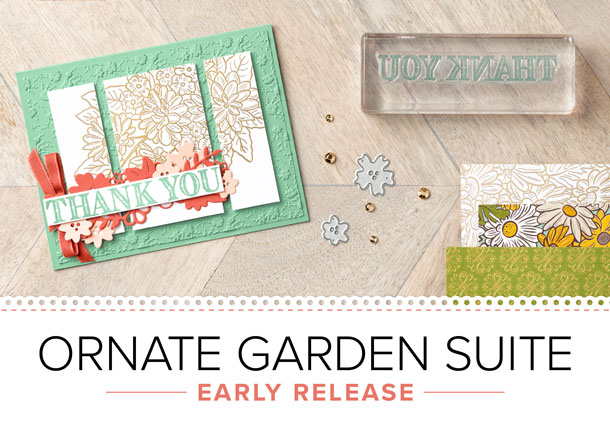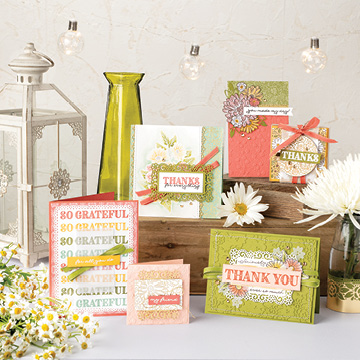 Creative Eight WOW Tutorials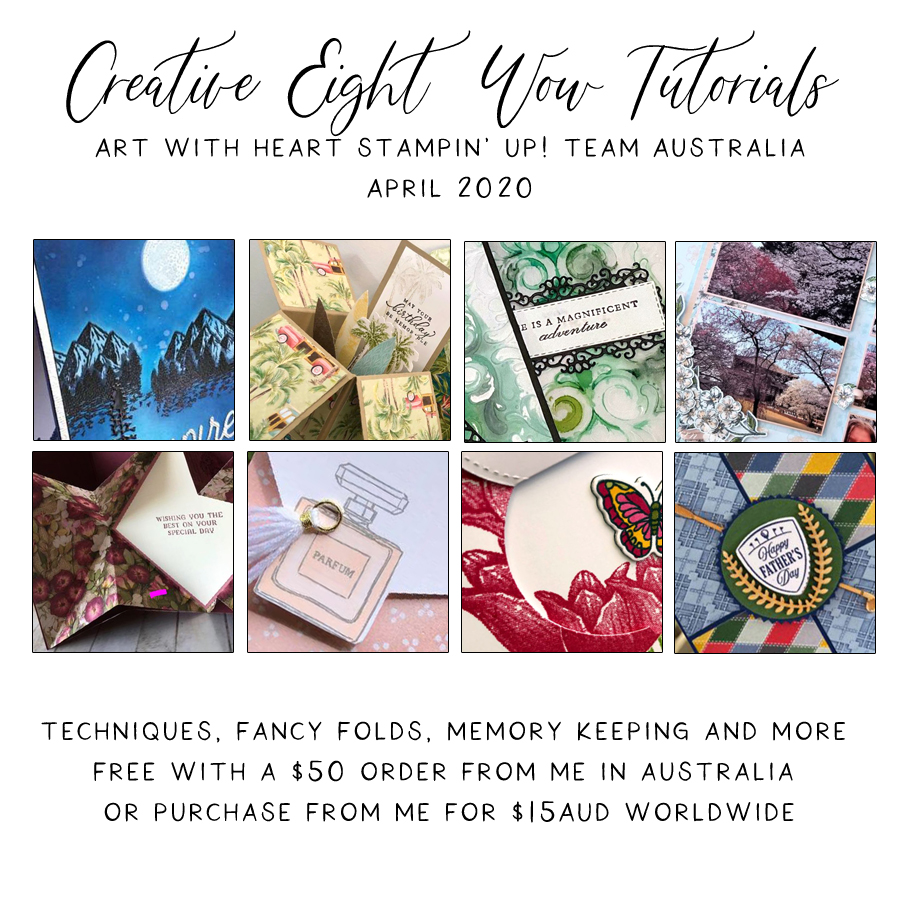 There are some gorgeous projects; the tutorial is free with any qualifying order from me in Australia or purchase directly from me for $15AUD worldwide.
Upcoming Announcements
April 23 – Retiring Products List
The Retiring Products will list on April 23. Please go directly to my Online Store to view the list on April 23. Generally the products that disappear first are the retiring in-colours and associated products, inkpads, reinkers, cardstock and ribbons. And of course, current bundles and anything that you love or have been wishing to purchase! You might want to snaffle these items while you can. If you need help to order, please let me know.
Here is the link to My ONLINE Store. Please follow this link to Retiring Products from April 23.
2020-2021 Annual Catalogue
The new Annual Catalogue goes live on June 3, 2020. You will be able to view and order online or with me after that time. I'll be organising catalogues as soon as possible!. You might like to join my team to get your hands on the new catalogue and start playing with the new goodies early. All demonstrators will be able to view the new catalogue on April 23 and start ordering on May 5.

Yep! I'm getting excited!
Join my Classes: Join my Team
Please contact me if you would like to join my paper-crafting classes. I run several class groups, or you might like to arrange a private class for you and your friends. I am currently running virtual classes and providing card kits, tutorials and videos.

Perhaps you have a love of paper-crafting and would like to buy Stampin' Up products at a discount. You can do this by joining my team. You can choose your level of involvement; it can be a hobby or a business or anywhere in between. Please don't hesitate to contact me to discuss or go to MY JOINING PAGE.

Please chat to me about any ideas or queries that you may have.

Please feel free to use the examples for your own designs and inspirations.
The link to my web address and store within Stampin' Up! is included here: www.margistamps.stampinup.net
My business Facebook page is:
https://www.facebook.com/margistamps
My Pinterest page is
https://au.pinterest.com/margisank/
………..till next time.
Please enjoy, stay safe and have fun!
Margi