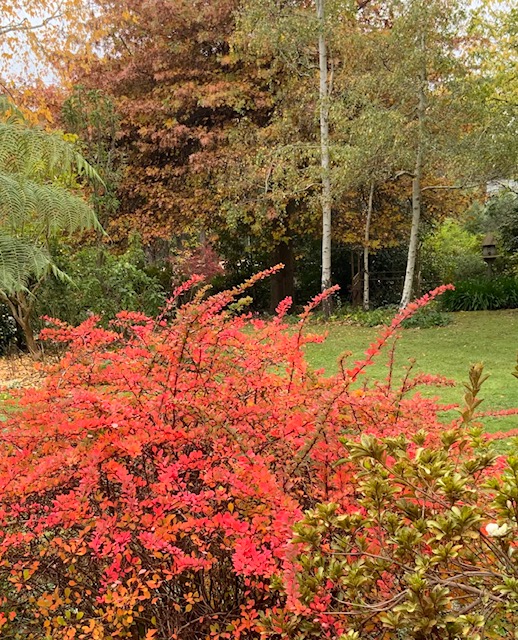 Welcome to your April 2021 Newsletter; your Stampin' Up! news and updates. There is a lot to cover this month. You might like to grab a cuppa or, skim and read what appeals to you. In any case, Please Enjoy!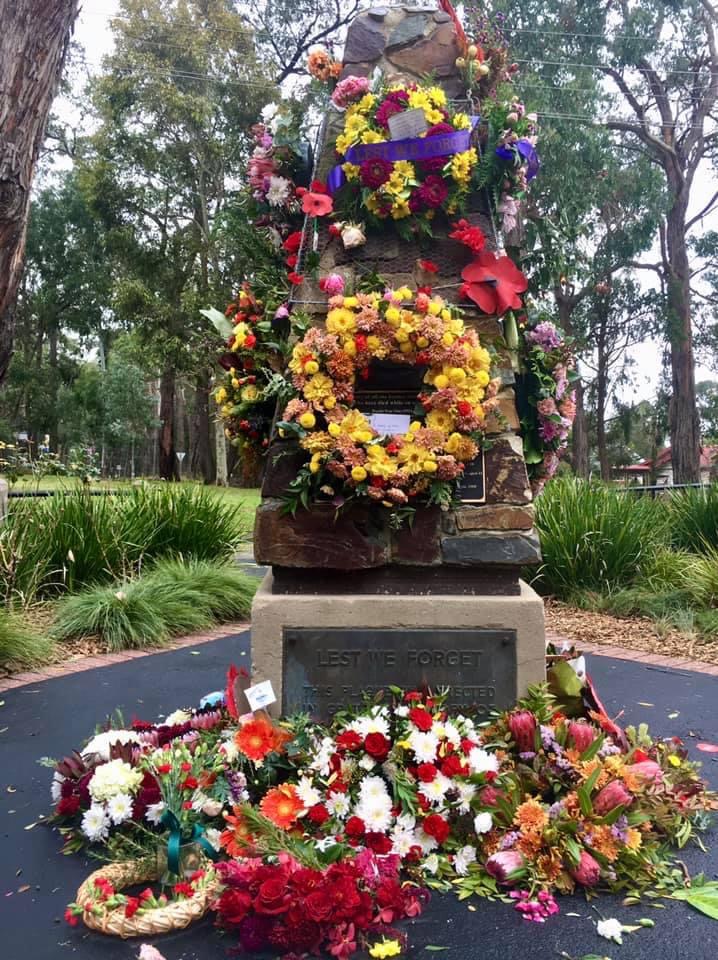 Much loved family friends visited over the weekend. It was an absolute joy to welcome their families and our clan into our home for an informal brunch after our walk to our local Anzac Dawn Service. I was honoured to help lay the Anzac Wreath on behalf of our Bendigo Bank – Mt Evelyn & Districts Community Bank. It was a wonderful low key event to comply with COVID requirements and once again, the kookaburras and magpies joined with the bagpipes at dawn. (Pete took the photo yesterday)

April has certainly been a change of seasons; our trees are changing colour, it has been a time for cleaning up around the garden, finalising mini renovations (thank goodness!) and getting excited about the imminent launch of the new 2021-2022 Annual Catalogue.

These are the topics I'll be covering. You'll be able to scroll down to view.
Retiring Products, 2020-2021 Annual Catalogue – Sale concludes May 3
2021-2022 Annual Catalogue launches May 4
January – June Catalogue until 30 June 2021 & Samples
Creative WOW Tutorials
Join my Team
Join my Classes
Retiring Products, 20-21 Annual Catalogue – Sale ends May 3
Retiring Products from the 2020-2021 Annual Catalogues are available until May 3. There are still many wonderful buys available. You might like to browse my 24/7 Online Store for both Retiring Products and Clearance Rack. Some of the continuing bundles are still available at the bundle (10% off) price.
You know the story…. when they're gone…. they're GONE!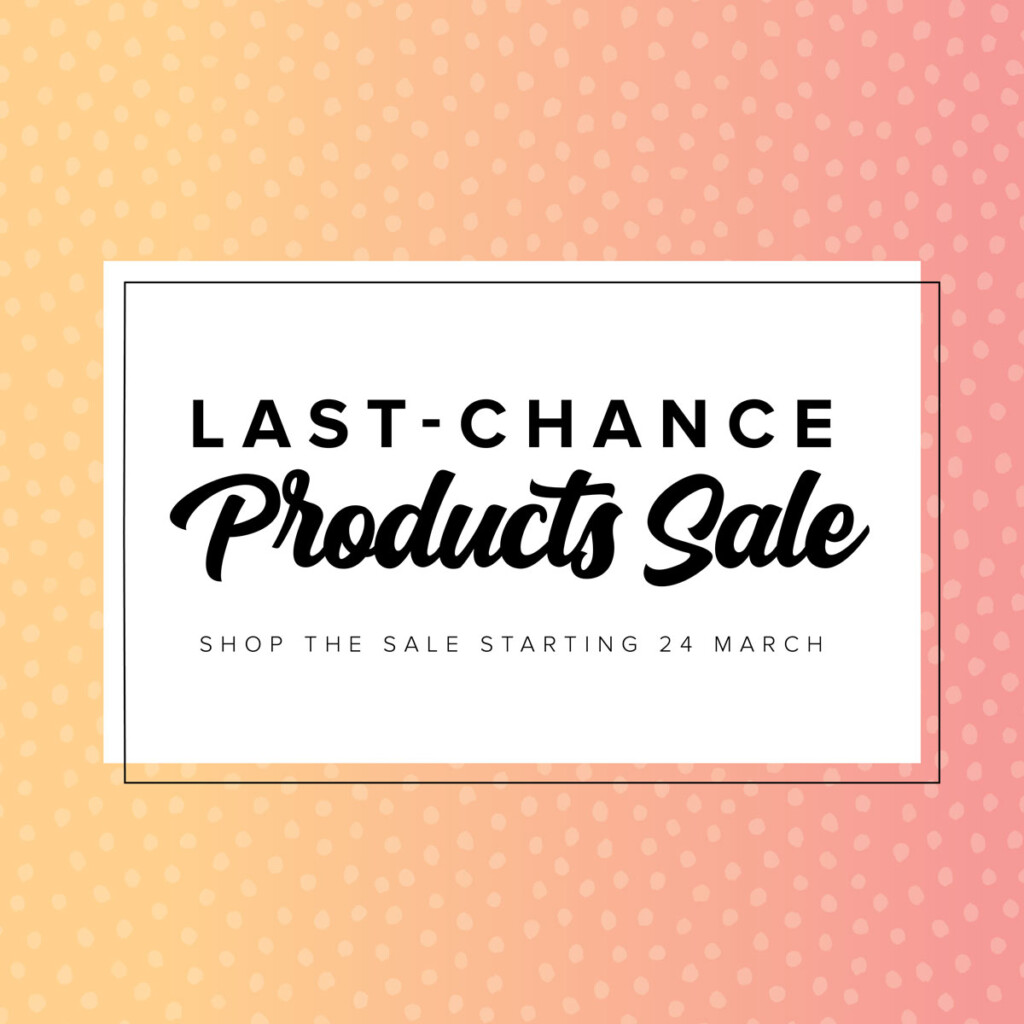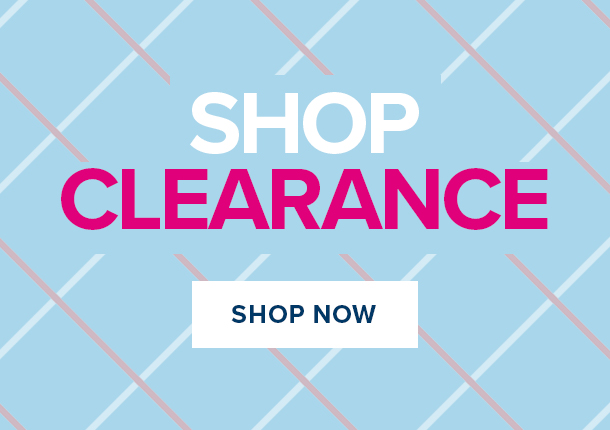 2021-2022 Annual Catalogue Launches May 4.
The catalogue launches on May 4. If you attend my classes or have ordered from me in last eighteen month or so, I have organised your catalogue to be mailed directly to you. Your catalogue should arrive in your mailbox in the next day or so. If you have not received your catalogue by the end of this week, please let me know and I will organise a replacement. If you would like a catalogue, but have not ordered from me, please let me know and I will send you one.
January – June Mini Catalogue continues until June 30.
We will soon have the intersection of two catalogues. And yes! it is a little difficult to get our heads around it all.
The January – June MIni Catalogue continues until June 30, and the new 2021-2022 Annual Catalogue starts on May 4.
Some of the products and bundles (at bundle price) in the Mini continue into the upcoming Annual Catalogue, some continue but not at the bundle price, other items will retire.
All Designer and Specialty Designer Papers are retiring. We expect the Mini Retiring list (& pricing) to be available early June.
So, this month is a great time to review your wish-list and prioritise your 'must-haves'.

Here are some samples from the January – June Mini Catalogue. You will be able to see if the products in the examples are continuing or retiring. Where possible, I have included blog, products and/or recipes links for you.
Ideas, Samples and Links.
Fine Art Floral Suite (all items other than DSP & Acetate are continuing; no bundle price.)
The Suite comprises, Art Gallery Bundle (presently discounted at 10%), Golden Garden Designer Specialty Acetate, Gilded Leafing, Fine Art Ribbon, Painted Texture 3D Embossing Folder, Heat & Stick Powder and Fine Art Floral DSP.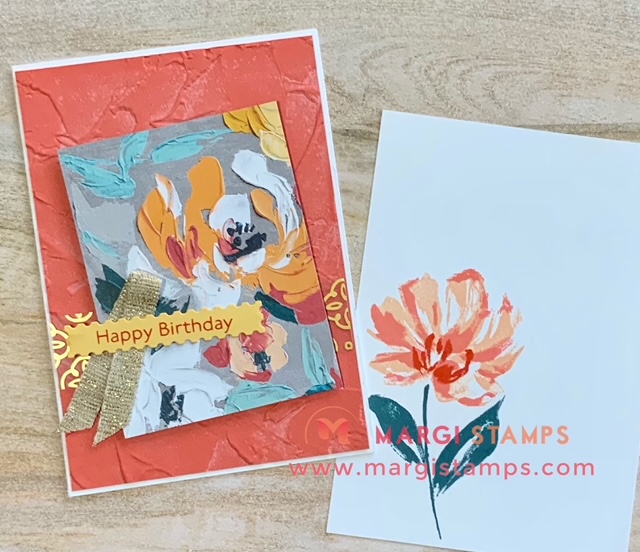 Hydrangea Hill Suite (Bundle, Pearls, Acetate continuing, DSP retiring)
It is all gorgeous and I'm so pleased that most of the Suite is continuing. Please pop on over to my blogpost HERE for more details or you can view and follow the links in some of the samples below.
Well Suited Suite (Stamp Set and Dies continuing, no bundle price. All other items are retiring)
Who doesn't love different 'Blokes' card? These cards incorporate the Well Suited Suite, Suit & Ties dies and Well Suited DSP. There are two different looks; one is casual jacket and tee, the other is based on the detective in Death in Paradise, a recent show on Chanel 2. The photos are linked to more details and the supplies list.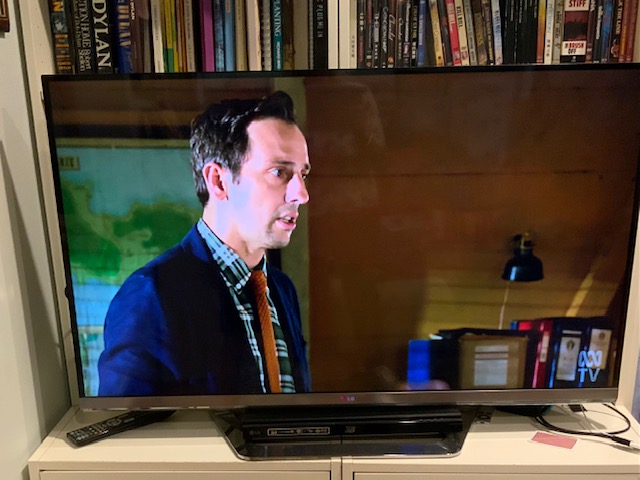 Quite Curvy Bundle (Retiring)
The link to my blogpost and details of the Bundle is HERE.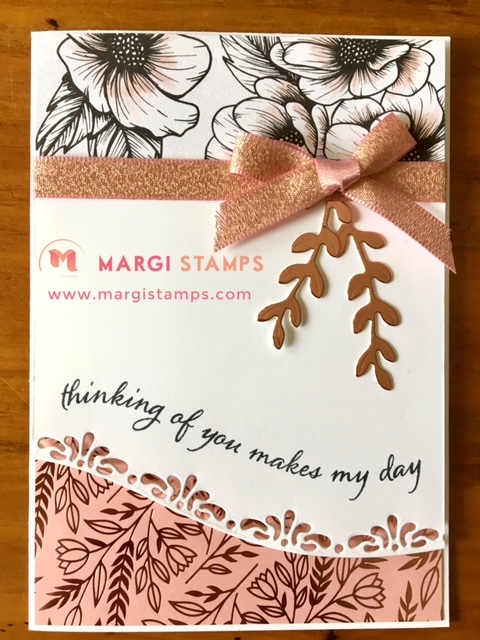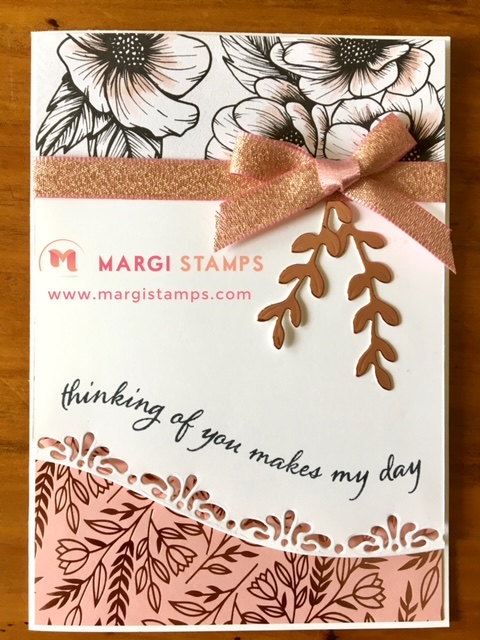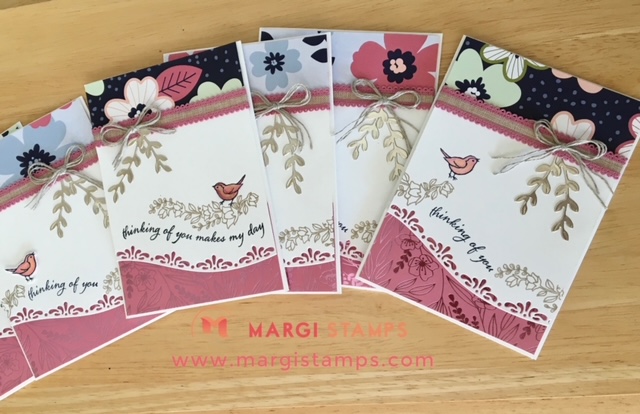 Baby Pull Toys (Retiring)
I featured this stamp set in my Creative WOW tutorial for March. Here are some other examples for you.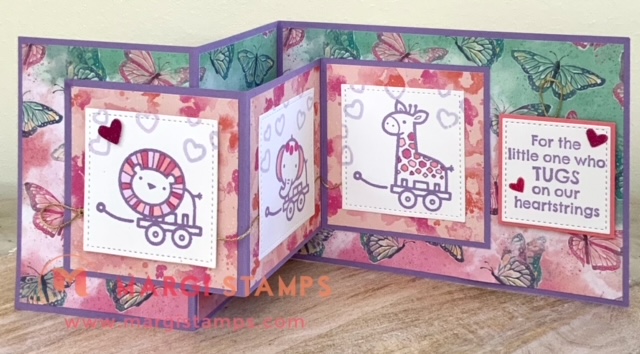 Snailed It (Bundle & entire Suite Retiring)
I am rather sad this entire Suite will retire at the end of June (or when sold out). We have had great fun playing with the stamp set, dies, DSP, Resin Hearts & Twine.
This first card is ultra simple and comprised of DSP strips, some stamping and the pretty Resin Hearts.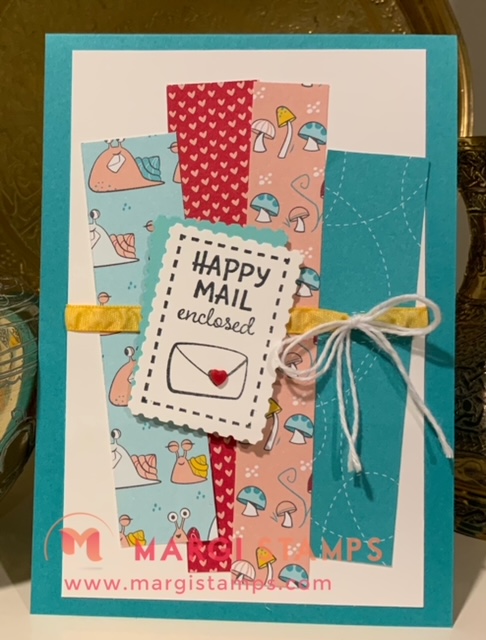 In the next example, we are using die cut DSP and Blends to colour one of the stamped images. The Snail Dies also die cut the DSP.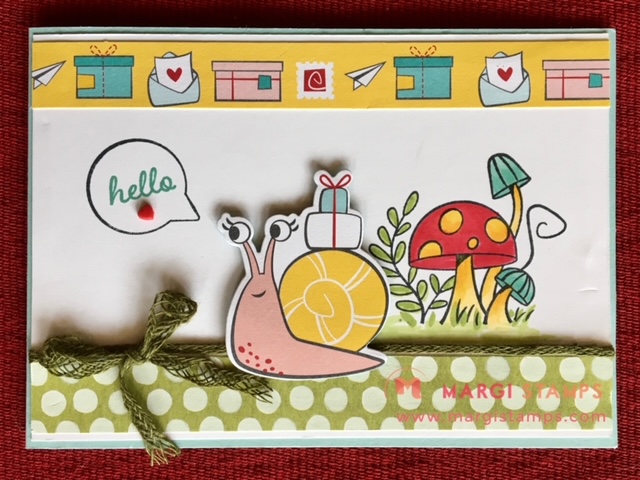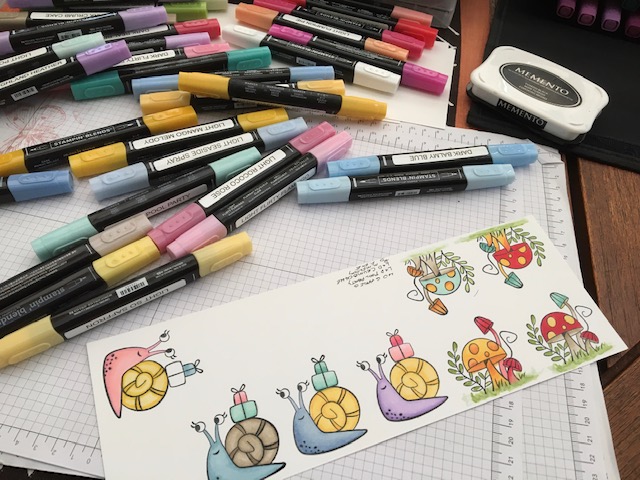 Friends are Like Seashells (Bundle, Embossing Folder & Pearlescent Specialty Paper – Continuing, DSP and other Retiring)
The suite comprises Friends are like Seashells stamps, Seaside Shells dies, co-ordinating Seashells 3D embossing folder, Pearlescent Specialty Paper, Sand & Sea Designer Series Paper, Seaside Shells stickers and Opal Rounds. It is stunning. The link to all products used and my 24/7 Online Store is HERE
Ice Cream Corner Suite (Stamp Set & Punch continuing – No Bundle Price, all other retiring)
Who doesn't love Ice Cream? This Ice Cream Suite is fabulous and combines stunning Ice Cream Corner Double Sided Paper (DSP), Sweet Ice Cream Stamps, Ice Cream Cone Punch, Ice Cream Corner Sprinkles and Blackberry Bliss Ribbon. The link to all products used and my 24/7 Online Store is HERE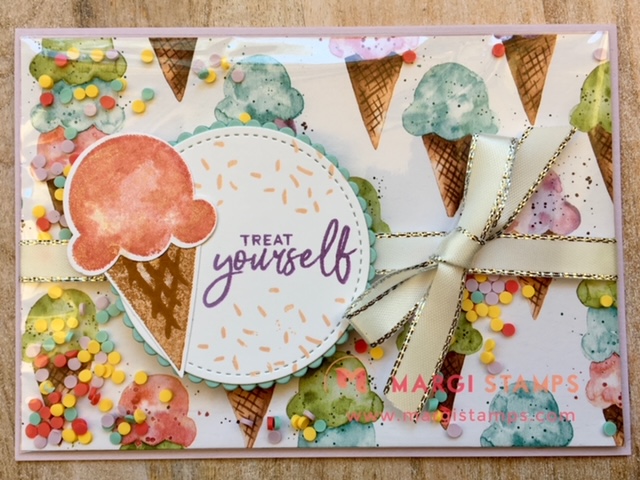 Butterfly Brilliance (Continuing – Bundle Price)
I am delighted to showcase the early release Butterfly Brilliance Bundle comprising Butterfly Brilliance stamp set and Brilliant Wings dies.
The link to the product in my 24/7 Online Store is HERE.
Please enjoy this other sample incorporating the beautiful Fine Art Floral Suite.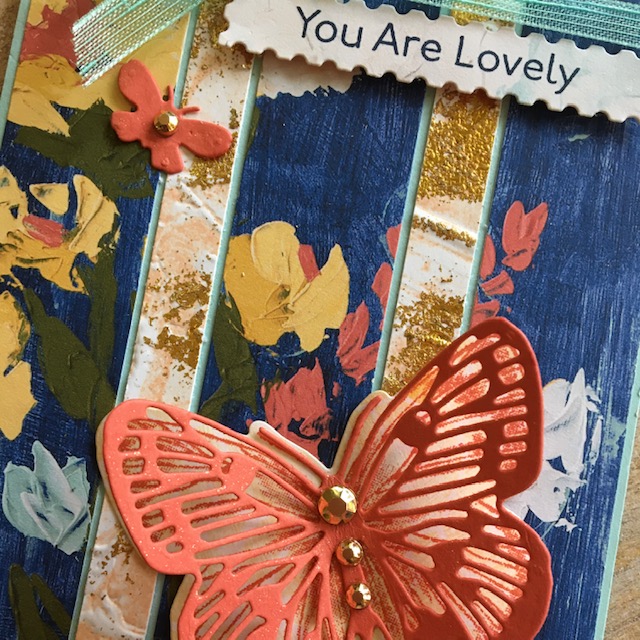 Creative Eight WOW Tutorial: Here is the April 2021 Sneak Peek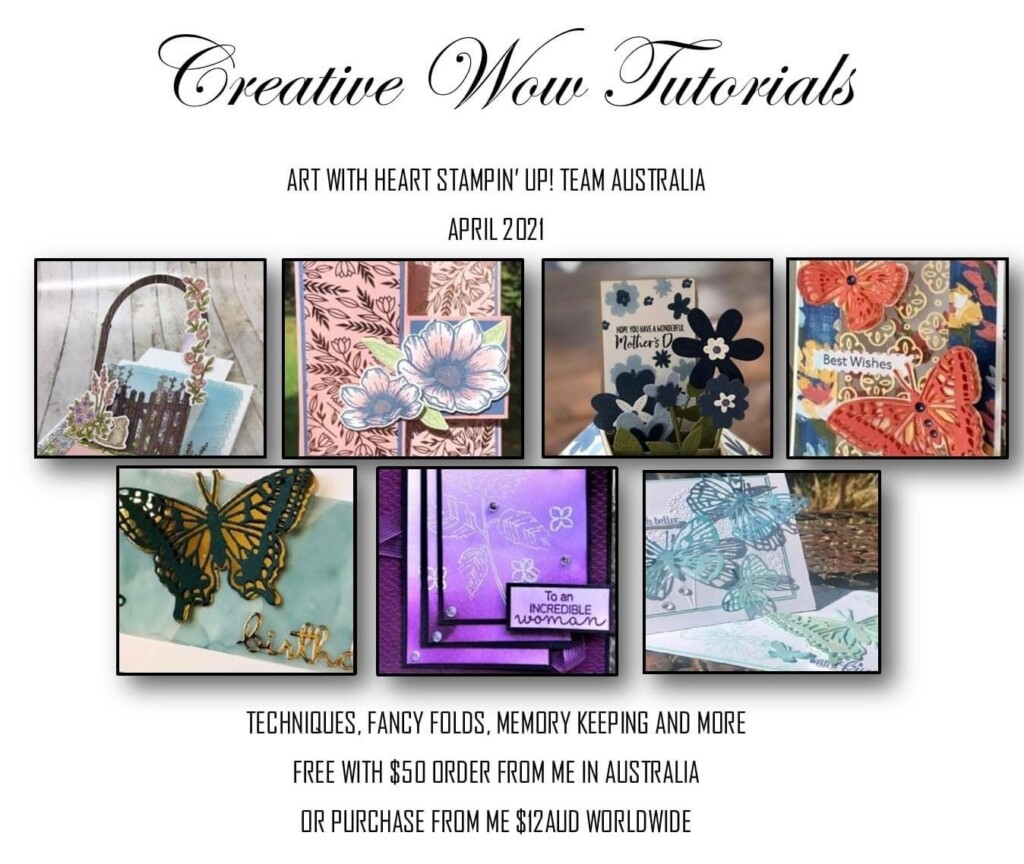 Can you spot my contribution this month?
This selection of Tutorials is based around flowers, butterflies and/or Mother's Day theme. There are many different ideas, from standard cards, fancy folds, 3D cards, ornaments, and gift packaging.
I have emailed all the Tutorials for the previous months. As the files are quite large, please let me know if you have not received your copy or if you would like to purchase back copies or this current Tutorial.
Join my Team:
Join just for yourself to get a discount, and/or build a business, be part of my team and meet friends who love to craft. The choice is yours, and I'm only too happy to chat with you OR, you might like to hop on over to my JOINING PAGE

Here's a quick look at the offer!
NOW-Choose $235 product for a $169 spend ($66 for FREE) (incl. upcoming 2021-2022 Annual Catalogue)
From May 4, choose $283 product for a $169 spend ($114 for FREE) (incl. upcoming 2021-2022 Annual Catalogue)
FREE Shipping
FREE Business Kit, including current catalogues.
And the opportunity to order from any existing catalogue at 20% discount.
You might like to pop on over to my blog post, where you can find further information and some Q & A's. Here is the link. While the September promotion has ended the Q & A section addresses general issues.
Join my Classes
Please contact me if you would like to join my paper-crafting classes. I run several class groups. You might like to arrange a private class for you and your friends, or you might like to join my online/virtual class with prepared class kits and PDF Tutorials.

Please chat to me about your ideas or queries.

Have Fun Crafting. Enjoy the samples and your own wonderful creativity.