As our new 2021 – 2022 Annual Catalogue launched, Nature showed us her glorious Autumn colours in our hometown in the Yarra Ranges. These colours provide perfect inspiration as we delve into the new catalogue and Beauty of the Earth Suite.
Beauty of the Earth Suite
Beauty of the Earth Suite is shown on page 10 & 11 of our 2021-2022 Annual Catalogue. It comprises Beauty of Friendship Bundle (stamp set & dies), Beauty of the Earth 12 x 12 Designer Series Paper (DSP) and Bark 3D Embossing Folder. The Suite is lovely. You can stamp, use different colouring techniques, die cut DSP or coloured cardstock, use the DSP as background or highlight trims, use the Bark embossing folder. The limit is your imagination.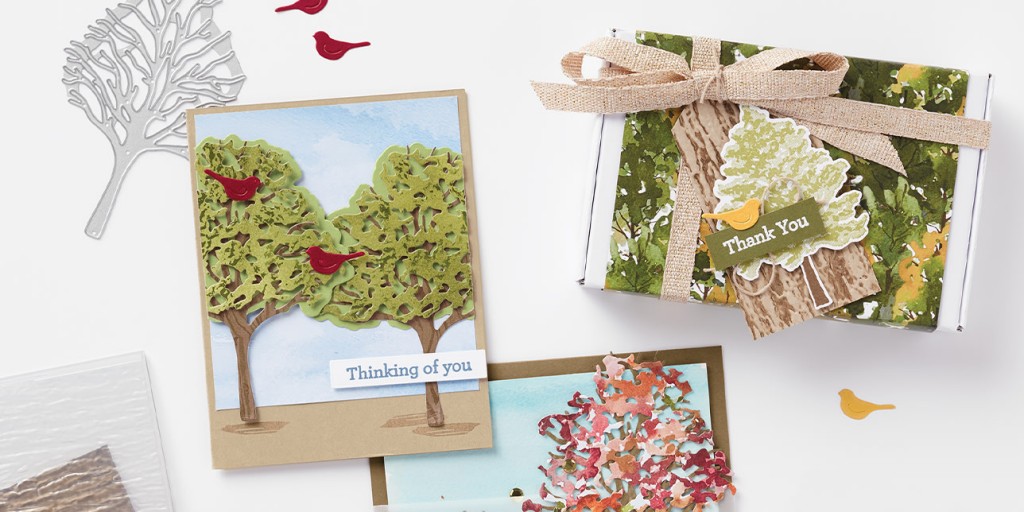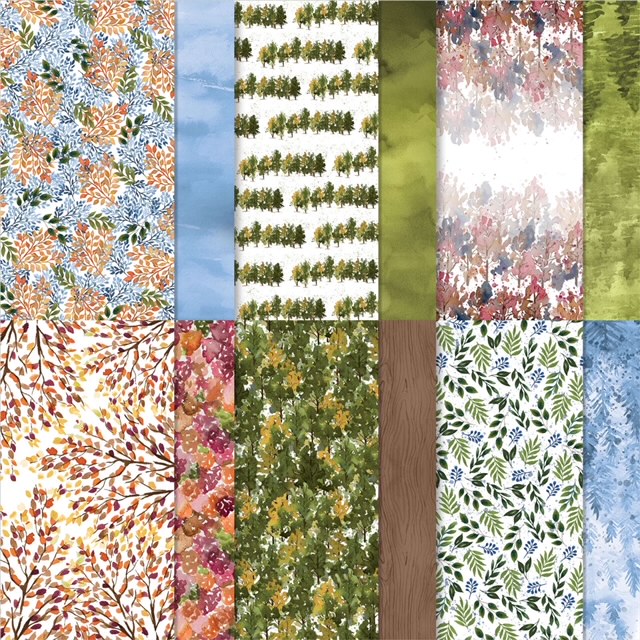 I am delighted to share my designs with you. I've included basic directions and links to all products used. These links will take you to the products in my 24/7 Online Store. You can view the products and if you live in Australia, and would like to shop with me, you can order directly following these links. Or, you can contact me to order direct or to chat about any queries you may have. Enjoy!
Design #1
Building your picture using Colouring Techniques: Blending Brushes, Rock & Roll Technique, Swooshing with Write Markers.
Card base is Soft Suede 29.7 x10.5 cm scored in half. Mat is Merry Merlot cardstock 14.4 x 10 cm, Card front is Basic White, 13.9 x 9.5 cm coloured and stamped. Directions:
Die cut birds and greeting layer using small Stitched Rectangle die from Merry Merlot Mat. Die cut smaller greeting piece in Crumb Cake cardstock.
Used Blending Brush and Misty Moonlight Ink pad to colour Basic White layer to imitate the sky filtering through the glow of the Autumn leaves.
Stamp tree in Soft Suede slightly to the left of centre.
Tap Autumn Leaves stamp (large foliage highlight stamp) onto Pumpkin Pie Ink Pad. (do not stamp at this stage!)
Rock & Roll to ink the edges of the stamp on Merry Merlot Ink Pad
Swoosh some Real Red Write Marker onto inked stamp, to add some red and soften any hard edge between Pumpkin Pie and Merry Merlot ink.
Stamp over tree image
Stamp small foliage (Distinktive stamp) in Old Olive Ink multiple times to make your foreground. This stamp will give light and shade.
Use the other small foliage stamp, inked with Granny Apple Green Ink to add colour highlights. Hint: I didn't want my foreground to look like small shrubs, but rather general greenery,
Adhere Basic White layer to Merry Merlot mat and adhere all to card base.
Stamp chosen greeting in Merry Merlot on Crumb Cake die cut. Adhere this piece on Merry Merlot die cut. Wrap Crumb Cake Bakers Twine around this greeting layer and tie off with a bow. Adhere all to cardfront using dimensionals.
Adhere birds using dimensionals
Adhere Sequins for Everything using Multipurpose Liquid Glue. These sequins add some bling and give the impression of glistening Autumn leaves,
Here is the link to all products in my 24/7 Online Store.
Design #2
Building your Picture using Designer Series Paper.
Card base is Misty Moonlight 29.7 x10.5 cm scored in half. Card front 'sky' is DSP 14.4 x 10 cm, Foreground is DSP, 9.9 x 2.6 cm. You will also need scraps of Basic White and Real Red Cardstock.
Die cut the following; 'tree' in DSP, foliage in DSP, foliage again in Real Red cardstock, birds in Merry Merlot cardstock
Stamp Real Red foliage randomly with Merry Merlot ink. I used the foliage highlight stamp to do this.
Stamp chosen greeting in Soft Suede Ink on Basic White scrap and die cut.
Adhere 'foreground' DSP to 'sky' DSP. Adhere Crumb Cake Baker's Twine.
Adhere all to card base.
Adhere Real Red foliage die cut to card front. Adhere tree, Adhere DSP Foliage. One die cut is behind the tree; the other is in front.
Adhere greeting layer and birds with dimensionals.
You might like to highlight foliage and birds with Wink of Stella.
Here is the link to all products in my 24/7 Online Store.
Alcohol Coloured Cardstock – Gum Tree & Cockatoos
We use Beauty of the Earth Suite to create this scene of an Aussie gum tree, complete with cockatoos in the branches.
Products used to create the scene: Beauty of Friendship Bundle (dies, foliage stamp & greeting), Beauty of the Earth Designer Series Paper and alcohol 'Blends' ink coloured Soft Succulent cardstock . Background sky and tree are die cut from the stunning DSP. Bark 3D Embossing Folder adds texture to the Crumb Cake greeting layer.
To capture the colours of our blue/green eucalypt leaves, I used the 'acetate, blends and alcohol' technique (directions below) to colour Soft Succulent card-stock, then randomly stamped this cardstock with Old Olive Ink. The white birds represent our cockies (the possums must be hiding!). The card base is the new In Color Evening Evergreen.
Directions for Foliage
Use Soft Succulent Blend (Dark) and Evening Evergreen Blend (Dark) to cover a piece of Acetate sheet (approx. 15 x 10 cm). I applied blocks of colour diagonally ). Spray liberally with 99% alcohol so that the colours bleed into each other. Immediately, lay Soft Succulent Cardstock (approx 14 x 10 cm) on top to soak up the colour and alcohol mix. Set aside to dry.
When dry, stamp randomly with Old Olive ink. I used the large foliage 'highlight' stamp.
Here is the link to all products in my 24/7 Online Store
More Samples to Share:
Beauty of Friendship Bundle, Beauty of the Earth DSP, Love of Leaves & Stitched Leaves.
Here is the link to further description and products in my 24/7 Online Store
Beauty of the Earth Designer Series Paper, Etched in Nature Stamp Set.
Here is the link to further description and all products in my 24/7 Online Store
Join my Team:
Join just for yourself to get a discount, and/or build a business, be part of my team and meet friends who love to craft. The choice is yours, and I'm only too happy to chat with you OR, you might like to hop on over to my JOINING PAGE

Here's a quick look at the offer!
From 4 – 31 May 2021, get even more for FREE, choose $283 product for a $169 spend ($114 for FREE) (incl. upcoming 2021-2022 Annual Catalogue)
FREE Shipping
FREE Business Kit, including current catalogues.
And the opportunity to order from any existing catalogue at 20% discount.
Join our Stampin' Up! team, connect with others for papercrafting and creativity.
You might like to pop on over to my blog post, where you can find further information and some Q & A's. Here is the link. While the September promotion has ended the Q & A section addresses general issues.
Join my Classes
Please contact me if you would like to join my paper-crafting classes. I run several class groups. You might like to arrange a private class for you and your friends, or you might like to join my online/virtual class with prepared class kits and PDF Tutorials.

Please chat to me about your ideas or queries.

Have Fun Crafting. Enjoy the samples and your own wonderful creativity.
My business Facebook page is:
https://www.facebook.com/margistamps/
My Pinterest site is:
https://www.pinterest.com.au/margisank/
My Stampin' Up Online Store is HERE
My Stampin' Up website is HERE
My blog website is:
http://www.margistamps.com/
……… till next time, stay safe, have fun!

LOVE IT. LIVE IT. SHARE IT.