Our next colour on the In Colour Runway is 'Bumble Bee'; a soft pretty yellow; once again, drawn from the nature that surrounds us. You can see it below compared with some of our other yellows. It is richer and darker than So Saffron, with just a hint of orange/Mango Melody.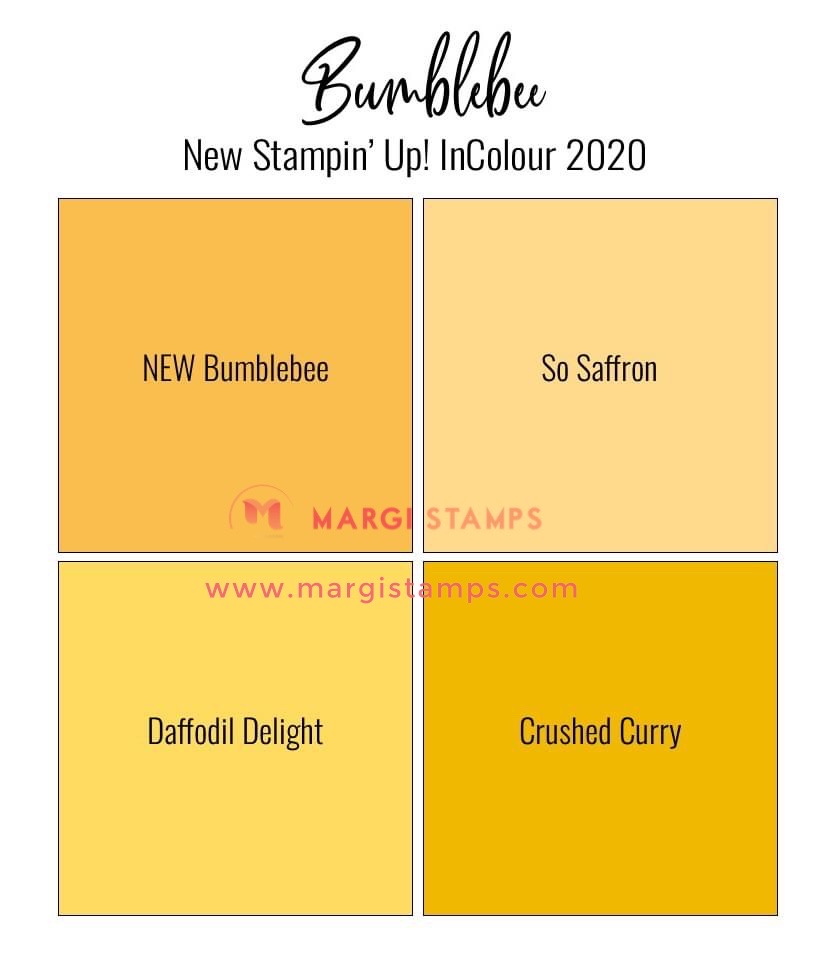 From my previous round up of garden colours in my Just Jade post, I've chosen our Banksia and Gazania photos to show off our new In Colour 'Bumble Bee'.
Of course, when I saw the berries in the Forever Fern stamp set, I thought of our Lilly Pilly featured in my previous post 'In Colour-Magenta Madness' and also our Golden Wattle, captured below. Can you see a hint of wattle in the photo above?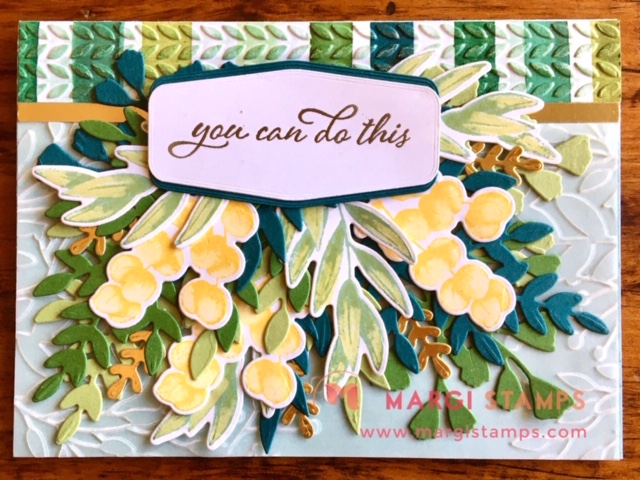 In this design, I have included multiple layers and die cuts, once again using the the Forever Greenery Suite. I'm trying to mimic nature!
To get you started, here are some Bumble Bee product codes.
Bumble Bee Cardstock #153082
Bumble Bee Ink Pad #153116
Bumblebee 2020-2022 Ribbon #153622
You might also notice the use of two different embossing folders. Both of these embossing folders are included in Greenery Embossing Folders. There are two different treatments. The first – highlighting the embossed DSP with shimmer paint and the second – embossing on vellum. I found that using Pool Party cardstock as the card base 'lifted' the vellum.
Here are the Heroes
Product List
Memories and Designing
As a young girl growing up, I was surrounded by textiles, sewing with Mum; the feel of fabric, the joy of colours working together, patterns and shapes, intricasies of design and materials. Perhaps the following samples bring back memories to you; sewing, travels & adventure?
Some Samples & Product Links for You
One of our Japanese Demonstrators, Yufu Stampin, uploaded a Kimono Style card. I'm delighted to share the design, and my take on it.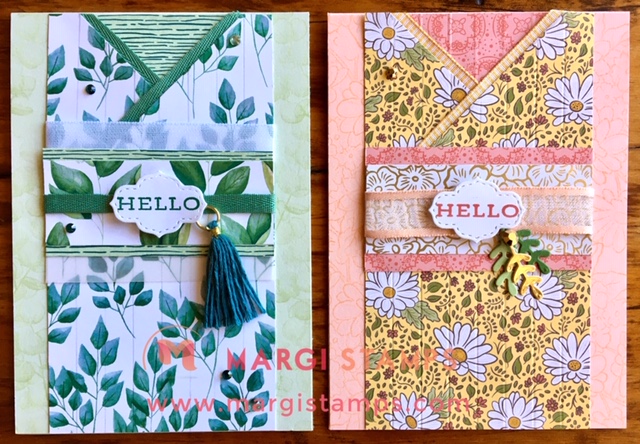 The card on the left uses the Forever Greenery DSP, Just Jade Ribbon, Soft Sea Foam cardstock; the card on the right uses Ornate Garden DSP, Bumblebee Gingham & Petal Pink Organdy Ribbon and Petal Pink cardstock. I just love that our colours work so well together; as do both sides of our DSP!
Here are the heroes and some product links for you.
Product List
Here are the key products. The links will get you to my store within Stampin' Up! Naturally, if you live in Australia, I would be thrilled if you chose to shop with with me. I have included my June host code below.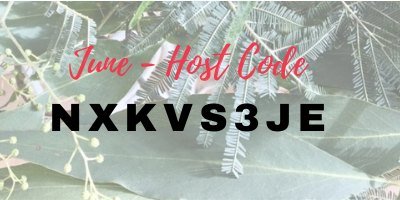 Announcements
Clearance Rack
There are still gorgeous products available to top up your order. Here is the link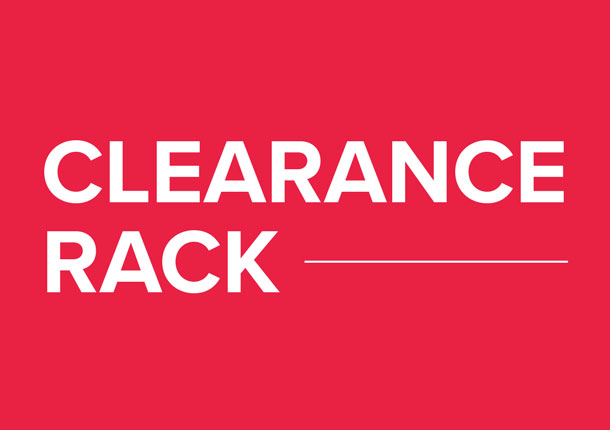 Creative Eight WOW Tutorials : Here is the June 2020 Sneak Peak
The sparkly new June Creative Eight WOW PDF Tutorials are available now for FREE with any qualifying product you order in my store or, you can buy direct from me for $15AUD. P.S. Can you see the new colours and products?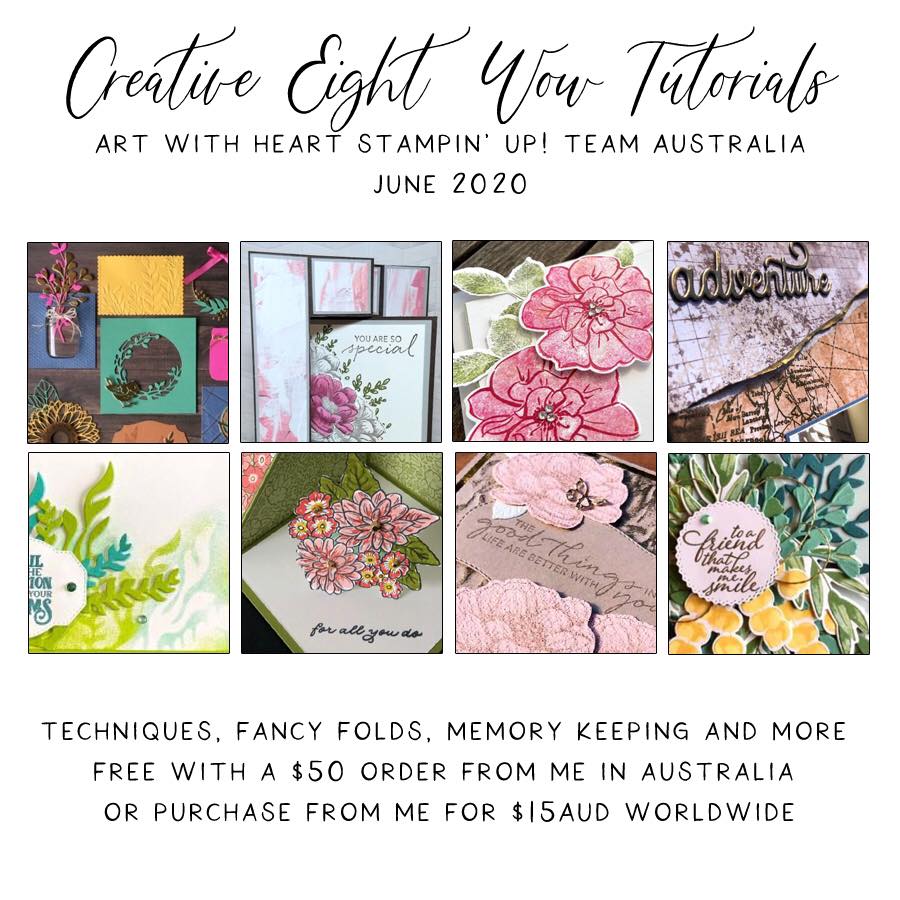 2020-2021 Annual Catalogue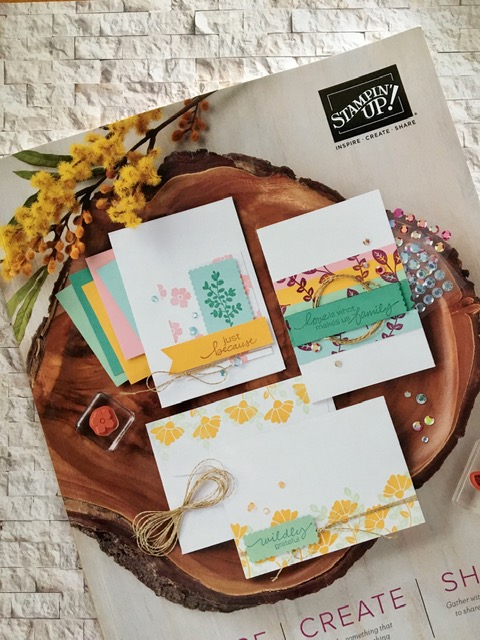 It's out and fabulous. Do you still need your very own paper copy? Please contact me direct or view online. Here is the link to my On Line Store.
Which ones are your favourites??
Join my Classes: Join my Team
Classes
Please contact me if you would like to join my paper-crafting classes. I run several class groups, or you might like to arrange a private class for you and your friends.
Due to our current Covid-19 restrictions and physical distancing, I am currently running virtual classes and providing card kits, tutorials and videos. Just let me know if this option suits you.
Join my Team
Perhaps you have a love of paper-crafting and would like to buy Stampin' Up products at a discount. You can do this by joining my team. We have an awesome promotion for the remainder of June.
As well as 'choose $235 of product for $169 spend you can also choose any stamp/punch or stamp/die bundle. Fabulous!
You can choose your level of involvement; it can be a hobby or a business or anywhere in between. Please don't hesitate to contact me to discuss or go to MY JOINING PAGE.

You can chat to me about any ideas or queries that you may have.
Please feel free to use the examples for your own designs and inspirations.
My business Facebook page is:
https://www.facebook.com/margistamps/
My Pinterest site is:
https://au.pinterest.com/margisank/
My Stampin' Up! Online Store is here:
My Stampin' Up! website is here
https://margistamps.stampinup.net/

My blog website is:
http://www.margistamps.com/

………..till next time.
Please enjoy, stay safe and have fun!
Margi