Our next colour on the In Colour Runway is 'Just Jade'; a soft blue-green, drawn from the nature that surrounds us. You can see it below in comparison with some of our other blues and greens.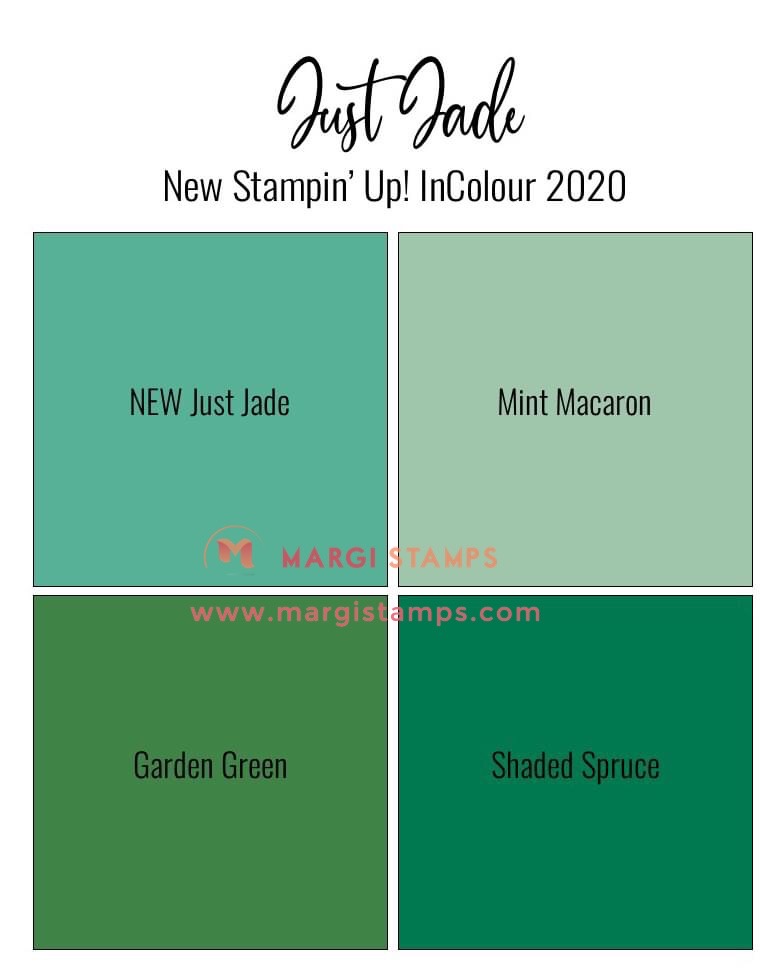 I couldn't resist a walk around the garden this morning and captured some other colour comparisons drawn form the natural world. Yes!, it was below zero overnight and in one of the photos you can see the ice still melting. Can you also see the various hues of Just Jade?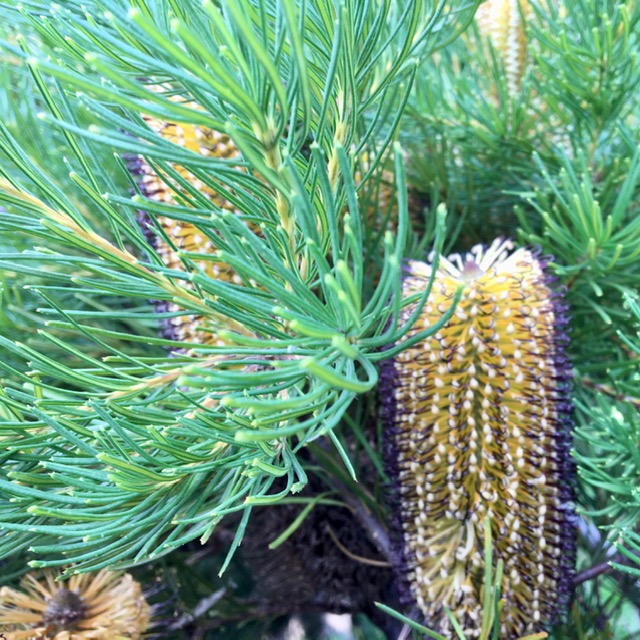 Memories and Designing
Many of the Stampin' Up! Suites incorporate our In Colours. In my last Blog, we looked at Magenta Madness, the brilliant pink, which I used with the Forever Greenery Suite, to reference my childhood memories of our Lilly Pilly tree. If you would like to catch up and refresh your memories, here is the link back to In Colour – Magenta Madness.
The natural world and garden are my inspiration for designing, aided brilliantly by our Stampin' Up! supplies. We have stunning Designer Series Paper, inks, cardstock and bling that all compliment and support each other. Your creations can be a simple or complicated as you like.
Lots of Greens!
Our Forever Greenery DSP incorporates many greens; Garden Green, Pear Pizzazz, Just Jade, Pretty Peacock, Shaded Spruce, and Soft Sea Foam. These options allow so much flexibility & possibilities for your creativity; you can be guided the colours in the paper and your own preferences.
In the sample treats for you, I have used Forever Greenery Suite to showcase all the elements; the Forever Fern Bundle, Forever Greenery DSP, Greenery Embossing Folder, Forever Gold Laser-Cut Specialty Paper, Forever Greenery Trim Combo and Gold Hoops Embellishments. You might notice that I've also borrowed some elements from other suites; Tasteful Textile 3D Embossing Folder and In Good Taste Wooden Elements.
Some Samples & Product Links for you.
Please enjoy these creations and adapt them to your style & colour palette.
Here are the key products. The links will get you to my store within Stampin' Up! Naturally, if you live in Australia, I would be thrilled if you chose to shop with with me. I have included my June host code below.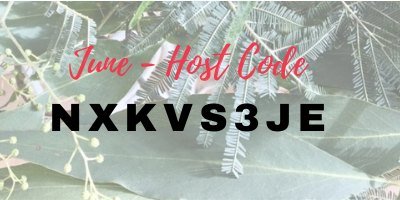 Product List
These following examples showcase our In Colour 'Just Jade' working with Flowers for Every Season Suite. I have used both the pretty Flowers for Every Season DSP and the Jar of Flowers Bundle. You might also spot two of the In Colour Ribbons. They are 1/4″ (6.4 mm) Twill Ribbon. They are soft and flexible and fold beautifully.
Here are the additional supplies.
Product List
Announcements
Clearance Rack
There are still gorgeous products available to top up your order. Here is the link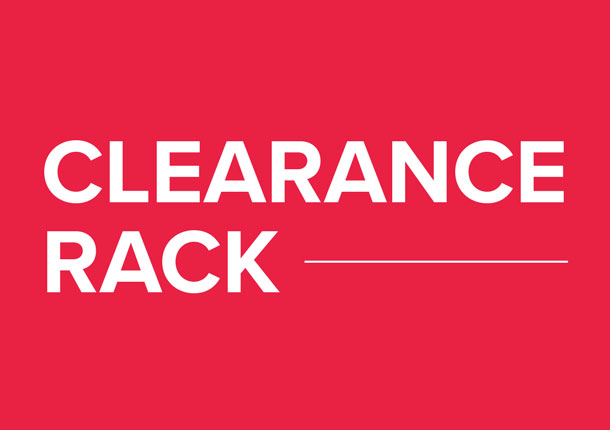 Creative Eight WOW Tutorials : Here is the June 2020 Sneak Peak
The sparkly new June Creative Eight WOW PDF Tutorials are available now for FREE with any qualifying product you order in my store or, you can buy direct from me for $15AUD. P.S. Can you see the new colours and products?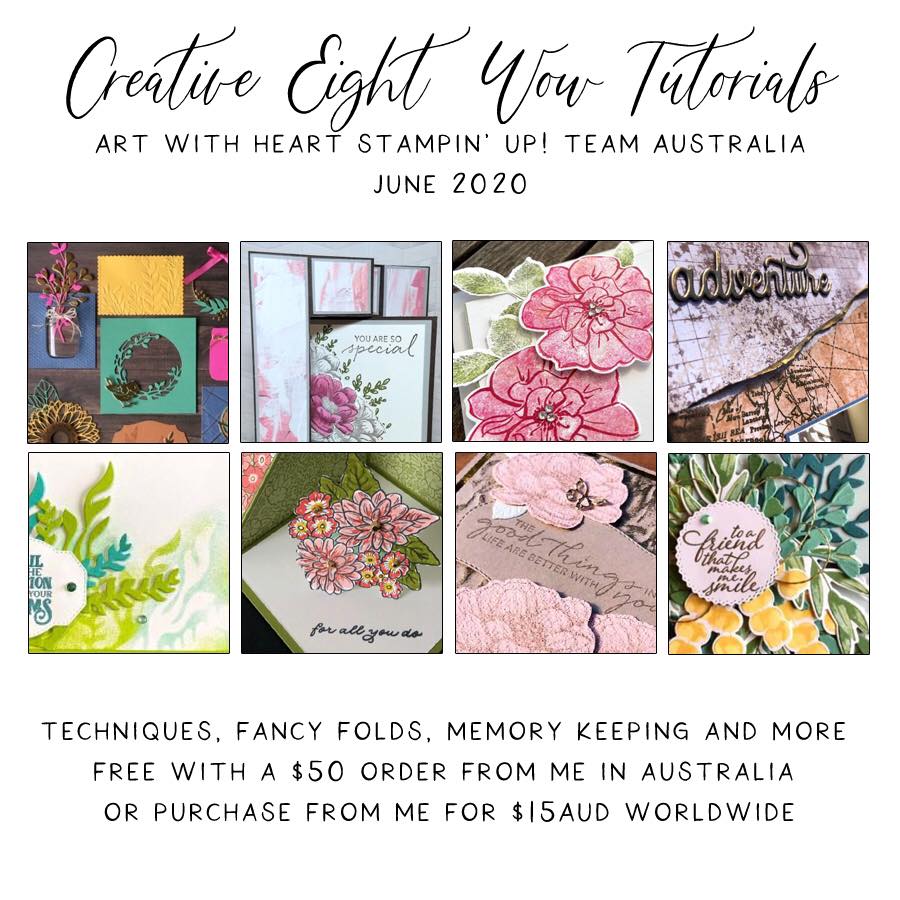 2020-2021 Annual Catalogue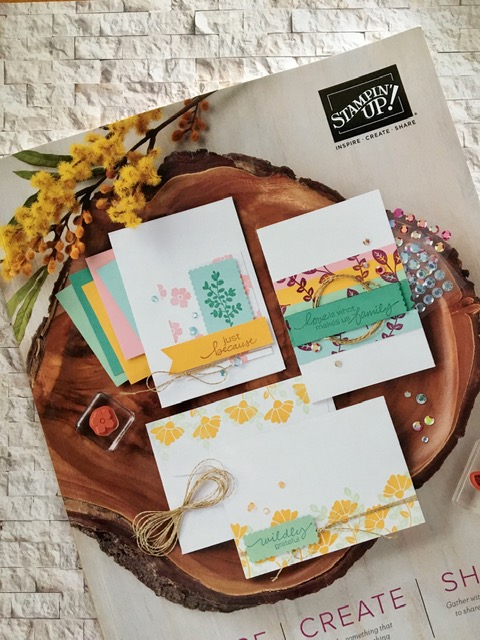 It's out and fabulous. Do you still need your very own paper copy? Please contact me direct or view online. Here is the link to my On Line Store.
Which ones are your favourites??
Join my Classes: Join my Team
Classes
Please contact me if you would like to join my paper-crafting classes. I run several class groups, or you might like to arrange a private class for you and your friends.
Due to our current Covid-19 restrictions and physical distancing, I am currently running virtual classes and providing card kits, tutorials and videos. Just let me know if this option suits you.
Join my Team
Perhaps you have a love of paper-crafting and would like to buy Stampin' Up products at a discount. You can do this by joining my team. We have an awesome promotion for the remainder of June.
As well as 'choose $235 of product for $169 spend you can also choose any stamp/punch or stamp/die bundle. Fabulous!
You can choose your level of involvement; it can be a hobby or a business or anywhere in between. Please don't hesitate to contact me to discuss or go to MY JOINING PAGE.

Please chat to me about any ideas or queries that you may have.
Please feel free to use the examples for your own designs and inspirations.
My business Facebook page is:
https://www.facebook.com/margistamps/
My Pinterest site is:
https://au.pinterest.com/margisank/
My Stampin' Up! Online Store is here:
My Stampin' Up! website is here
https://margistamps.stampinup.net/

My blog website is:
http://www.margistamps.com/

………..till next time.
Please enjoy, stay safe and have fun!
Margi