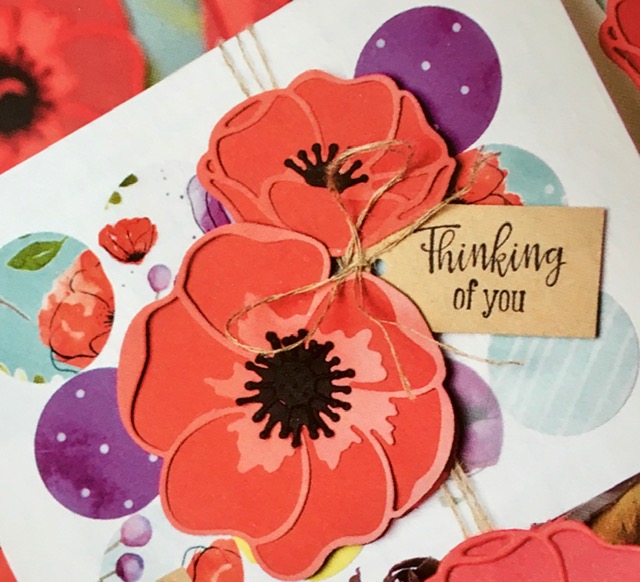 Happy New Year
Wishing you all a safe, happy and healthy New Year.

In this quiet time, while watching and listening to the news and emergency sites, we've been plodding away, collating and recording our memories
It's time to come up for a breather.

It's raining a little here, and many of the Evacuation notices have been revised to Watch and Act. There are still fires, but we are having some respite. For all those in areas of poor air quality, please take care.

Thanks again to all our amazing Volunteers, Relief and Emergency Service people. We're indebted to you all.
Mini Catalogue and Sale-a-Bration
Many of you will now have your catalogues. Please contact me if you don't have your paper versions or if you are not able to access them on-line. More about these down the page!


Memory Keeping Ideas for You
I think I'm starting to "get" scrapbooking/memory keeping/smash albums. It's fun!

Do you, too, have lots of stuff at home that you've put aside for your own memory keeping? It might be time to dust it/them off and play during some quiet time.
We kept many of the brochures, maps, bits & pieces from our holiday. They've now come out of the safe stash where they languished after we can home from our holiday.
I used a variety of Memories & More Stampin' Up! products.

I had a partially used 12×12 Stampin' Up! album and many different sized pocket pages for both our large and small albums. I had old and new Memories and More packs that I knew would be useful and perfect 'some day' !

Here's a few pics to share….I'm about 2/3 done.
You can see some of the Stampin' Up! products are new, and some are retired. I always had in mind I would use them, but needed a great project (and time) to focus.

Can you see some possibilities for yourself?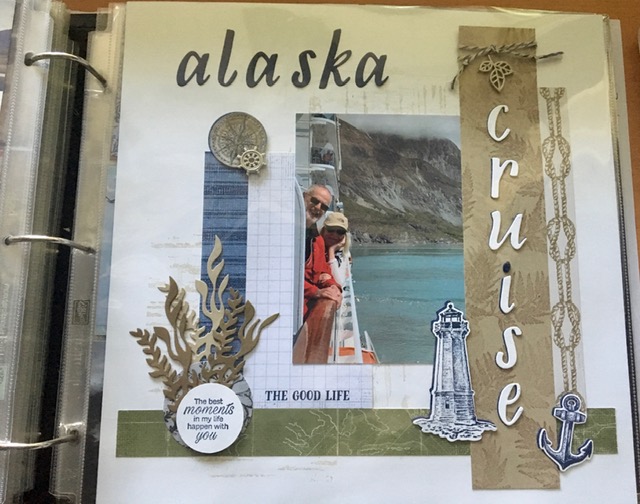 In the lead page for the cruise section, I used all current product, mainly Sailing Home Suite and Daisy Lane (Annual Catalogue)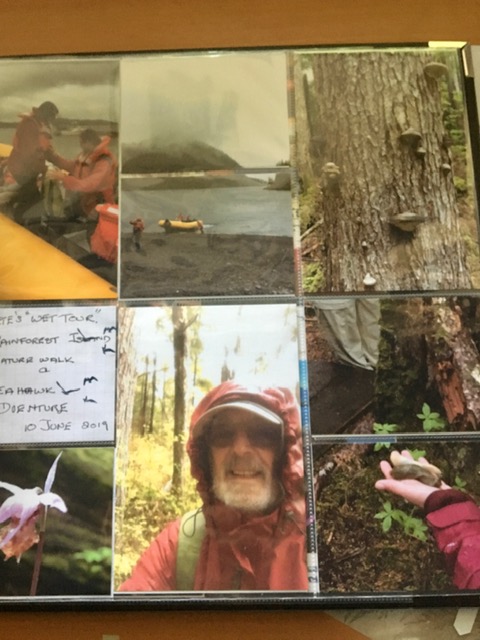 I've used various Memories & More Cards, co-ordinating DSPs, pocket pages from both the large and small collection, Sail Away and Leaves trinkets, and a few different stamp sets.

When we travelled to Alaska, I saw how I could use a number of stamp sets; Rustic Retreat, Nature's Roots, Merry Moose as well as Sailing Home. I also used other splotch and splatter stamps as the album progressed.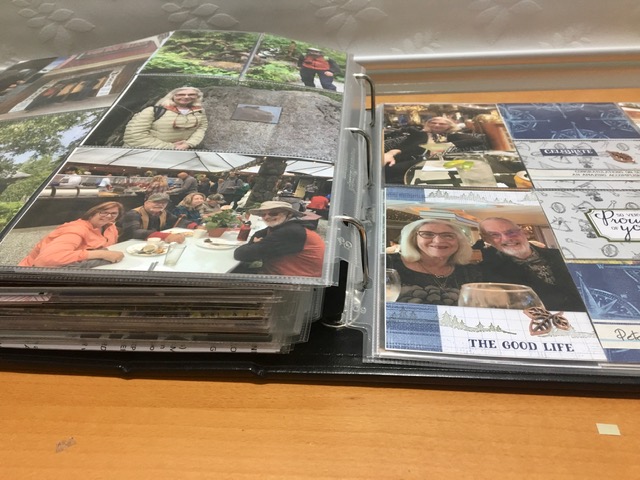 You can see the Album is getting very full. I've placed my order for another album that will just be this trip!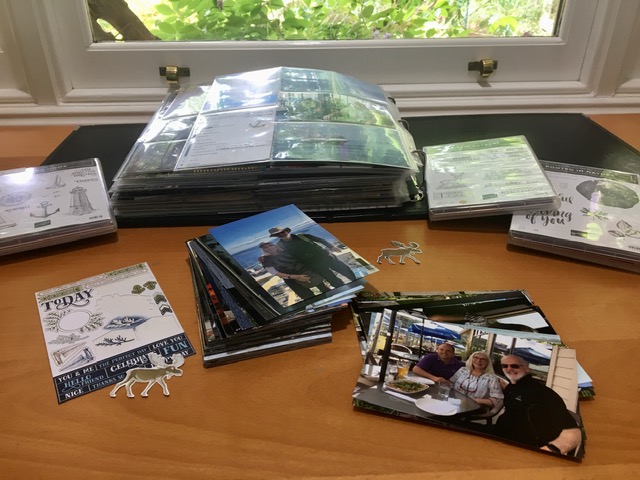 There's more to come. First Vancouver Island and then some time in Seattle.
You might like to view the YouTube video giving a quick run through the album to date. HERE is the link.
Paper Trimmer and Mini Trimmer
I found our new paper trimmer has been excellent. The blades stay sharp and provide an accurate cut.

The other standout for me has been our new Mini Trimmer. It's one of the free items available for new demos who join during Sale-a-Bration We were able to purchase this product to enable us to test it. It's wonderful! Ask me how you can get yours.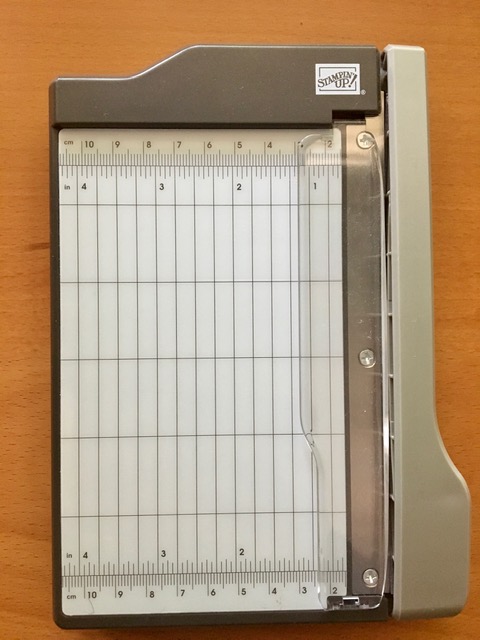 The Mini Trimmer is perfect to cut down 6×4 photos to fit in 3×4 pocket pages. You can still see the train and the impact of the photo. I used the other 3×4 slots in this page configuration for journalling.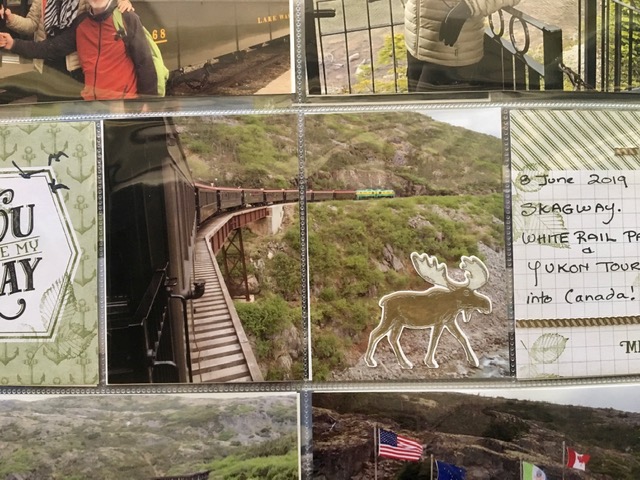 Handmade for You.
January-June 2020 Mini Catalogue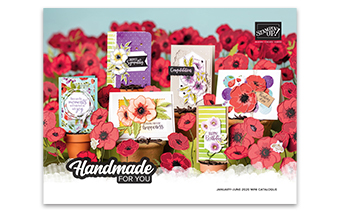 It's out and it's gorgeous. There are so many beautiful Suites, Bundles and Products. So many to choose from! Whether it's Paris, Grace's Garden, Bees, Boats, Mountains, Golf, Tulips, Brollies or Hearts, to name just a few; there's treats to suit all occasions.

The Peaceful Poppies Suite is bright and pretty. It can be used for simple stamping or, onto to dies and layers for the more intricate look.

Here is a quick and easy design using stamping and some very simple and easy water-colouring.

I'll be sharing more pics on my website and other social media.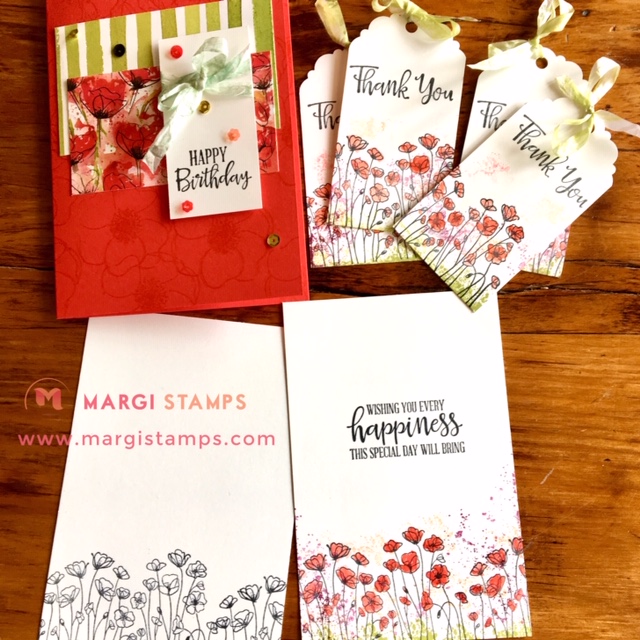 Sale-a-Bration
Sale-a-bration is our biggest promotion of the year. It's a great time to sample new things, replenish your stocks and to get some free items as well.
The promotion will run to March 31 with free product available with qualifying product order of $90 or more.

There are also additional Host benefits and additional rewards for new Demonstrators joining my team during this period.
January Creative Eight Wow Tutorials
I have been invited to join a wonderful group offering Creative Eight Wow Tutorial each month for the next six months. There are Fancy Folds, Techniques, 3D or Scrapbooking, and Embossing Folder ideas.
Each month the Tutorial will be FREE with a $50 order or you can purchase for $15AUD worldwide. I'll send this to you within 24 hours of qualifying order or purchase using the link to my email address HERE or my PayPal Button below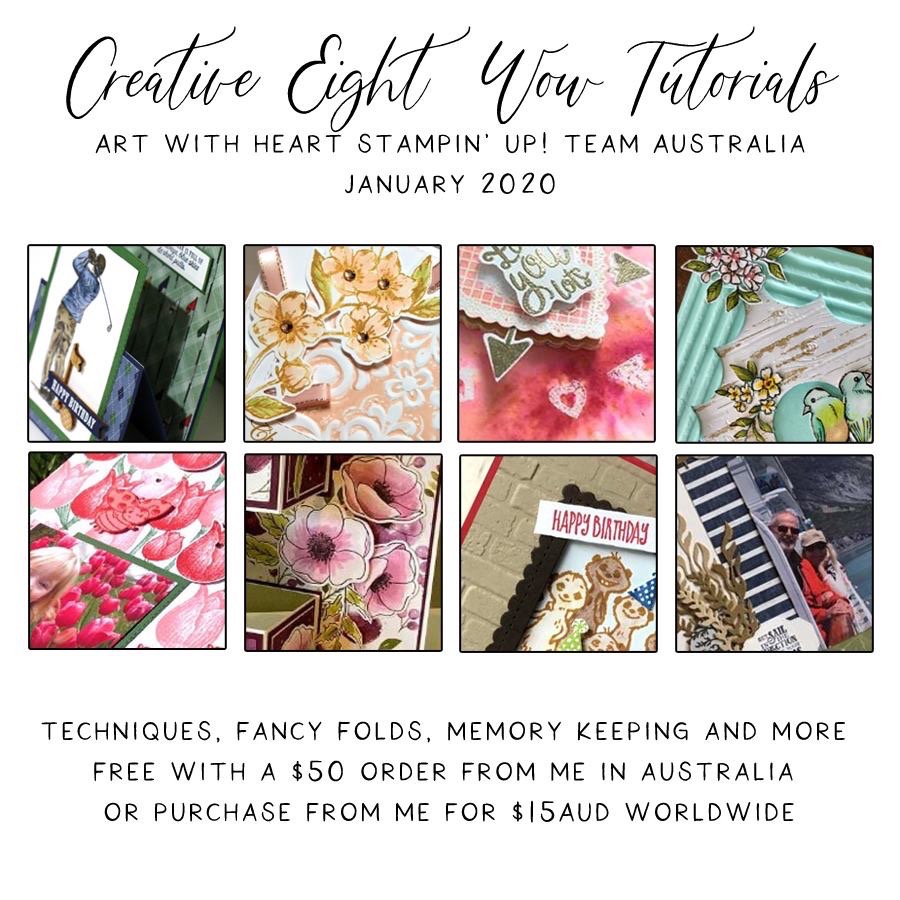 Join my Classes: Join my Team
Please contact me if you would like to join my paper-crafting classes. I run several different class groups, or you might like to arrange a private class for you and your friends.

Perhaps you have a love of paper-crafting and would like to buy Stampin' Up! products at a discount. You can do this by joining my team. You can choose your level of involvement; it can be a hobby, business or, anywhere in between.

During Sale-a-Bration, from January 3- March 31, new Demonstrators can choose a free stamp set and receive the awesome Mini Paper Cutter and 48 sheet 6" x6" DSP sampler. This is a special bonus and only available to new demos joining during sale-a-bration.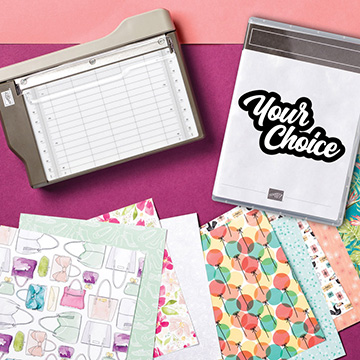 The Starter Kit/Joining Fee remains the same at $169 for $235 of product. This is ANY product you choose from the Annual and/or Mini Catalogue. It is a wonderful opportunity. Please don't hesitate to chat to me about this.

The link to my web address and store within Stampin Up is included here: www.margistamps.stampinup.net

My business Facebook page is:
https://www.facebook.com/margistamps

My Pinterest page is
https://au.pinterest.com/margisank/

………..till next time.

Please enjoy and have fun!
Margi