Merry Christmas & Happy New Year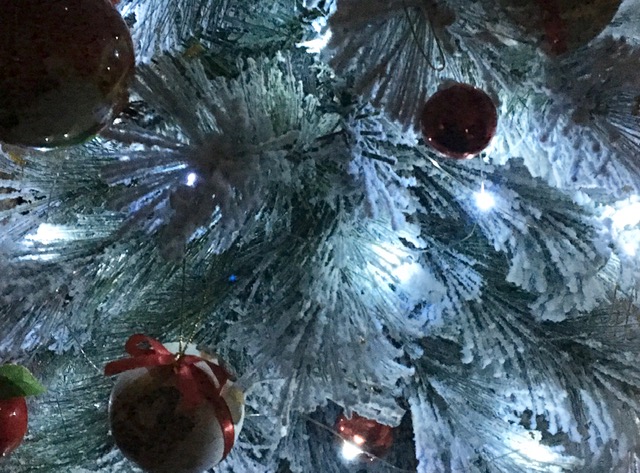 Our Tawny Frogmouths are back in the garden, we have been blessed with a mild summer to date and our garden continues to delight. Nature and our garden always continue to amaze and delight us.
I know that we are exceedingly lucky, and our hearts go out to those who are struggling with drought and fires.
As 2019 draws to a close, this wish is for you and your loved ones.
May your Christmas be peaceful and your New Year safe, happy and healthy.
I would also like to thank you most sincerely for your support and kindness during the year. I'm so glad that I was introduced to paper-crafting and Stampin' Up! My hobby and little business have enabled me to meet and be with lovely people like you all. You continue to enrich my life. Thank you all so much.
December Announcements
Pete and I went on our Alaskan Adventure this year. My goodness, it was a wonderful trip. And, everywhere we looked, there were our Stampin' Up! images; Merry Moose, bear and other critters, cute log cabins and gorgeous lake & mountain scenery.
These images and memories formed part of my inspiration for Christmas this year.
Merry Moose Bundle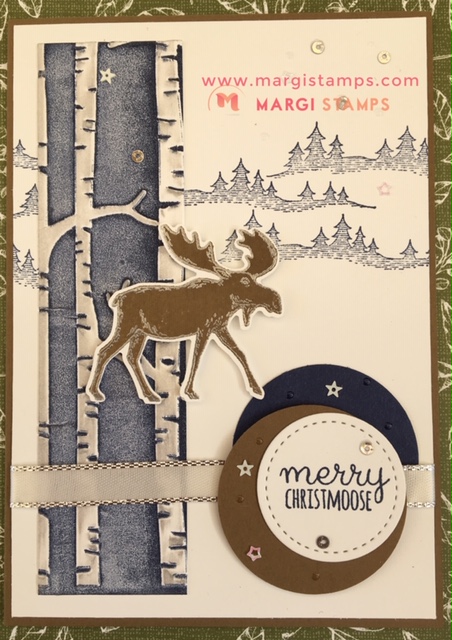 The Merry Moose Bundle of Stamp Set and Punch is still available at the special discount price. I incorporated Rustic Retreat Stamp Set (Annual Catalogue) for the Arctic Trees and Woodland Embossing Folder for the Birch Forest.
Perfectly Plaid and Playful Penguins
I've also been playing with Playful Penguins. These critters only live in the Southern Hemisphere, unless they're on paper or in the movies! The stamp set is still available while stock last.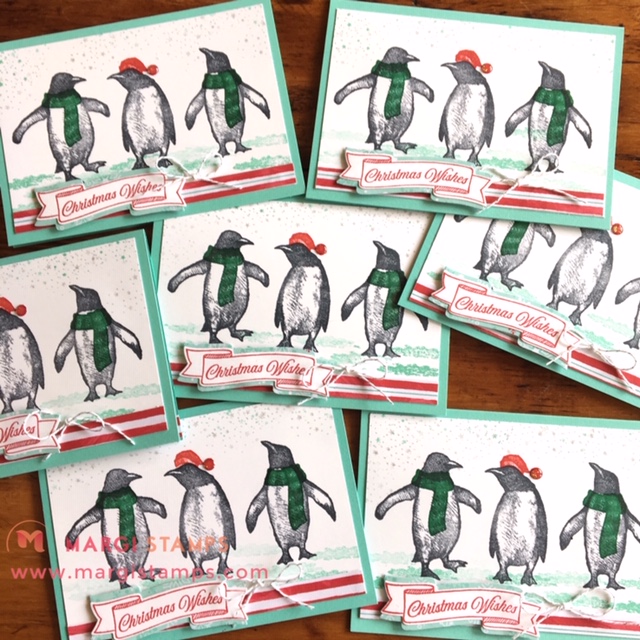 Waving Goodbye to the Holiday Christmas Catalogue & Closeout Sale
"Closeout Sale" is nearly over but there are still fabulous bargains to be had from Clearance Rack, the Annual Catalogue and the retiring Holiday Christmas Catalogue.

You may have been wishing for a particular stamp set. There is still time to order. There are gorgeous sets left, along with fabulous DSP and other bibs and bobs.
When they're gone, they're gone, and Closeout ends on January 2.
Continuing product bundles are still available at the 10% discounted price. The discount will end on January 2.
Examples of these bundles are Perfectly Plaid (p13), Peaceful Boughs (p15), Itty Bitty Christmas (p16), Snowman Season (p19), Still Scenes (p43).
Other Bundled items will be available as individual items (i.e. no discount) in the Christmas/Holiday 2020 catalogue. They will cease to be available from January 2 unless sold out prior. Examples of these items are Christmas Gleaming Stamp Set and the matching Punches, Merry Moose and the Punch, Gather Together Stamp Set and Dies. (Christmas Gleaming has sold out this year.)
Please let me know if you would like the bundles at the discounted price or you can order directly on-line here.
Mini Catalogue
As we bid farewell to many of our favourites, the new catalogue is about to be ushered in.
During November, I travelled to Sydney to attend the On-Stage launch of the new catalogues. It was great fun to be with my crafting buddies and see the exciting new pretty things. I was fortunate to earn and pre-order just some of my favourites; the list keep growing! Oh! my goodness. They are gorgeous.
Welcome to the gorgeous poppies, bees, shoes, handbags and perfume bottles, hearts, and the Eiffel Tower, tropical and cottage gardens, cars and bikes, mountain and lake scenes and more delicious stitched dies.
Here's a peak: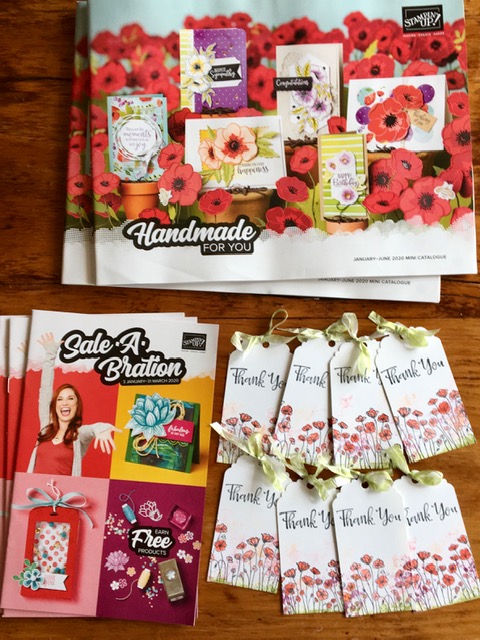 The new Mini Catalogue will launch on January 3 along with the Sale-a-Bration booklet. The catalogue will run concurrently with the Annual Catalogue and both finish on June 2.
Sale-a-Bration
Sale-a-bration is the promotion that will run to March 31 with free product available with qualifying product order of $90 or more.
Some of you already have your catalogues and booklets. If you do not already have your copies, they will be available on-line from January 3 or please contact me for your very own paper ones. My website address is listed below and here.
There are also additional Host benefits and additional rewards for new Demonstrators joining my team during this period.
Join my Classes: Join my Team
Please contact me if you would like to join my paper-crafting classes. I run several different class groups, or you might like to arrange a private class for you and your friends.
Perhaps you have a love of paper-crafting and would like to buy Stampin' Up! products at a discount.  You can do this by joining my team.  You can choose your level of involvement; it can be a hobby, business or, anywhere in between.   
During Sale-a-Bration, from January 3- March 31, new Demonstrators can choose a free stamp set and receive the awesome Mini Paper Cutter and 48 sheet 6" x6" DSP sampler. This is a special bonus and only available to new demos joining during sale-a-bration.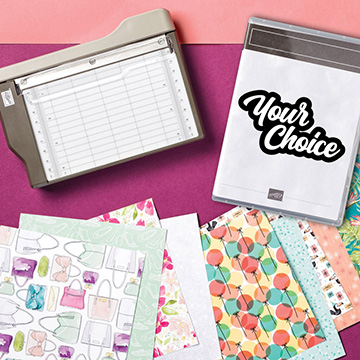 The Starter Kit/Joining Fee remains the same at $169 for $235 of product. This is a wonderful opportunity. Please don't hesitate to chat to me about this. The direct link to my Joining Page is here
Thanks again.
My husband, Pete and I are home this year, but spending Christmas with family and the extended family. We are indeed blessed. We'll be remembering those no longer with us and sending hugs to our loved ones and friends far away from home at this time.
Once again, thank you all. Please have a Merry and Loving Christmas and a very safe and happy start to 2020.
My business Facebook page is:
https://www.facebook.com/margistamps
My Pinterest page is :
https://au.pinterest.com/margisank/
My Stampin' Up! Online Store is here
My blog website is here

………..till next time.
Please enjoy and have fun!
Margi