Join My Team
Have you ever thought of becoming a demonstrator, either as a hobbyist or for a business opportunity? This is a great time to Join My Team, reap the rewards and have fun.
This is how it works.  Make an investment in your Starter Kit and pay $169, choose $235 of product (pretty much anything you like from the current catalogue), receive a free box of catalogues to share with your friends and other business bibs and bobs valued at $80.
Special July Promotion
In addition to this and for the month of July only, choose a free pack of TEN new stamp pads in any of the Colour Families ($130 Value).  When you do the sums, this is amazing value.  You receive $365 of product + $80 business pack. Yep, that would be $445 value for a $169 spend.
Here are the details:
And here is the link:  Join my Team
Added Opportunity
For those demonstrators who join during the month of July, you also have the opportunity of including in your starter kit, Blended Seasons, a fabulous new bundle of stamp set and co-ordinating layering stitched shapes.  This bundle will only be available to purchase during the month of August.  Signing up as a demo is a great opportunity to lay your hands on this beauty early, and then share it with your friends.  Please contact me directly for more details on this bundle.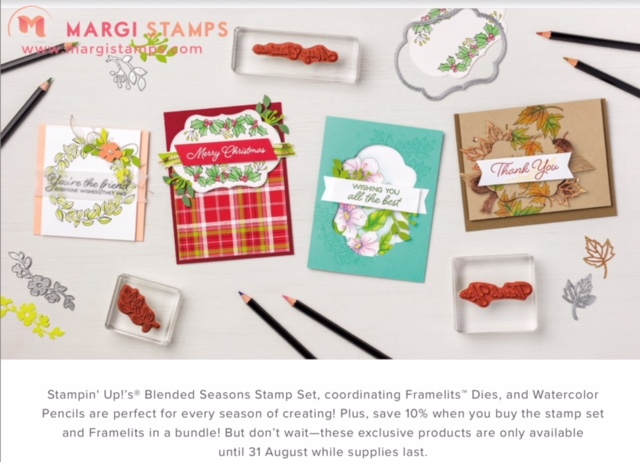 Oh! my goodness…and just in case this isn't enough…you'll be eligible to register for our OnStage on 14 August and join the fun as we celebrate Stampin' Up!'s 30th Anniversary in November.
Product Update
Stampin' Blends
Our full range of colour in the Stampin' Blends, our alcohol markers, are now available to order. They are shown on page 204-205 of the catalogue.  My new colours have been being shipped to me.  I'm certainly looking forward to adding the newbies to my existing colour selection and experimenting with them.
Here is the link directly to Stampin' Blends
And here is the link to my online Stampin' Up! store for all our products. Shop With Me
Naturally, if you have any queries, please don't hesitate to contact me.
LOVE IT. LIVE IT. SHARE IT.