Welcome to your Make it With Margi November Tutorial Card #1, Peaceful Place Paper Fancy Fold Gift Card Holder.  Peaceful Place Specialty Designer Series Paper has both shimmer and texture to add to this card design.  We are pairing the paper with Layering Circles dies, Cherry Cobbler card stock and a great card map to create this card.
Who's travelled to the High Country in the Victorian Alps?  This card was based on our love of Cattlemen's/Refuge Huts.  Yes, it does snow in the Victorian Alps at Christmas time.  And yes, the card design could easily work for the Northern Hemisphere.  I thought these cards might work for our family who are travelling to warmer states.  They'll be hankering for snow in any season!
Read on for the directions for this card and the stepped-up "Latch Fold" Gift Card Holder Card.
If you're not in my class groups, you are welcome to enjoy these designs and your own creativity. If you would like to join one of my groups (online – at the moment) and live in Australia, please contact me. I would love to hear from you.
Peaceful Place Specialty Designer Series Paper Fancy Fold Gift Card Holder.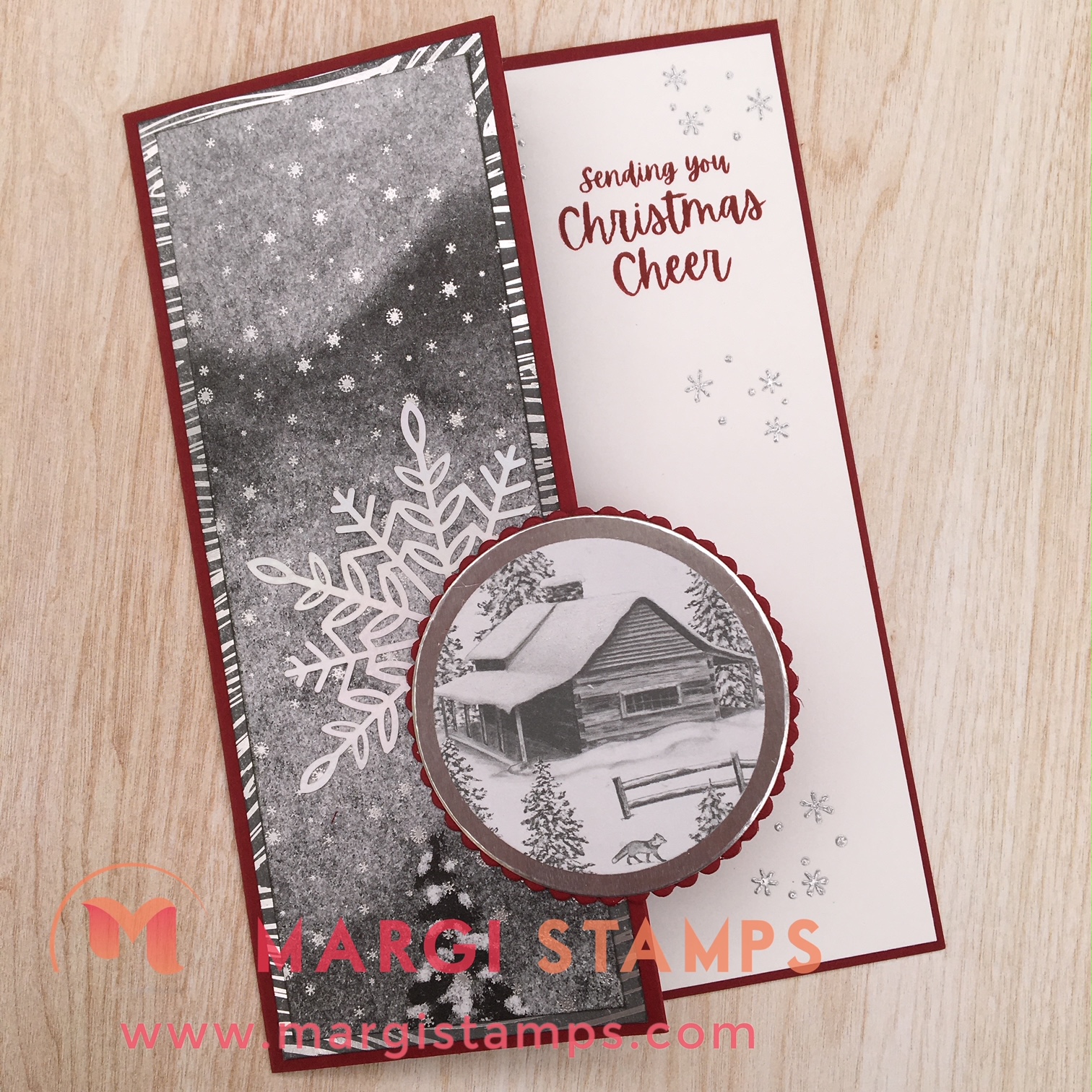 My friend, Heidi Bell, created this basic design.  I have tweaked it a little.  The card design will suit any occasion, Christmas, Birthday, Anniversary, Graduation etc. OR, any occasion where you might like to include a gift card of gift envelope.
Ingredients for Peaceful Place Paper Fancy Fold Gift Card Holder
Let's step through the ingredients used for our Card. Some are in the July-December 2021 Mini Catalogue, and some are in the Annual Catalogue.
Peaceful Place Specialty Designer Series Paper
Starry nights, Santa on his way, High Country Huts or Northern Hemisphere scenes, textures and foiled accents; this paper fits the bill!  Add a pop of colour or keep it neutral. It's shimmery and silver foiled, with both scenes, pattern and texture. No matter what you're making, from greeting cards to scrapbook pages, these calming nature scenes and muted colour schemes will set the perfect mood.
Click HERE for the product link in my 24/7 Online Store.
Layering Circles Dies
Create custom die-cut circles in record time using the Layering Circles Dies.  Use the dies to make beautiful handmade cards and other projects. They're perfect to use as a staple that will work with many stamp sets.
Click HERE for the Product Link in my 24/7 Online Store.
Stamping: Words of Cheer & Angels of Peace
I used Words of Cheer stamp set for the greeting.  The Bundle is one of my favourites, for both stamped images and dies dies. The stars from from Angels of Peace.
You might have the same or other greetings and stars/snowflakes that will work for the design.  Have fun putting your own creativity to play.
Words of Cheer Bundle
Click HERE is the product link in my 24/7 Online Store.
Angels of Peace
Click HERE for the product link in my 24/7 Online Store
Peaceful Place Fancy Fold Gift Card Holder
Here is your class kit.  Can you see that we are using the beautiful tree/starry night scene on the front of the card.  Although the DSP on the front of the card is only 5.1cm (2″) there are tree patterns in each of the kits.  They all vary a little.  The silver foiled woodgrain patterned paper 'lifts' the design, and matches our silver circle. The 1/2 Wonderful Snowflake adds an additional layer and interest.  All the huts/cabins are a little different.  I die cut these from the paper using one of the Layering Circle Dies.  You might like to add a little wink of Stella to the snow on your roof.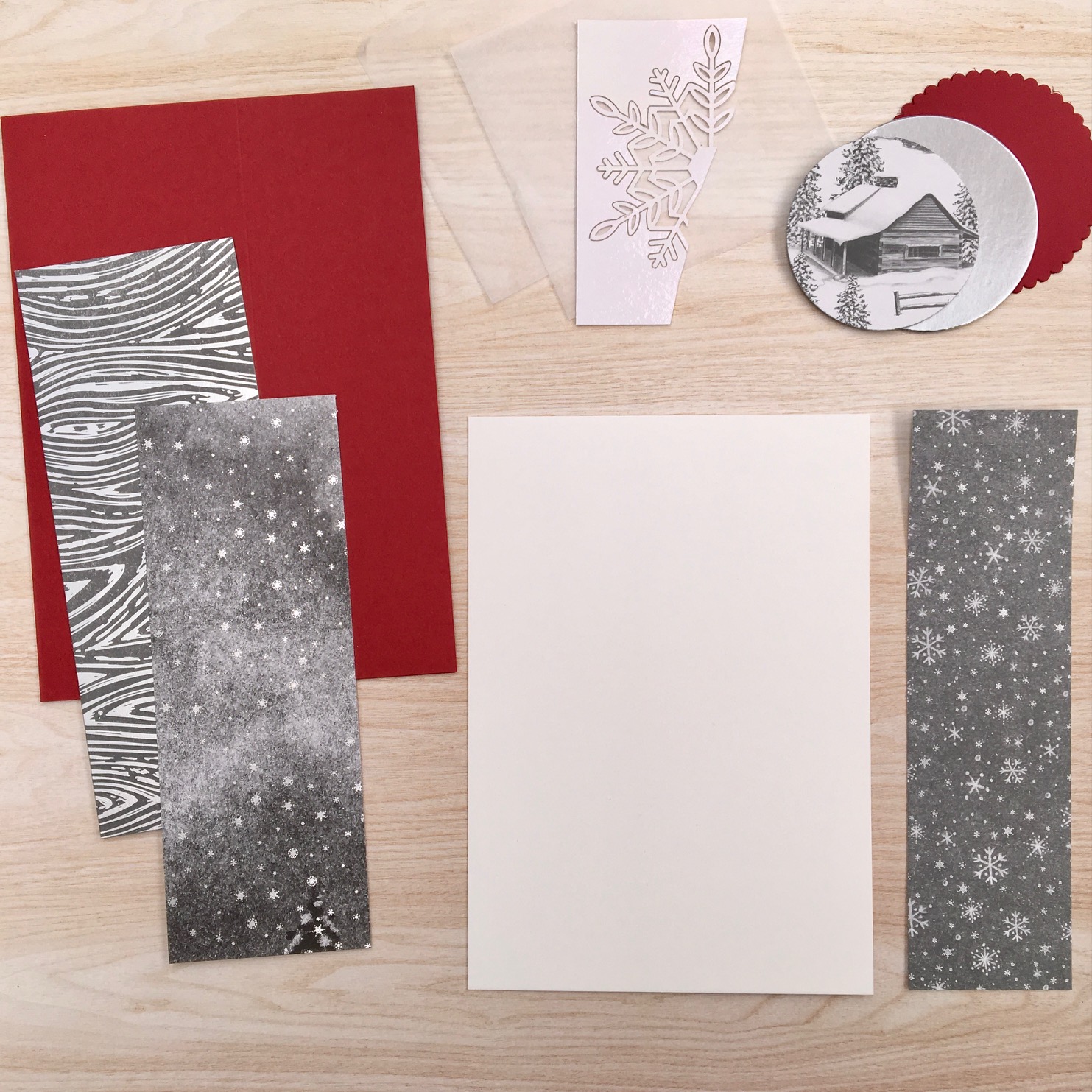 SUPPLIES
Stamp Sets, Dies & Embossing Folders: Words of Cheer, Angels of Peace, Layering Circles.
Papers; Peaceful Place Specialty DSP, Silver Foil, Cherry Cobbler and Basic White card stock.
Inks: Cherry Cobbler, Versamark stamp pads, Metallics Embossing Powders, Wink of Stella
Other: Wonderful Snowflakes, Dimensionals, Multipurpose Liquid Glue, Mini Glue Dots, Take your Pick Tool, Heat Tool, Trimmer, Cut & Emboss Machine
HERE is the direct link to all current products in my 24/7 Online Store.
DIMENSIONS
Card Base: Cherry Cobbler c/s, 14.85 x 21cm scored on the long side at 4.5 and again at 10.5. (I have done this for you),
Layering DSP: Front, 14.5 x 5.6 cm, 14 x 5.1 cm, Inside 14.5 x 4.1 cm
Card Insert: Basic White 14.5 x 10.1cm
Layering Circles: Cherry Cobbler (5.7 cm diameter scalloped circle, 5.4 cm diam. Silver Foil, 4.9 cm diam. Hut scene)
STEP BY STEP DIRECTIONS – Peaceful Place Gift Card Holder
Finished views of card
Burnish card base score lines.  The 4.5 cm fold line folds in.
Attach Tear & Tape to this section as shown below and adhere to make your gift card holder pocket.  See photo below.

#2 Add Tear & Tape

# 2 Fold shut and make Gift Envelope

Make you circle element; adhere the circles, one on top of each other; Cherry Cobbler, Silver foil and hut scene,  You make like to apply Wink of Stella to the snow on the hut roof.
Stamp greeting on the top right hand side of Basic White insert, about 1.5 cm down from the top.
Stamps stars in Versamark on this Basic White insert and heat emboss the stars with Silver Emboss Powder.
Adhere this insert into the card.
Adhere 4.1 cm wide DSP strip to the inside of the card.  This piece is the pocket for the Gift Card.  The inside of the card is now complete.  (see photo above for the inside of the card)
Adhere both layers of DSP to card front as shown.
Position your circle element but don't adhere yet
Position and adhere with Multipurpose Liquid Glue, your 1/2 Wonderful Snowflake.  The middle of the snowflake should sit just under the edge of the circle element when the card is complete.
Apply Glue to half of the back of the circle element and adhere to card front.
Step it Up! with a "Latch" to close the Gift Card Holder Card.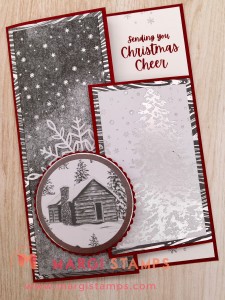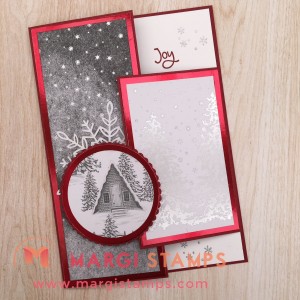 You may like to use your own supplies to make this card. The measurements and fold lines are same as the class card.
The 'flap' is the additional element for these cards.  It measures 9.5 x 8 cm and scored on the short side at 2cm.  This section is adhered to the card insert before the insert is adhered to the card base.  So between (5) & (6) steps above.
The card on the left hand side uses the same combination of DSP for the layers, while the one on the right uses Red Foil instead of one of the DSP layers.
I adhere two layers of DSP/Foil on the outside of the flap, and DSP and Basic White on the inside.  Then, you have more room to write your message,
The layering DSP and/or foil pieces are 3cm and 6 cm smaller than the cardstock layer; (9cm) in total.  The resulting scene is still 5.1cm (2″) wide.  The dimensions for the inside flap layers are the same.
I added one extra strip of wood-grained DSP to the LHS of the card, adjacent to the gift card section.  It measured 14.5 x 1.3 cm (1/2″).
I positioned my circle differently (closer to the LHS of card) and adhered the LHS side ONLY of the circle element with Dimensionals.   Then, there is enough flex and room for the "flap" to fit under the "latch"
Here are some quick photos for you and HERE is the link to all products used.
CREATIVE WOW TUTORIAL: HERE IS THE NOVEMBER 2021 SNEAK PEEK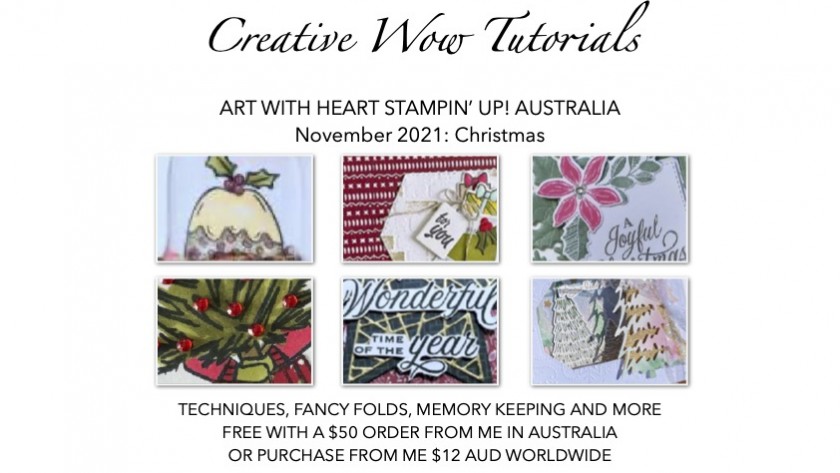 BE INSPIRED BY THESE FABULOUS CHRISTMAS IDEAS.
There are stunning designs and many different ideas, from standard cards, fancy folds, 3D cards, ornaments, and gift packaging.
I have emailed all the Tutorials for the previous months.  As the files are quite large, please let me know if you have not received your copy. Please be in touch if you would like to purchase back copies of previous Tutorials or, this current Tutorial.
Join my Team – November Treat:
Join just for yourself to get a discount, and/or build a business, be part of my team and meet friends who love to craft.  The choice is yours, and I'm only too happy to chat with you OR, you might like to hop on over to my JOINING PAGE
Here's a quick look at the offer including the November treat!
Choose $235 product for a $169 $130 spend ($66 $105 for FREE) from our current Catalogues.
FREE Shipping
FREE Business Kit, including current catalogues.
And the opportunity to order from any existing catalogue (and upcoming Catalogue) at 20% discount.
JOIN MY CLASSES:
Please contact me if you would like to join my paper-crafting classes. I run several class groups.
You might like to arrange a private class for you and your friends, or you might like to join my online/virtual class with prepared class kits and PDF/web Tutorials.
Please chat to me about your ideas or queries.
Have Fun Crafting.  Enjoy the samples and your own wonderful creativity.
Facebook page is:
https://www.facebook.com/margistamps/
Pinterest site is:
https://www.pinterest.com.au/margisank/
Stampin' Up! 24/7 Online Store is HERE
My Stampin' Up! website is HERE
My blog website is:http://www.margistamps.com/
……… till next time, stay safe, have fun!

LOVE IT. LIVE IT. SHARE IT.