Welcome to your Make it With Margi October Tutorial Card #2.  Sweet Stockings Designer Series Paper meets Eden's Garden Collection.  You get to choose your pets as well as enjoy a sneak peek of the Early Release Eden's Garden Collection.
We are using the fun Sweet Stockings Designer Series Paper and pairing it with some of the offerings in the 'soon to be released' Eden's Garden Collection; stamp set, dies, specialty designer series paper, cotton paper and gems.  It's a pre-release of the upcoming January – June Mini 2022 Catalogue, and perfect for Christmas and all occasion cards.  
If you're not in my class groups, you are welcome to enjoy these designs and your own creativity. If you would like to join one of my groups (online – at the moment) and live in Australia, please contact me. I would love to hear from you.
Sweet Stockings Designer Series Paper and Eden's Garden Collection Card
There are three options.  The pets on the Sweet Stocking Paper were so cute, I couldn't decide on which design to include in your card kits.  So, you have three choices.  Choose whichever you like for this card and use the other pieces for your own creations.   The paper doesn't have to be for Christmas.  Can you see the golden retriever/labradoodle could also be a birthday card?
INGREDIENTS FOR SWEET STOCKINGS AND EDEN'S GARDEN CARD.
Let's step through the ingredients used for our Card. Some are in the July-December 2021 Mini Catalogue, and some are the pre-release Eden's Garden.
SWEET STOCKING DESIGNER SERIES PAPER
Nothing says Christmas like cute critters wearing festive decor. Dogs wrapped in Christmas lights. Cats wearing reindeer headbands.
Click HERE is the product link in my 24/7 Online Store.
EDEN'S GARDEN COLLECTION
Enter and explore Eden with the Eden's Garden Collection by Stampin' Up! This delightful and desirable collection includes early-release products from the January–June 2022 Mini Catalogue—a bundle of stamps and dies that's blooming with beauty and bounty. Plus, exclusive products you can't uncover anywhere else—a pack of paper patterned with green and gold, a set of specialty Cotton sheets for gift-giving and textured touches, and a sparkling set of gleaming gems!
The Collection is limited release from November 2.  Pop back then for the direct links.
STAMP SET GREETINGS: WORDS OF CHEER
I used Words of Cheer for all stamped images for the Christmas cards.  Happy Birthday is from Art Gallery stamp set.  These images laid up beautifully on the die-cut.
You might have the same or other greetings and stars/snowflakes that will work for the design.  Have fun putting your own creativity to play.
WORDS OF CHEER STAMP SET & BUNDLE
Click HERE is the product link in my 24/7 Online Store.
SWEET STOCKINGS PAPER & EDEN'S GARDEN CARD.
Here is your class kit, including 1 DSP options and ink colours used.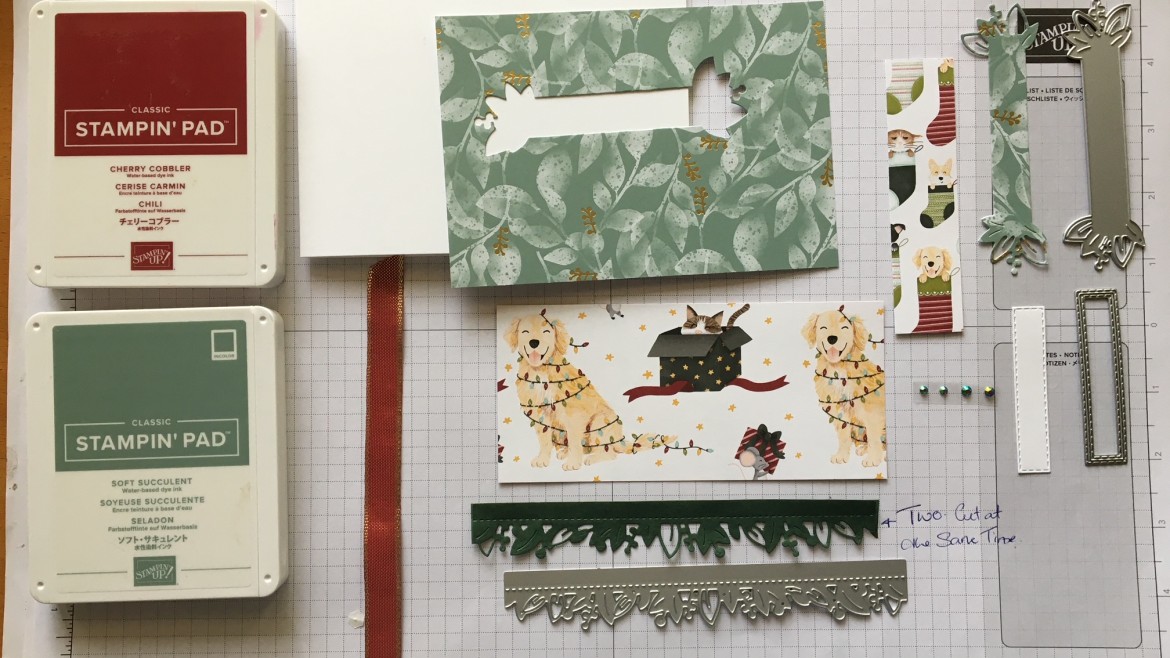 These are the other DSP options plus a strip of alternate DSP for trim, if required.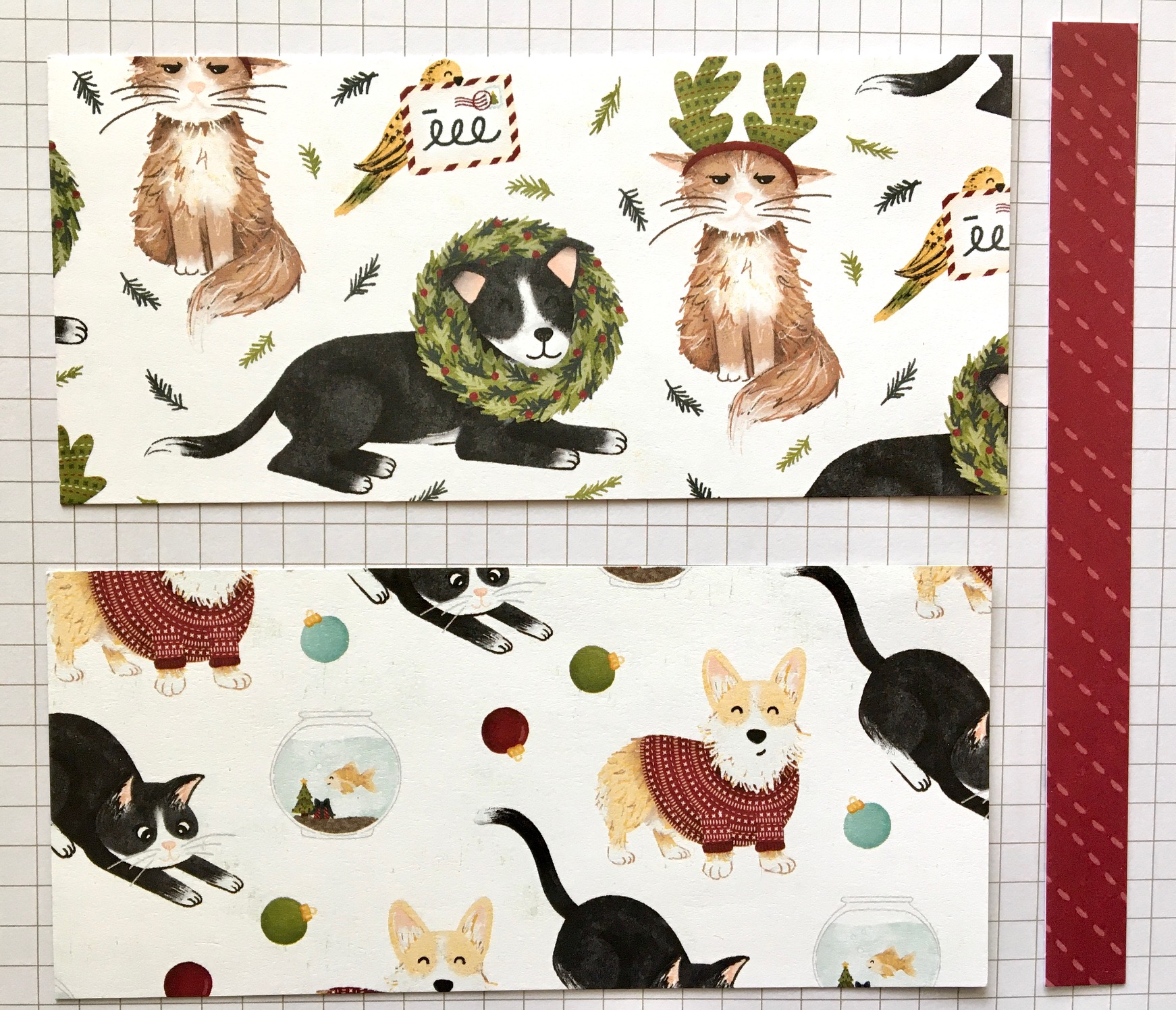 SUPPLIES
Stamp Sets, Dies & Embossing Folders: Eden's Garden Bundle, Words of Cheer Stamps Sets, Stitched Rectangle Dies.
Papers; Sweet Stockings DSP, Ever Eden Specialty DSP, Ever Eden Cotton Paper, Basic White Thick card stock.
Inks: Cherry Cobbler, Soft Succulent stamp pads
Other: Cherry Cobbler & Gold Ribbon, Garden Gems, Mini Dimensionals, Multipurpose Liquid Glue, Mini Glue Dots, Take your Pick Tool, Trimmer, Cut & Emboss Machine
HERE is the direct link to all current products in my 24/7 Online Store (Eden's Garden Collection products are now included.  Please Enjoy!)
DIMENSIONS
Card Base: Basic White Thick, 29.7 x 10.5 cm scored at 14.85 (I have done this for you),
Layering DSP: Sweet Stockings DSP 14.8 x 6.8cm, Ever Eden SDSP 14.8 x 10.1cm
Foliage Die Cut: Ever Eden Cotton Paper Approx. 15.2 x 2cm  (I cut two layers at the one time)
DSP Strip: Sweet Stockings DSP, 15.2 x 1.3cm
Card Insert: strip DSP 10.1 x 2.5cm
Other: Cherry Cobbler & Gold Ribbon, Garden Gems.
STEP BY STEP DIRECTIONS – Sweet Stockings (Golden Retriever-please see pics below)
Burnish card base score line, stamp greeting on Stitched Rectangle die cut, stamp greeting and floral scene on inside of card.
Adhere DSP strip on inside of card.
Gently separate Cotton die cuts
Adhere DSP to these die cuts.  HINT: I used the stitching line as my guide.
Apply liquid glue sparing to the back of the panel, including the Cotton Paper.
Then adhere this panel to Ever Eden Specialty DSP.
Adhere resulting panel to card base, adhere ribbon and trim ends
Use Liquid Glue or Tape to adhere stamped greeting to die-cut.
Adhere this layer onto your card front with dimensionals and adhere Garden Gems.
Other Options – Swap the DSP and change Your Ribbon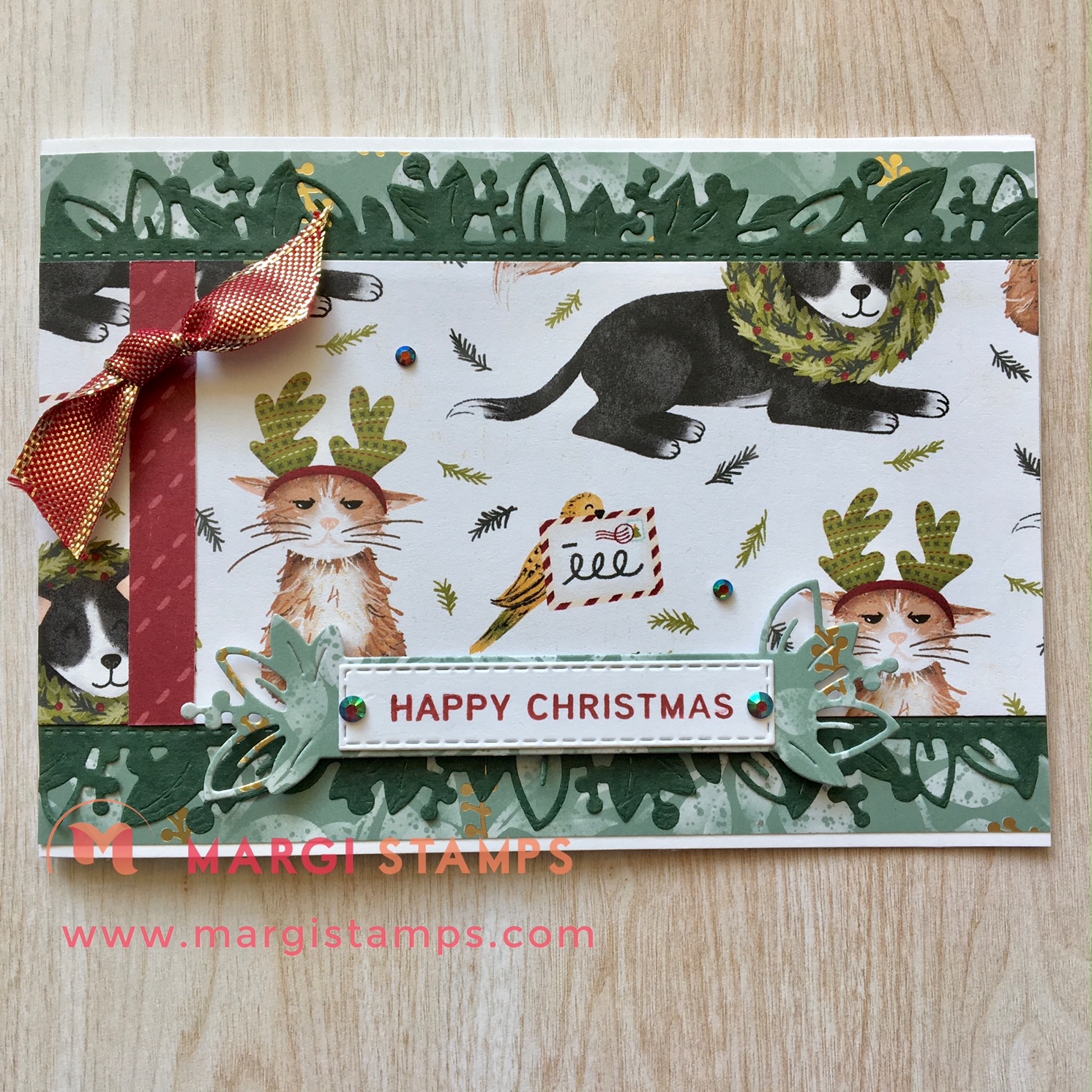 Construct your card as above to # 7 but don't adhere the ribbon, then,
Trim your Cherry Cobbler DSP strip and adhere to DSP panel.
Tie overhand knot in Cherry Cobbler & Gold Ribbon and adhere on strip with Glue Dot.
Adhere layered greeting with dimensionals.
Other Options – Change your Greeting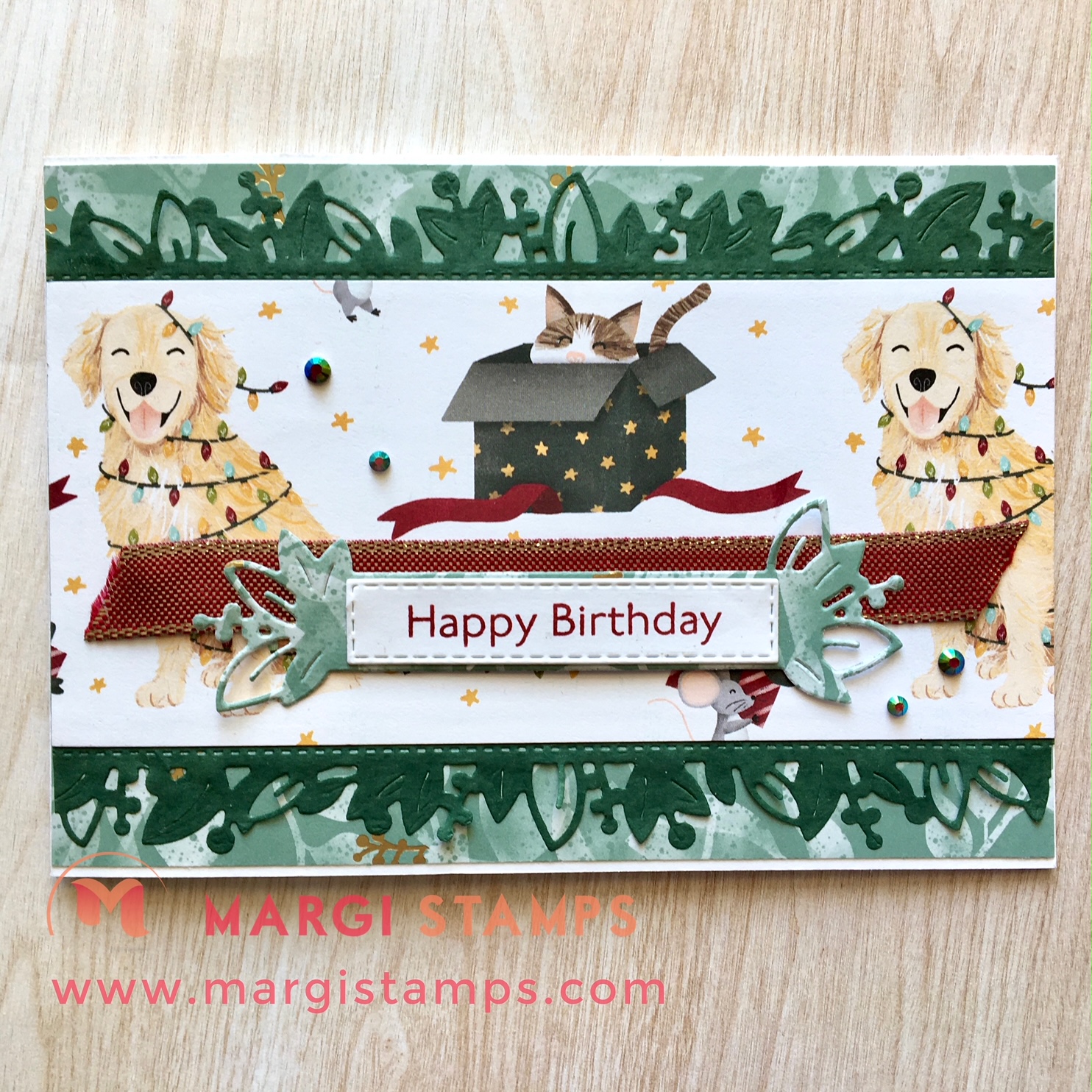 Recap CARD #1 October Tutorial; Peaceful Place Specialty Paper & Evergreen Forest Embossed Card and Samples.
HERE is the link back to the tutorial.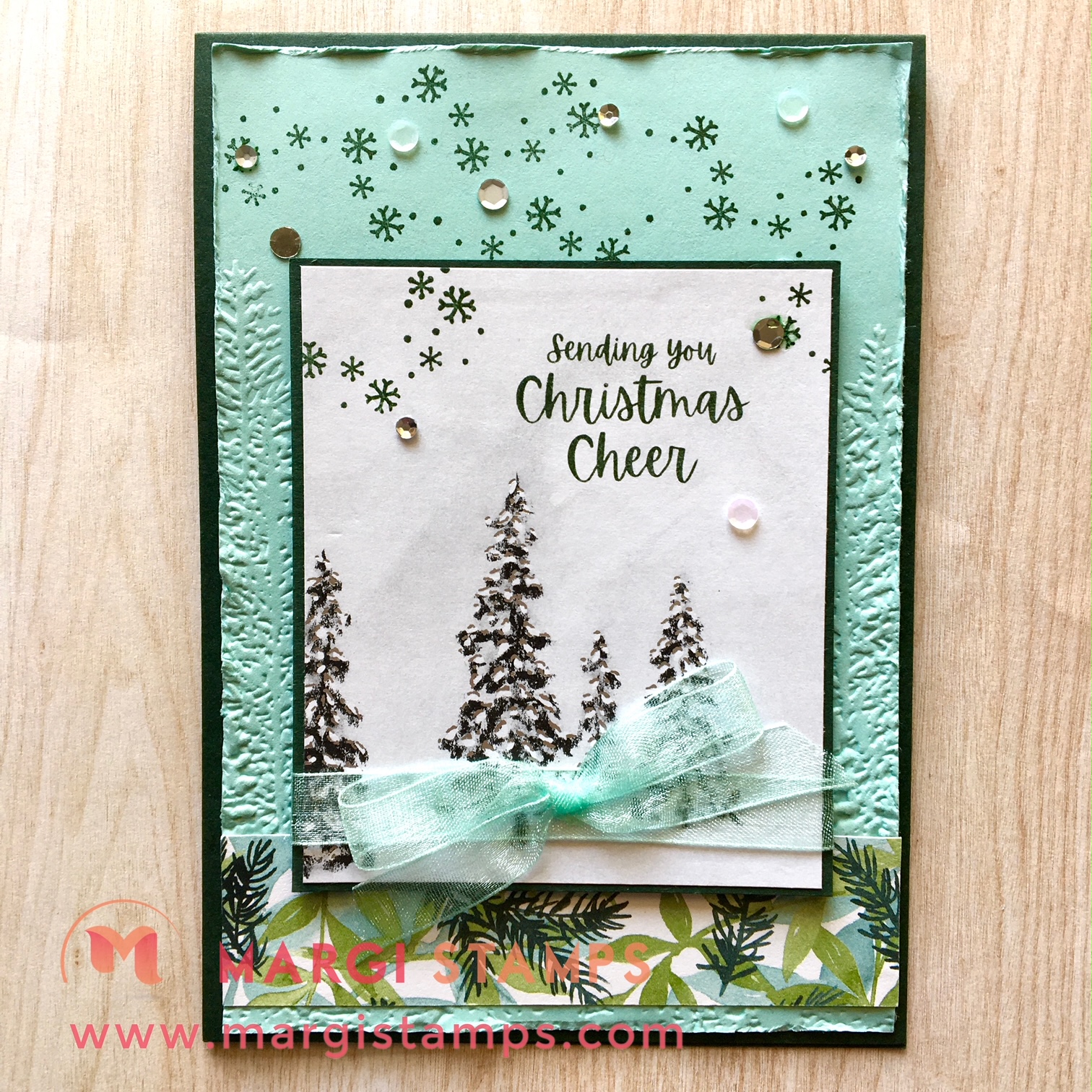 CREATIVE WOW TUTORIAL: HERE IS THE OCTOBER 2021 SNEAK PEEK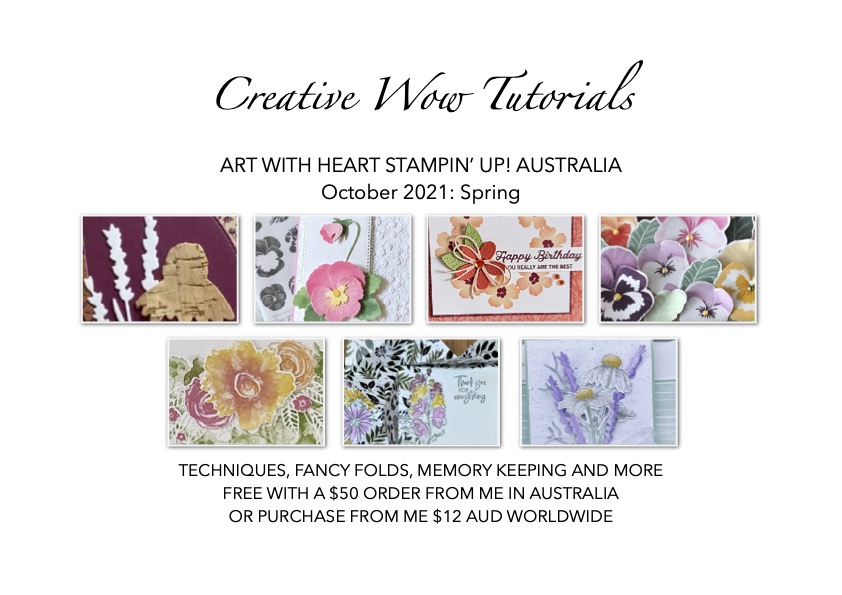 CAN YOU SPOT MY CONTRIBUTION THIS MONTH?
This selection of Tutorials is based around our Flower, Spring and our gorgeous creations.
There are stunning designs and many different ideas, from standard cards, fancy folds, 3D cards, ornaments, and gift packaging.
I have emailed all the Tutorials for the previous months.  As the files are quite large, please let me know if you have not received your copy. Please be in touch if you would like to purchase back copies of previous Tutorials or, this current Tutorial.
Join my Team:
Join just for yourself to get a discount, and/or build a business, be part of my team and meet friends who love to craft.  The choice is yours, and I'm only too happy to chat with you OR, you might like to hop on over to my JOINING PAGE 
Here's a quick look at the offer!
Choose $235 product for a $169 spend ($66 for FREE) from our current Catalogues.
FREE Shipping
FREE Business Kit, including current catalogues.
And the opportunity to order from any existing catalogue at 20% discount.
JOIN MY CLASSES:
Please contact me if you would like to join my paper-crafting classes. I run several class groups.
You might like to arrange a private class for you and your friends, or you might like to join my online/virtual class with prepared class kits and PDF/web Tutorials.
Please chat to me about your ideas or queries.
Have Fun Crafting.  Enjoy the samples and your own wonderful creativity.
Facebook page is:
https://www.facebook.com/margistamps/
Pinterest site is:
https://www.pinterest.com.au/margisank/
Stampin' Up! 24/7 Online Store is HERE
My Stampin' Up! website is HERE
My blog website is:http://www.margistamps.com/
……… till next time, stay safe, have fun!

LOVE IT. LIVE IT. SHARE IT.