Expressions in Ink Suite incorporates Artistically Inked Bundle of stamp set and Dies, Expressions in Ink 12 x 12 Specialty Designer Series Paper, and Expressions in Ink Ephemera Pack. My goodness, this suite is stunning.
Expresssions in Ink Crossover Card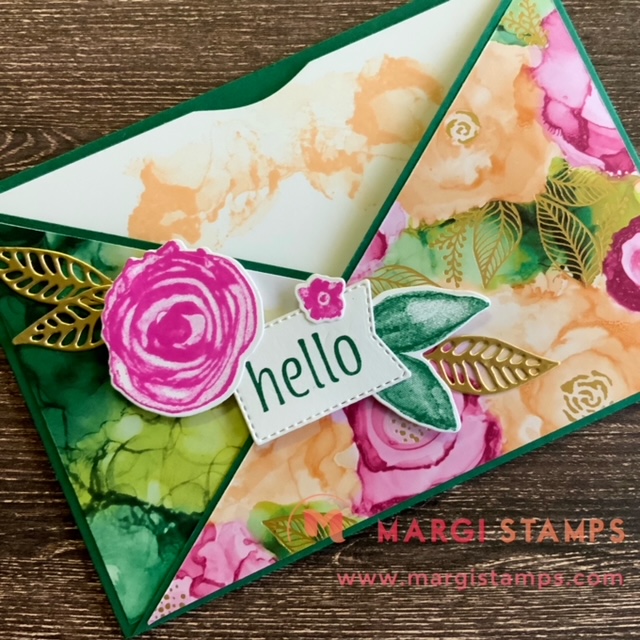 The inspiration for this Fancy Fold 'çlass' card was a design shared by my friend, Val. She had seen it on on one of our US demo's site's. Thanks Rachel Tessman of Stampyourartout.com. I adapted the initial design to our Australian cardstock sizes and brought in the stunning Expressions in Ink Suite. It has gold foil accents and looks like water-coloured paper. The colours are bright and vibrant.
Here is the YouTube video link.
Additional Information
Expressions in Ink Crossover Card,
Card base is 1 sheet A4 Shaded Spruce Cardstock, scored in half on the long side (14.85 cm), rotate 90 degrees in trimmer and cut in half at 10.5 cm. Flip one piece over on top the other, (two pieces each 29.7 x10.5 cm). I marked the right hand side of score line with a pencil so it was more visible.
With both pieces together, cut on the diagonal from pencil mark on the RHS to the LHS bottom corner of the A4 pieces
These pieces adhered together are your crossover card base. Adhere backs together.
DSP, 14.3 x 10 cm cut diagonally, flip one of the pieces. Adhere to triangle shape card fronts.
Apply Tear & Tape along the inside bottom edge only, of each of the triangles and adhere to card base.
Decorate the crossover card. I used three die-cut leaves from the leaf spray, stamped and die-cut one pair of leaves, flower and one flower group.
The greeting layer is from Tasteful Labels Dies.
The removable layer is Basic White Thick 14 x 9 cm stamped in Pale Papaya.
Here is the link to the products used in my 24/7 Online Store
Expressions in Ink Card #2 & #3
When designing the second card for the upcoming class, I couldn't go past the speciality DSP, with the water-colouring and gold foil accents.
There are two designs, one is a tricked up version of the other with additional layering, stamping and die-cuts.
Expressions in Ink #2
Expressions in Ink Specialty Designer Series Paper is the hero for this card, The centre panel is 3″ wide and the side panels are each 1/2″ wide. Perfect for a quick card front! The paper is lovely and takes the Memento Black stamped greeting effortlessly. For embellishment, add some snipped eaves from the Gold Foil die-cut, an a Polished Pink Ribbon.
Here is the link to all product in my 24/7 Online Store
Expressions in Ink #3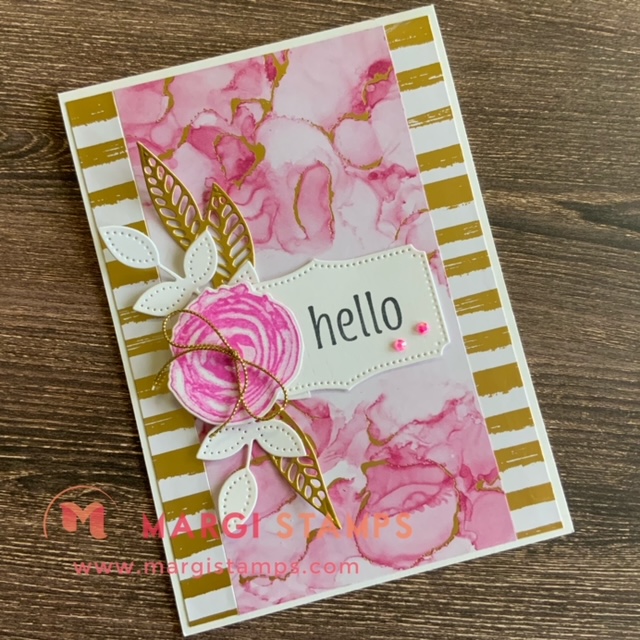 This is the tricked up version of Expressions in Ink #2. Perfect for the more AVID crafter. It includes centre panel and side strips of Expressions in Ink Specialty DSP. We've added snipped leaves from the Gold Foil die-cut and stamped and die-cut a flower. Both of these elements are from the Artistically Inked Bundle. To add some additional texture and layers, we have added a greeting layer and leaf sprigs, all die-cut using Pierced Blooms Dies. The gold bow (Simply Elegant Trim) and Polished Pink bling (2021-2023 In Color Jewels) finish the card front.
Here is the link to all product in my 24/7 Online Store
Creative WOW Tutorial: Here is the May 2021 Sneak Peek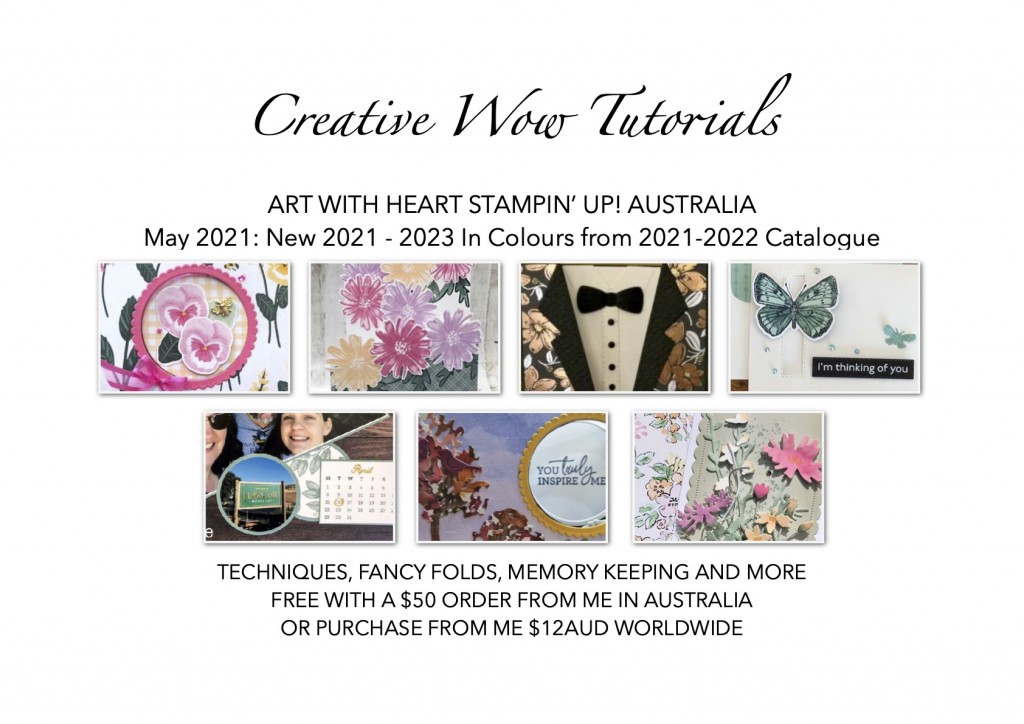 Connect, Craft & Collect

From 4 May- 14 June, 2021, qualifying orders will receive our generous Stampin' Reward PLUS additional rewards! Host can earn Stampin' Rewards on order totals for the entire party. Outside the party setting, Stampin' Rewards are available to those who place orders that meet the order total shown here.
The new 2021-2022 Catalogue launch is a great time to gather with friends, Connect, Craft & Collect your your own Stampin' Rewards.
Here is the link to my HOST Page. or contact me to plan your party or place your order.
Join my Team+

It's a fabulous time to join Stampin' Up! New team members get even MORE FREE products in their customisable Starter Kit. From 4–31 May, new team members can get $235 AUD $283 AUD worth of products for only $169 AUD + free business supplies + free shipping + all the fun being a part of Stampin' Up!
Join just for yourself to get a discount, and/or build a business, be part of my team and meet friends who love to craft. The choice is yours, and I'm only too happy to chat with you OR, you might like to hop on over to my JOINING PAGE

Here's a quick look at the offer!
From 4 – 31 May 2021, get even more for FREE, choose $283 product for a $169 spend ($114 for FREE) (incl. upcoming 2021-2022 Annual Catalogue)
FREE Shipping
FREE Business Kit, including current catalogues.
And the opportunity to order from any existing catalogue at 20% discount.
Join our Stampin' Up! team, connect with others for papercrafting and creativity.
You might like to pop on over to my blog post, where you can find further information and some Q & A's. Here is the link. While the September promotion has ended the Q & A section addresses general issues.
Join my Classes
Please contact me if you would like to join my paper-crafting classes. I run several class groups. You might like to arrange a private class for you and your friends, or you might like to join my online/virtual class with prepared class kits and PDF Tutorials.
Please chat to me about your ideas or queries.
Have Fun Crafting. Enjoy the samples and your own wonderful creativity.
My business Facebook page is:
https://www.facebook.com/margistamps/
My Pinterest site is:
https://www.pinterest.com.au/margisank/
My Stampin' Up Online Store is HERE
My Stampin' Up website is HERE
My blog website is:
http://www.margistamps.com/
……… till next time, stay safe, have fun!

LOVE IT. LIVE IT. SHARE IT.