Happy New Year 2021
Hee Haw! Hee Haw! Here's a slimline card for you as we welcome 2021. I made this card for dear friends and wanted to share with you all. It features Darling Donkeys, one of our new Sale-a-Bration free stamp sets (with qualifying order). The donkeys are cute and the greetings, versatile.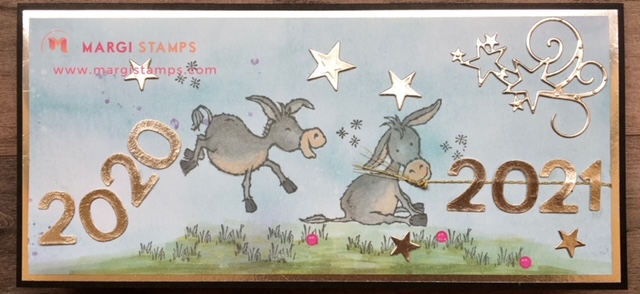 You might like to think of your own caption. I thought of a few as I designed this card. Here are a couple of suggestions:
"Let's kick 2020 out of the game/field/arena" as we get dragged into 2021, praying and hoping for the best!
"Here's hoping for brighter stars, joy and happiness in 2021" Of course! Every New Year needs a few stars and we are lucky in the Southern Hemisphere to have a night sky full of them!
In any case, here's wishing you and your loved ones a safe, happy and healthy New Year as we all pray for a kinder 2021.
Darling Donkey Slimline Card.
I designed this as a slim line card with the base card of Basic Black measuring 21 x 20 cm, Champagne Foil layer of 20 x 9.5 cm and Basic White or DSP front layer measuring 19.5 x 9 cm. I used the now retired Snowflake Splendor DSP for my card front. You could use any subtle DSP or Basic White for your front layer.
I used Stitched Stars for the star swoosh and stars and Playful Alphabet Dies for my numbers. Both die set are great supplies to have in your papercrafting toolkit!
My hint for maximising the use of your Champagne Foil is to die cut the stars and numbers, before assembling your card elements. I also ran the die-cut numbers through my Cut & Emboss machine, using just using the plates, to add texture to the numbers.
I used Basic Gray Ink to stamps all images and greeting. I found it easier, when stamping the front layer to place both donkeys on the large "I" block and then stamp these at the one time. It made placement so much easier.
I then stamped the grass image from Nature's Beauty Stamp Set and the little star bursts from Darling Donkeys . I coloured my Donkeys with light and dark Gray Granite and Petal Pink Blends, the hooves with light Basic Black Blends. I used a variety of greens for my hill and grass.
Adhere your numbers including the gold thread as we are pulled into 2021. The gold thread is from Forever Greenery Trim Combo Pack. The Magenta In-Color dots complete the foreground. I added a segment of the Stitched Star swoosh and retained the remainder for the inside of the card. The remaining stars are the pop out die-cut pieces from the swoosh!
Adhere all your card front layers to the front of the card
Inside of the Card.
Stamp Darling Donkey and your greeting in Basic Gray. For my greeting, I used Life is a Beautiful Journey from Beautiful World. Colour your donkey and flower with Blends, adhere remaining piece of Star swoosh. Adhere to card base.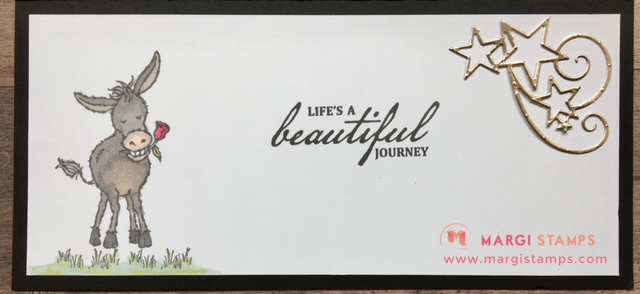 Click here for the List of Supplies for this Project or visit my 24/7 Online Store.
JOIN MY TEAM
Sale-a Bration is a great time to join my team with additional FREE products. Join just for yourself to get a discount, and/or build a business, be part of my team and meet friends who love to craft. The choice is yours, and I'm only too happy to chat with you OR, you might like to hop on over to my JOINING PAGE
Here's a quick look at the offer!
Choose $235 product for a $169 spend ($66 for FREE) (Including product from the Jan-June Mini Catalogue)
FREE Shipping
FREE Business Kit
FREE Exclusive gift form the upcoming catalogue 5 6″ x 6″ stacks of Designer Series Papers. ($100 for FREE)
And the opportunity to order from any existing catalogue & the new Mini Catalogue at 20% discount.
You might like to pop on over to my blog post, where you can find further information and some general Q & A's. Here is the link.
JOIN MY CLASSES
Please contact me if you would like to join my paper-crafting classes. I run several class groups. You might like to arrange a private class for you and your friends, or you might like to join my online/virtual class with prepared class kits and PDF Tutorials.
Please chat to me about your ideas or queries.
Have Fun Crafting. Enjoy the samples and your own wonderful creativity.
My business Facebook page is HERE:
My Pinterest site is HERE
My Stampin' Up Online Store is HERE
My Stampin' Up website is HERE
My blog website is HERE:
……… till next time, stay safe, have fun!

LOVE IT. LIVE IT. SHARE IT.