Welcome to June, officially Winter, in the Southern Hemisphere. Melbourne's winter weather doesn't disappoint. We have rain, wind and hail. It is a perfect time to craft with Quite Meadow Bundle by Stampin' Up! and dream of pretty spring flowers and shimmery colours.
Showcasing Quiet Meadow Bundle from our 2021-2022 Annual Catalogue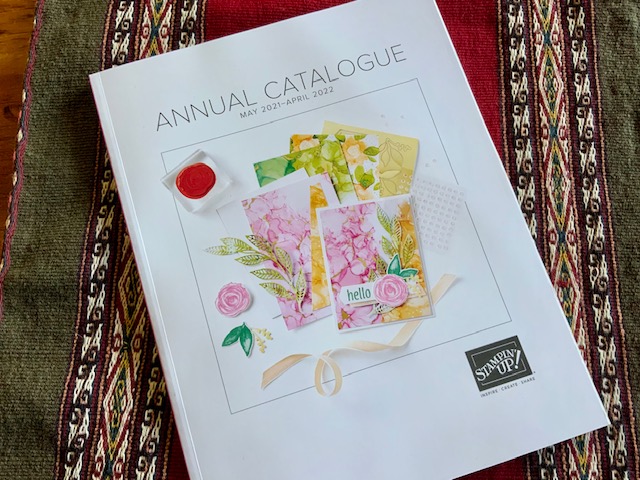 When I first saw Quite Meadow Bundle, I thought of our garden with its layers of foliage & textures. Meadow Dies lend themselves beautifully to silhouettes, shapes and colouring techniques. The designs, can reflect our Stampin' Up! colour palette; Brights, Neutrals, Regals, Subtles, and In-Colors. Enjoy creating your own designs and colour combinations.
Quiet Meadow Bundle, Neutrals & In Good Taste Designer Series Paper.
This design is a collage of paper, textures and silhouettes. In Good Taste Designer Series Paper anchors the design while Gold Foil, Gold Fine Art Ribbon and Bumblebee Trinkets provide the embellishment. You might like to use this colour palette for a male themed or 'quieter' card.
Here is the products list in my 24/7 Online Store or click on the card.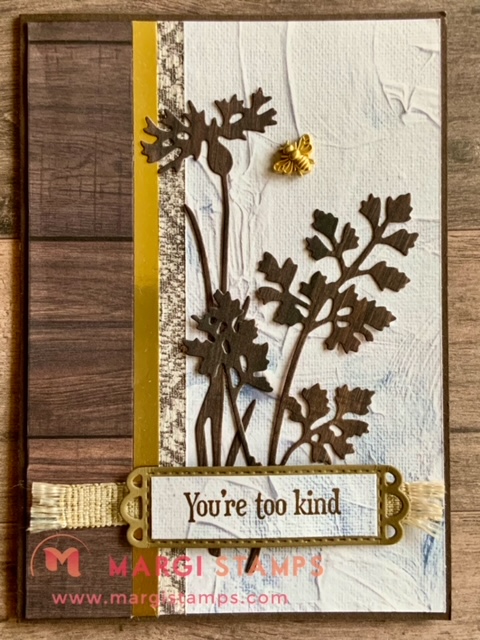 Quiet Meadow Bundle, In Colors and Shimmer Vellum
Our next design, highlights several of our 2021-2023 In Colours; Fresh Freesia, Pale Papaya and Polished Pink anchored with layers of texture and shapes, all in White.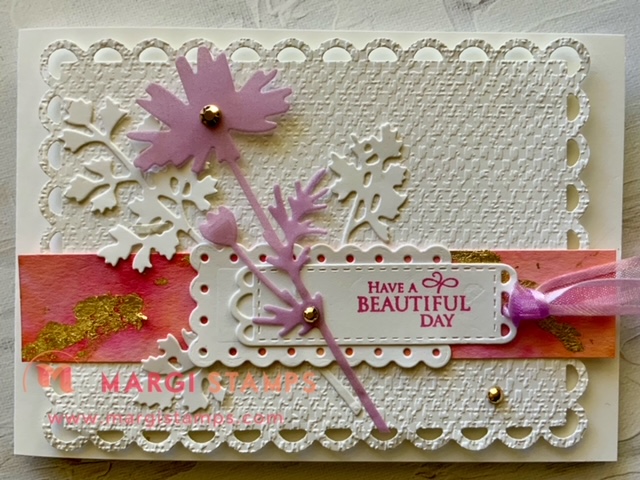 Here is the Product List in my 24/7 Online Store. or click on the card above.
To make the colour strips, we coloured Shimmery White Cardstock using Classic Ink Refills and Water Painters. After air drying, we adhered Gilded Leafing with Multipurpose Liquid Glue.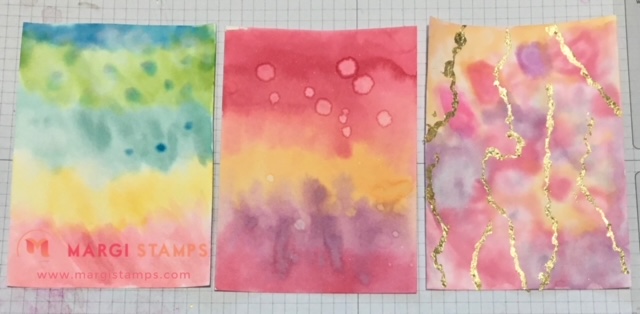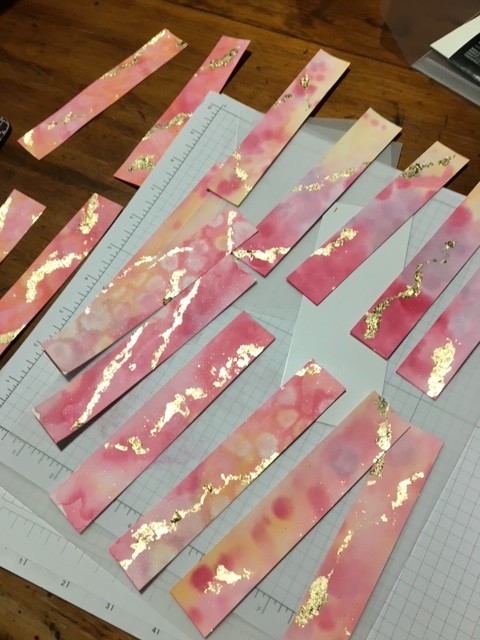 An alternative to the Refills is to transfer in from ink pad to acrylic block.
Here is the video showing both colouring techniques and the Gilded Leafing, I made for my class groups. You might like to give it a go. Yes! its fun.
Here is the YouTube video link
To complete the designs, we are using Fresh Freesia Shimmer Vellum for one of the foliage die-cuts to co-ordinate with water-coloured & gilded leaf embellished paper. Embossed White Diecuts, Gilded Gems and Fresh Freesia Ribbon complete the design.
Some Additional Samples for You.
Creative WOW Tutorial: Here is the Sneak Peek!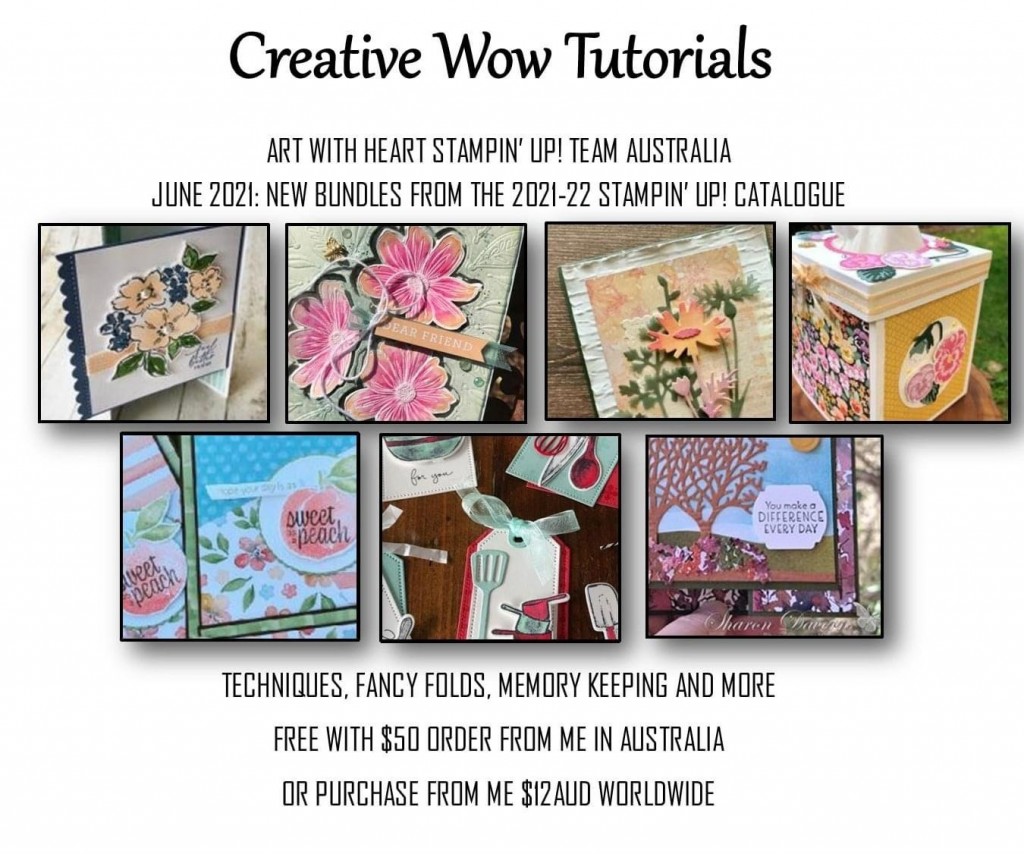 My contribution to this month's edition incorporates Quiet Meadow Bundle, Shimmer Vellum, Linen, embossing and colouring techniques.
Please contact me for your copy of all of these fabulous Tutorials. For those who have already placed your June order, I will be emailing the tutorials later today.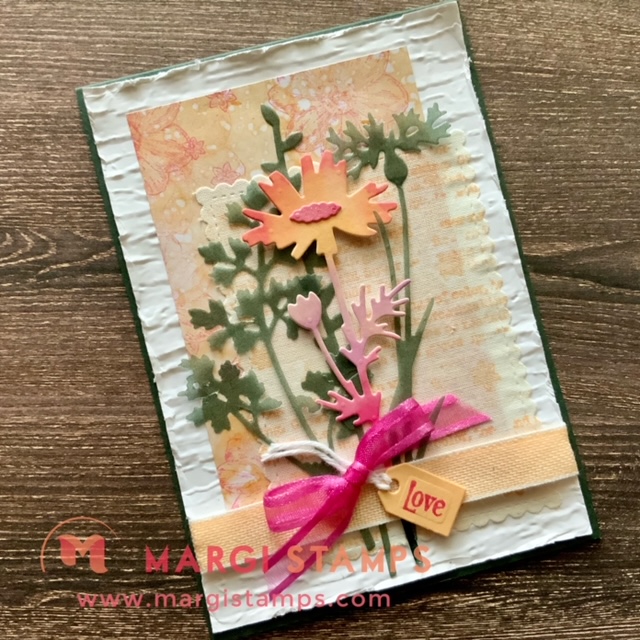 Last Chance Sale Jan-June Mini Catalogue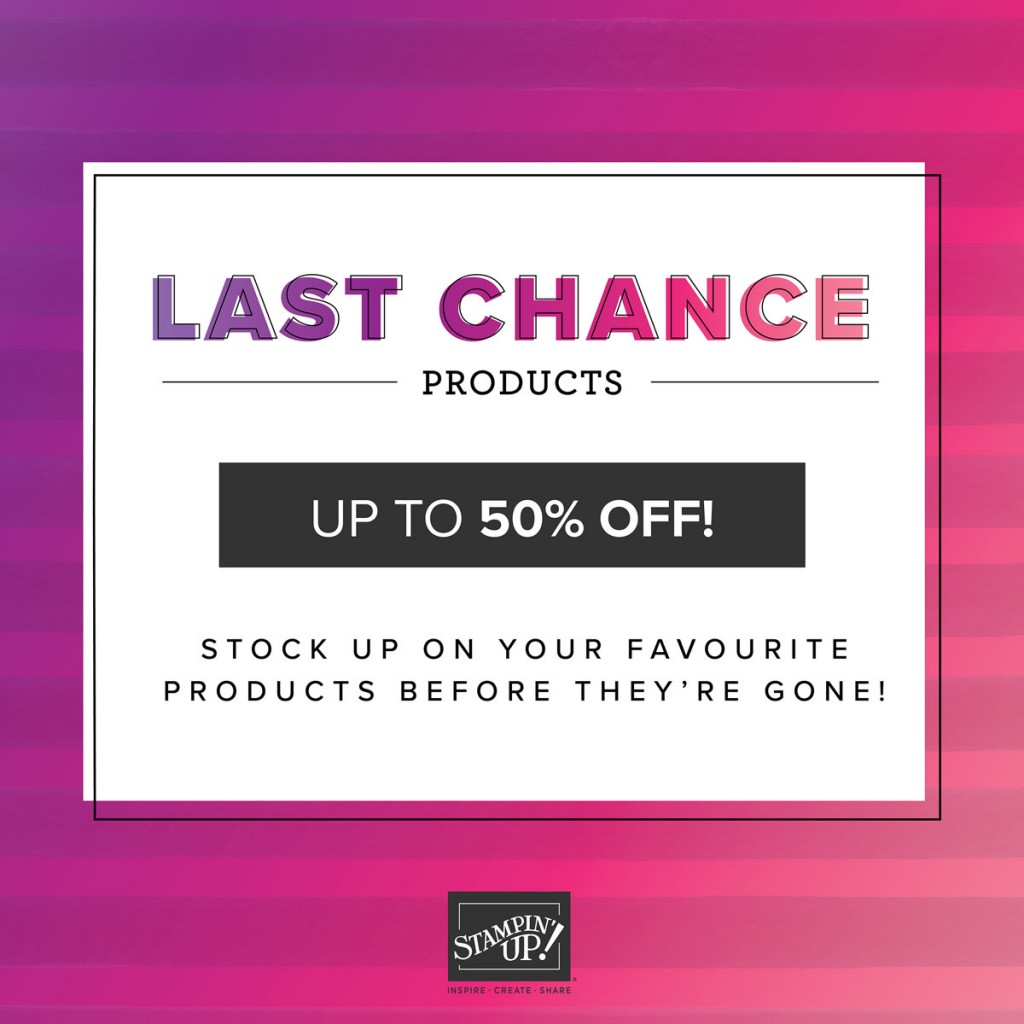 Stock up on your favourite products before they're gone for good! Save up to 50% on essential craft supplies and tick off some of those items on your wish list. For all the details about this steal of a deal – read on
Join my Team
Join just for yourself to get a discount, and/or build a business, be part of my team and meet friends who love to craft. The choice is yours, and I'm only too happy to chat with you OR, you might like to hop on over to my JOINING PAGE

Here's a quick look at the offer!
NOW-Choose $235 product for a $169 spend ($66 for FREE) (incl. upcoming 2021-2022 Annual Catalogue)
FREE Shipping
FREE Business Kit, including current catalogues.
And the opportunity to order from any existing catalogue at 20% discount.
You might like to pop on over to my blog post, where you can find further information and some Q & A's. Here is the link. While the May promotion has ended the Q & A section addresses general issues.
Join my Classes
Please contact me if you would like to join my paper-crafting classes. I run several class groups. You might like to arrange a private class for you and your friends, or you might like to join my online/virtual class with prepared class kits and PDF Tutorials.
Please chat to me about your ideas or queries.
Have Fun Crafting. Enjoy the samples and your own wonderful creativity.
My business Facebook page is:
https://www.facebook.com/margistamps/
My Pinterest site is:
https://www.pinterest.com.au/margisank/
My Stampin' Up Online Store is HERE
My Stampin' Up website is HERE
My blog website is:
http://www.margistamps.com/

……… till next time, stay safe, have fun!

LOVE IT. LIVE IT. SHARE IT.