Have you heard about the new Fancy Fold design – Tower Fold Card or Windmill Fancy Fold Card. They are IN! And, it's a great design when paired with In the Wild Suite by Stampin' Up!
I wanted to take the basic 'tower' concept, often presented as a 'portrait layout', and then adapt it to a 'landscape' layout able to fit in a standard DL envelope.
I'm delighted to share this design with you.
Tower Fold Card using In the Wild Suite by Stampin' Up!
Measurements & Directions
I used Evening Evergreen Cardstock for my card base as it coordinates beautifully with In the Wild Designer Series Paper. You might notice some Animal Print Embossing, some stamping and die-cut using Wild Cats Bundle. These items are all included in In The Wild Suite
Here is the stunning In the Wild DSP; you can use the coordinating dies to die-cut some of the animals and foliage.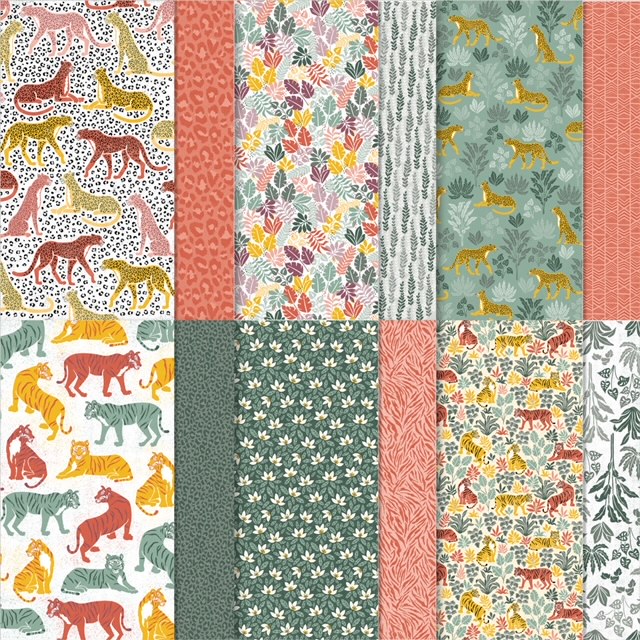 Card Base- cardstock
1 piece of 7 7/8″ x 4″, scored on the long side at 1″, 2″, 3″ & 4″. Burnish all score lines. Fold to make a tower and one panel. I used Multipurpose Liquid Glue to make the centre tower shape.
3 pieces of 4″x 3 7/8″. These pieces are your remaining three panels. Adhere these panels to your centre tower using Multi Purpose Liquid Glue.
Here is photo (using a different colour cardstock) to illustrate the basic tower card design.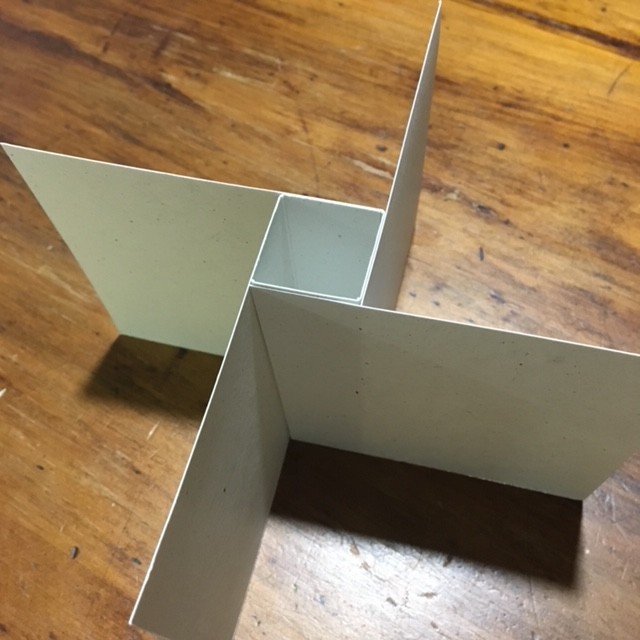 There are four panels, with both a 'front' and a 'back'. I cut the mats 1/4″ smaller than the cardstock panels. You can see from the photos below that I used a combination of Basic White and In the Wild DSP to construct the mats for the panels.
Coordinating cardstock colours are Crushed Curry and Merry Merlot. I used a combination of stamping, die cutting and fussy cutting to decorate the panels.
The tag is from a new die set, Tailor Made Tags.
Here are the panel views for you: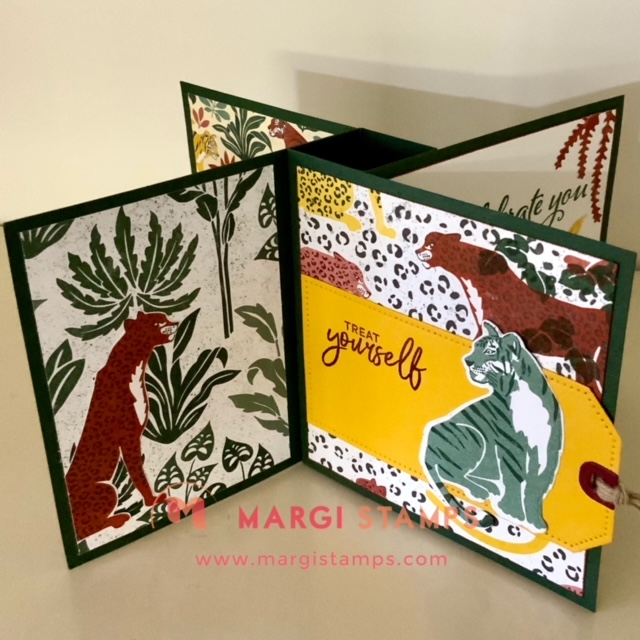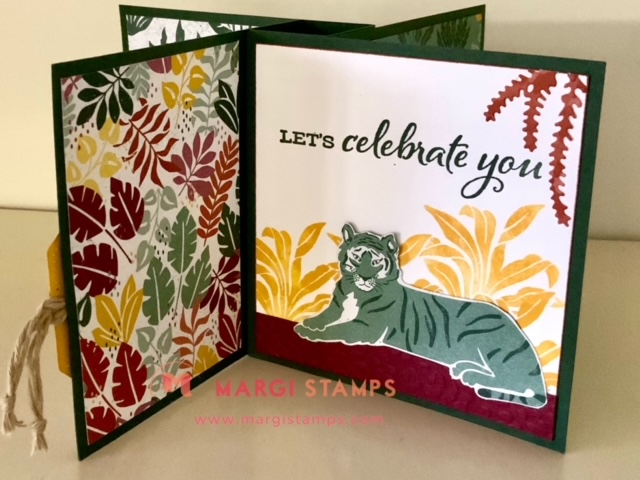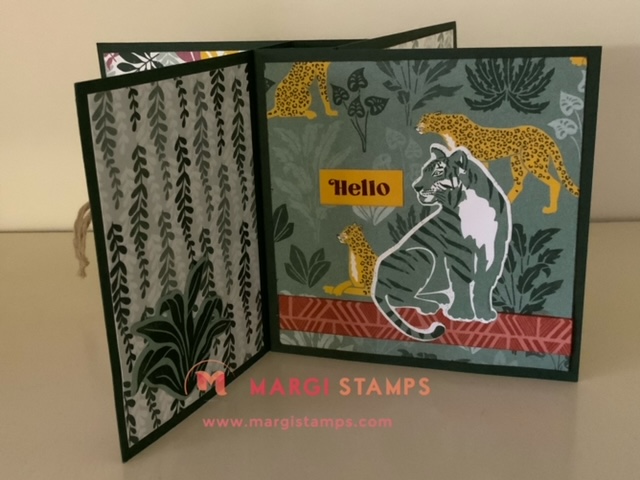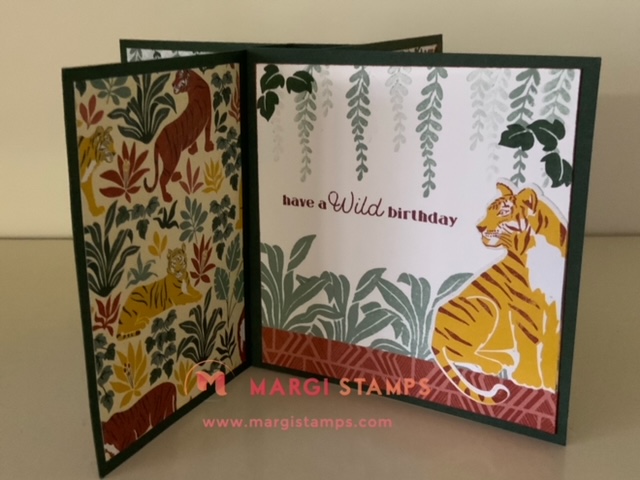 More In the Wild Suite Examples for You
Click Here to follow the link for further examples for you using In the Wild Suite. You might recognise some of the designs and see that I have adapted some of these design for the Tower Card shown above.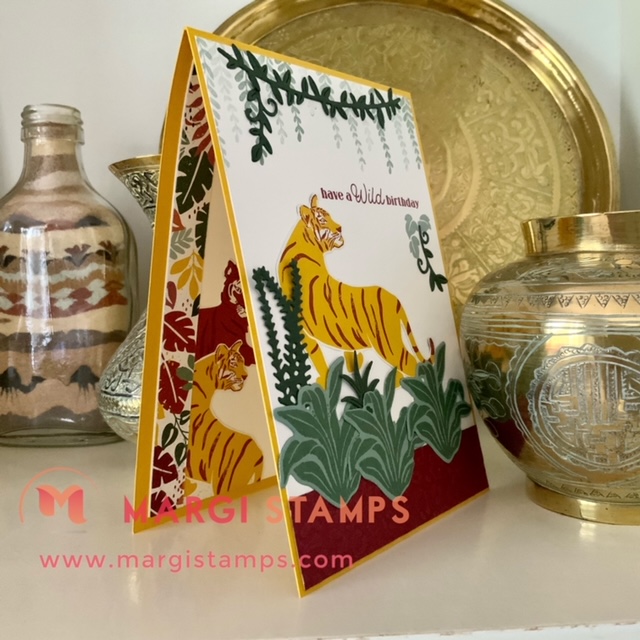 Last Chance Sale Jan-June 2021 Mini Catalogue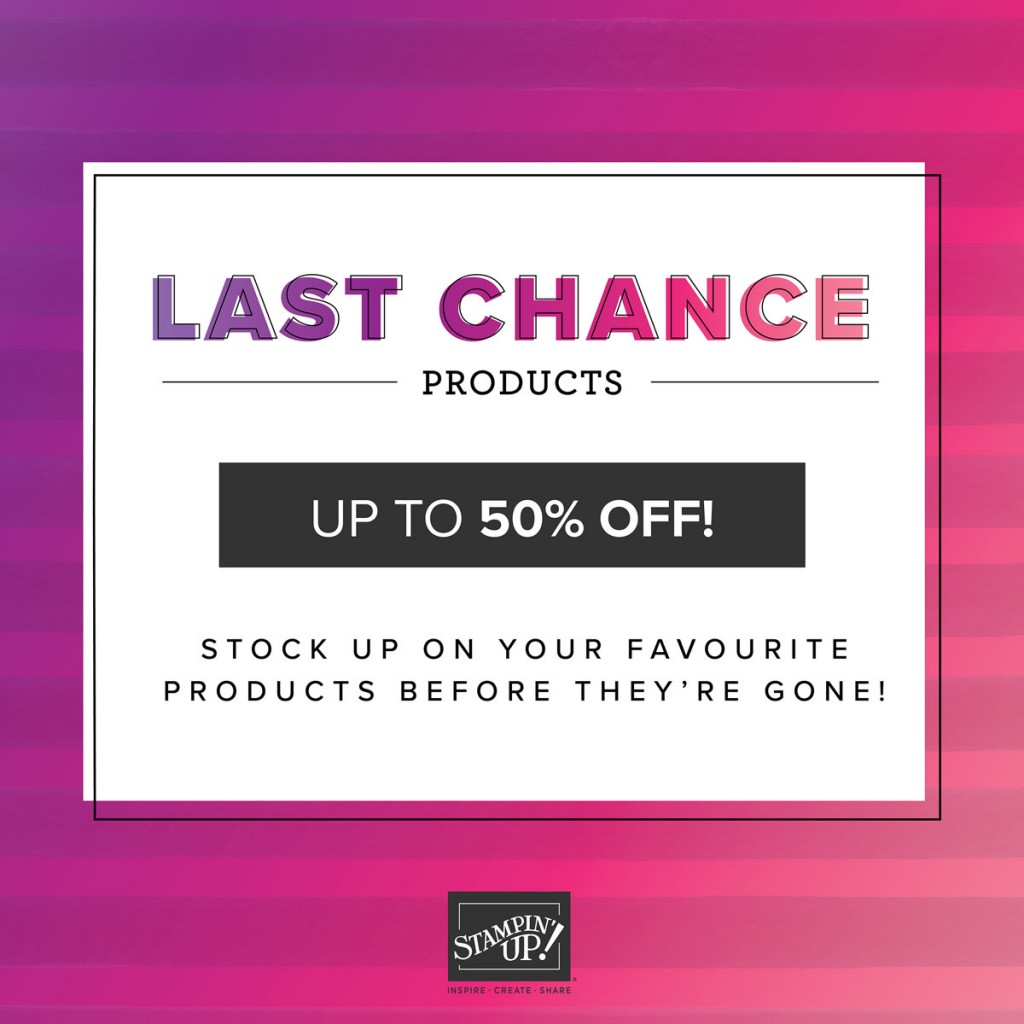 Stock up on your favourite products before they're gone for good! Save up to 50% on essential craft supplies and tick off some of those items on your wish list. For all the details about this steal of a deal – read on
Join my Team
Join just for yourself to get a discount, and/or build a business, be part of my team and meet friends who love to craft. The choice is yours, and I'm only too happy to chat with you OR, you might like to hop on over to my JOINING PAGE

Here's a quick look at the offer!
NOW-Choose $235 product for a $169 spend ($66 for FREE) (incl. upcoming 2021-2022 Annual Catalogue)
FREE Shipping
FREE Business Kit, including current catalogues.
And the opportunity to order from any existing catalogue at 20% discount.
You might like to pop on over to my blog post, where you can find further information and some Q & A's.  Here is the link. While the May promotion has ended the Q & A section addresses general issues.
Join my Classes
Please contact me if you would like to join my paper-crafting classes. I run several class groups. You might like to arrange a private class for you and your friends, or you might like to join my online/virtual class with prepared class kits and PDF Tutorials.
Please chat to me about your ideas or queries.
Have Fun Crafting. Enjoy the samples and your own wonderful creativity.
My business Facebook page is:
https://www.facebook.com/margistamps/
My Pinterest site is:
https://www.pinterest.com.au/margisank/
My Stampin' Up Online Store is HERE
My Stampin' Up website is HERE
My blog website is:
http://www.margistamps.com/
 
……… till next time, stay safe, have fun!

LOVE IT. LIVE IT. SHARE IT.